As scenery goes, there aren't many places that offer as much beauty and variety as Connemara in County Galway, and it has one of the best and most scenic cycle routes in Galway. It has breathtaking views across lakes and mountains but also a unique ruggedness that the area is best known for. Possibly the best way to see Connemara is by car but there are plenty of tours on offer too. Oscar Wilde once described Connemara as a 'wild and mountainous place' and it certainly has a lot to offer in terms of places to visit. Below are the top five places you need to visit in your lifetime.
5. Spiddal
This small village greets you after travelling 18km west from Galway City. Here, you will start to see the beautiful coastal views, something you see more of as you wind your way further into Connemara. As well as taking some time out on the beach and in the village itself, the Spiddal Craft and Design Studios showcases some of the finest local arts and crafts and of course somewhere to chill out and have a coffee before heading off again.
4. Glengowla Mines, Oughterard
Glengowla Mines are located on a working family farm. You get to see the daily farm life sitting alongside what was once a busy mine and a reminder of life gone by. The mines were abandoned in 1865 but now serve as a unique visitor attraction and an example of bringing valuable heritage back to life. Known for its rare and beautiful crystals, you will also have a chance to buy some minerals when you visit.
3. Connemara National Park, Letterfrack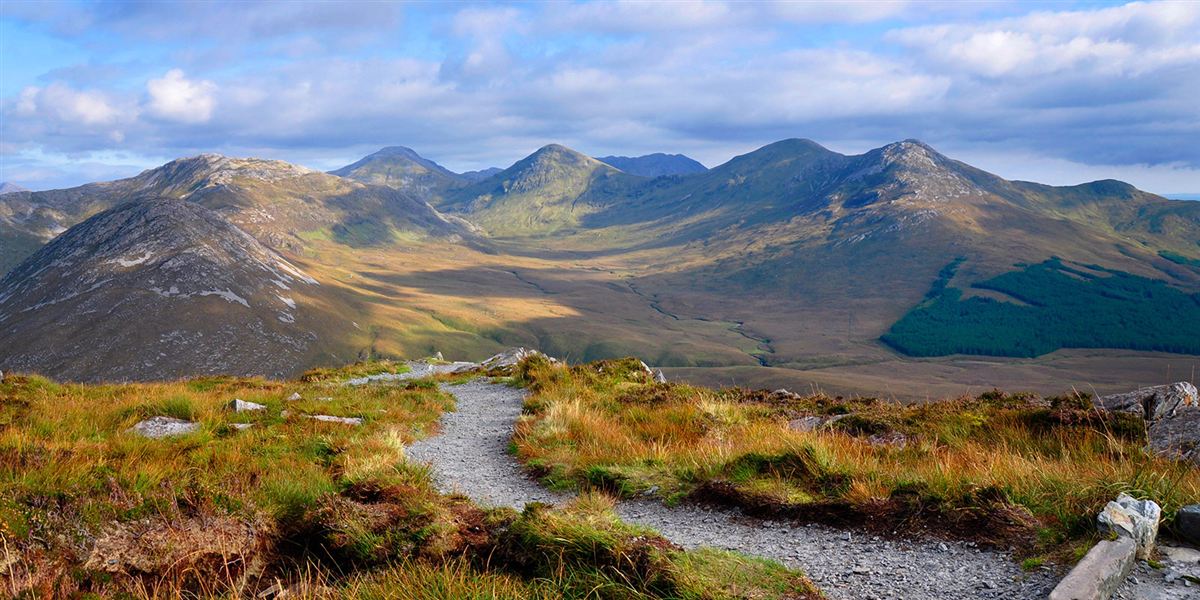 This park spans close to 3,000 hectares of bog, mountains, grasslands and woodlands and is a spectacular site for those looking to really explore the Connemara outdoors. For walkers, this is paradise. There are also guided nature walks and short self-guided walks. Go prepared with a picnic and enjoy it either indoors or outdoors at the park. There is a children's playground and tea room too. Special events take place from time to time so it is worth checking to see if anything is on during your visit.
2. Kylemore Abbey and Victorian Walled Gardens, Pollacappul
No visit to Connemara is complete without a visit to Kylemore Abbey, possibly one of the most photographed areas in Ireland. This was home to the Benedictine Nuns since 1920.
Kylemore was internationally renowned as a boarding school but that closed in 2010. You can discover the history of this beautiful site and explore a six-acre Victorian Walled Garden to explore. Also, discover the sights of the estate that will take you around its 1,000 acres.
1. The Clifden Region
This is Connemara's main town and is a good base in which to stay in order to explore the area. Often referred to as the 'capital of Connemara,' Clifden has plenty to offer in terms of leisure, activity, relaxation and entertainment. If you decide to go in September, check out its festival, the longest-running community festival in Ireland. Each year, it attracts many top literary and musical guests. No trip to Connemara is complete without trying some seafood and in Clifden, you'll find many places to sample it.
Getting to Connemara is pretty straightforward. If you have a car, take the N59 from Galway City and you'll drive right through the heart of this majestic place, where you will want to stop and pull over to really soak up its views. Just outside Clifden, you can also see the beauitful Sky Road.