As the auburn leaves descend Ireland in autumn thrives with music, dance and culture. It is also the perfect time of year for a short break, exploring nature and marine life. Here are the top ten things to do this autumn in Ireland.
10. Take A Leisurely Stroll Through The Autumn Leaves – for nature in its fullest form
Autumn in Ireland bursts with colour and there's no better way to enjoy it than wrapping up and taking a stroll through a wooded trail in one of Ireland's picturesque gardens. There are so many scenic woodland walks to choose from.
Throughout late Autumn you can still spot some beautiful dahlias on your journey through the walled garden at Ardgillan Castle in Balbriggan or spot the giant pumpkin growing in their pumpkin patch.
Or why not amble around the serene grounds of Birr Castle demesne in County Offaly, taking in the waterfall, lakes and river along the pathways.
Then there's the themed gardens, woodland walks and lake at the beautiful Mount Stewart Gardens in Newtownards in Northern Ireland, which was named one of the top 10 gardens in the world by the Daily Telegraph.
9. Take part in the 24th Nire Valley Autumn Walking Festival in Waterford – for an adventure
Meet new friends or enjoy the company of old ones while taking part in the Nire valley walking festival in Co. Waterford from 13th-15th October.
The festival boasts fantastic walking trails to suit everyone's ability. Great chat, excellent local guides and the renowned festival dinner are highlights.
8. Get Dressed Up For The Opera in Wexford – for a night at the opera
The Wexford Festival Opera is one of the leading opera festivals in the world. This year it runs from October 19th through November 5th.
Unique in its repertoire the festival attracts audiences from home and abroad who travel to experience the celebration of opera and the warm hospitality from the people of Wexford.
7. Rent A Cosy Cabin With A View – for a break away
Get cosy this Autumn around a roaring fire in a cabin in the woods or one of Ireland's beautiful lakes.
Get close to nature in this cosy eco-friendly cabin with a stunning view in Donegal or enjoy the luxuries of Glenusk Lodge in Connemara, Galway overlooking the magnificent Lough Corrib or Kenmare in County Kerry.
6. Enjoy a weekend of Jazz in Cork – for music
The Guinness Cork Jazz Festival takes place from 27th-30th October. Celebrating 40 years this year, enjoy a weekend of varying styles of jazz hosting many national and international musicians.
5. Enjoy the Arts in Belfast – for the arts
The Belfast International Arts Festival runs for two weeks from October 6th with an extensive lineup. The festival covers theatre, dance, classical and roots music, film and literature.
4. Go on a tour of Dublin's Glasnevin Cemetery in Dublin – for a slice of history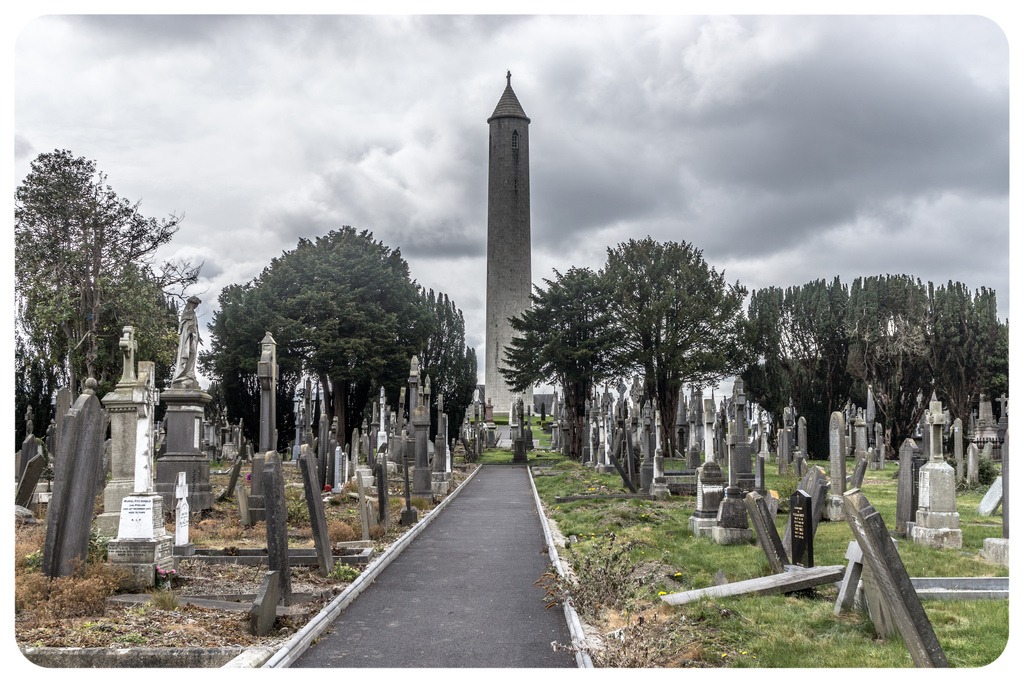 Get into the spooky spirit this Autumn and take a tour of Glasnevin cemetery. With more than 1.5 million people laid to rest in the cemetery, the guides will bring to life the stories of the many fascinating souls who moulded Irish history including Eamon DeValera, Daniel O'Connell and Michael Collins.
Be sure to stop into the old-school John Kavanagh- the Gravediggers' Pub, afterwards for a pint and some coddle.
3. Go Whale Watching in Kerry – for a mighty sight
Ireland in the autumn is perfect for whale watching. Take a four-hour boat trip to the Great Blasket Island and search for seals, puffins and shearwaters.
Beyond that in the open sea, you may spot some dolphins, minke whales, basking sharks and if you're lucky even the spectacular humpback whale.
2. Spend an afternoon pumpkin picking – for an autumnal day outdoors
Take a trip to a pumpkin patch near you to choose your perfect pumpkin for carving or cooking. Enjoy the Autumn atmosphere while sipping warm cider and eating apple fritters.
There are lots of pumpkin patches all over Ireland to choose from including Kennedys Pumpkin Patch in Julianstown, Co. Meath, Tinahely Farm, Coolruss, Co. Wicklow, Ballycross Apple Farm, Bridgetown, Co. Wexford and The Farm in Grenagh, Co. Cork.
1. Face your fears at Ireland's Most Haunted House – for scare-seekers
Immerse yourself in a full Halloween lockdown experience at Ireland's most haunted house.
Running from 21st October and open to adults aged 18 and over you will be led by experienced paranormal investigators inside the eery Loftus Hall on a ghost hunt into the early hours of the morning.
This article was contributed by Laura Molloy of www.mumiam.me.