Dublin has a lot going on this festive season, and we don't want you to miss a beat, so check out these fantastic events.
The Christmas spirit is alive and well in Dublin, with lights illuminating the streets, a cosy festive vibe, holiday tunes playing on speakers around the city, and plenty of fun events for all to enjoy.
The Irish love Christmas time, and as soon as Halloween is over, the festive season begins to appear, with the lights of Grafton Street being turned on in November, when the whole city comes together to prepare for the most joyful time of the year.
So, if you are celebrating Christmas in Dublin, look at our list of the ten events you can't miss this year.
10. Christmas shopping on Grafton Street – Dublin's iconic shopping street
This has to be one of the best things to do at Christmas in Dublin, making it an unmissable event. Need to buy Christmas gifts or want to enjoy the festive spirit of Dublin in all its glory?
Then, go to Grafton Street to marvel at the lights, browse the shops and enjoy the festive music.
When: anytime
Address: Dublin
9. Christmas at Powerscourt – visit Santas workshop
No Christmas is complete without a visit with the man himself, so make sure not to miss Santa's arrival at Powerscourt Centre.
Here, you can visit his workshop and grotto, meet the friendly elves and Mrs Claus, listen to the choir as well as receive a unique gift from Santa.
When: Saturdays/Sundays throughout December
Address: 59 William St S, Centre, Dublin 2, D02 HF95, Ireland
8. Gaiety Theatre Christmas Panto – one of the city's most exciting shows
This year's Gaiety Theatre Christmas Panto is 'The Jungle Book', an event that guarantees fantastic music, laughter and lots of excitement. The show will run for six weeks, so there will be no reason to miss out on this one.
When: now until 8 January
Address: King St S, Dublin 2, Ireland
7. Enjoy Dublin Winter Lights – the magic of Christmas
The Dublin Winter Lights have been lighting up the city since 14 November and really make the city feel festive. You can enjoy these stunning displays right up until the New Year, too.
With colourful light projections and displays around the city, Dublin was recently voted the best city in Europe for festive light displays.
When: now until 1 January
6. Attend the 12 pubs of Christmas – a classic festive pub crawl
This adult-only pub crawl is a traditional festive night out, which is guaranteed to have you in hysterics, with plenty of hilarious rules to follow.
Don your ugliest Christmas jumper and get involved in the best Irish pub crawl of the year, which you can quickly join in on or organise with your friends.
When: 25 December
Address: Dublin
5. Enjoy Ireland's only Christmas bus – a fantastic family day out
The Bus that Stole Christmas is probably one of the quirkiest events to happen this Christmas in the capital.
Hop on Ireland's only festive bus and enjoy a fantastic storytelling adventure with lots of fun and games, which makes it ideal for families with kids of all ages.
When: now until 23 December
Address: Nutgrove Ave, Rathfarnham, Dublin 14, D14 E6W6, Ireland
4. Watch Toy Show the Musical – an extraordinary show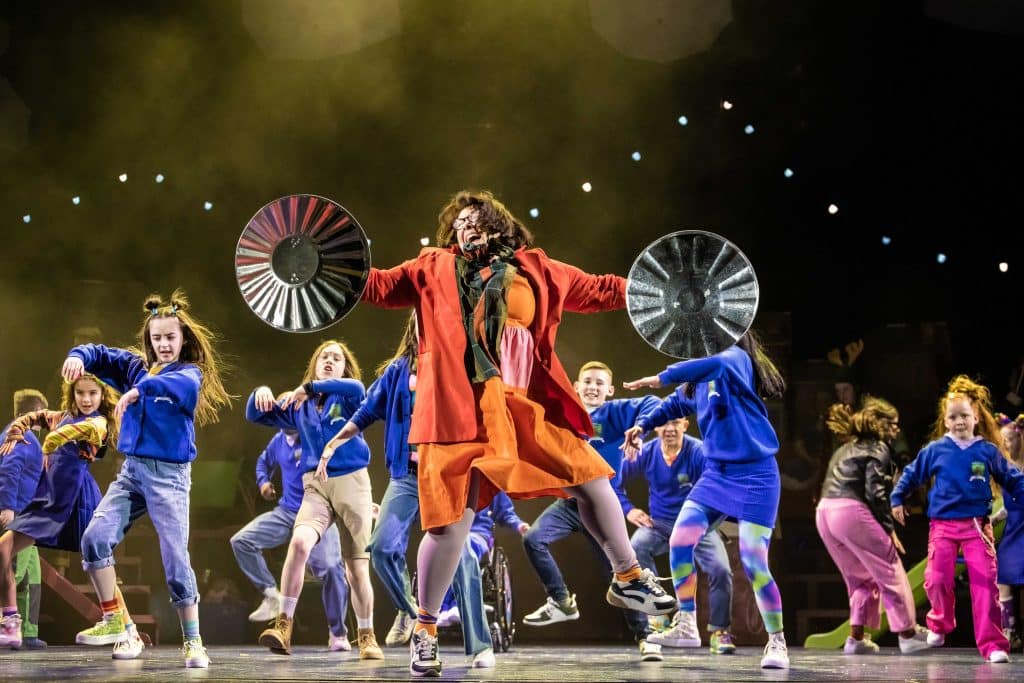 The famous Toy Show has been a part of Irish Christmas culture since the 1970s, and now this exceptional musical brings it to the stage.
This has to be one of the most unmissable events for Christmas in Dublin, and with tickets from just €25, it cannot be overlooked.
When: from 10 December
Address: Spencer Dock, N Wall Quay, North Wall, Dublin 1, D01 T1W6, Ireland
3. Wonderlights, The Night Sky at Malahide Castle – an excellent experience for all
This brand-new Dublin show is one of the most exciting evening events on offer, which takes you through Malahide Castle and illuminated Gardens, where you will marvel at the various colours, lights, nature, and sounds around you.
When: now until 3 January
Address: Back Rd, Broomfield, Dublin, Ireland
2. Christmas at the Castle – open-air Christmas markets
This open-air Christmas market is not to be missed when it comes to having a great Christmas in Dublin, and since it is held in the historic Dublin Castle, this makes it extra cool.
You can enjoy carol singing, complimentary evening entrance to the state apartments and a host of craft vendors to check out.
When: 8 to 21 December; free tickets must be pre-booked
Address: Dame St, Dublin 2, Ireland
1. Wild Lights at Dublin Zoo – a wild transformation
Wild Lights has to be one of the most magical events that happen during Christmas in Dublin, and it is something that everyone looks forward to, so much so that we remind you not to miss this one.
This nighttime experience features breathtaking light displays, which are just fantastic.
When: now until 9 January, 5 – 9 pm
Address: Saint James' (part of Phoenix Park), Dublin 8, Ireland
Notable mentions
Swords on Ice: Back for another winter season, Sword's ice rink is a great place to have family fun, with music, food and much more.
Funderland at the RDS: Open from 26 December until 15 January, this famous theme park is the place to have adrenaline-filled fun in the city.
Dalkey Castle Christmas Experience: Enjoy a Christmas experience at Dalkey Castle, where kids can meet Santa, receive gifts and enjoy stories and games.
FAQs about Christmas in Dublin
Is Dublin worth visiting at Christmas?
Yes, Dublin has a lot going on for all ages and is a great city to visit at Christmas.
Do they celebrate Christmas in Dublin?
Christmas is a popular time of year in Dublin, and there is a lot of festive spirit around town.
How many days in Dublin is enough?
3-4 days is plenty to visit Dublin, its attractions and surrounding areas.
So, before the year is up, tick a few of these unmissable festive events on your list during Christmas in Dublin.
Get featured on Ireland Before You Die
Do you want to get your Irish business more online exposure? Especially to those interested in travelling the best places in Ireland? Then why not get a dedicated feature on Ireland Before You Die. Find out more 
here.