It's Christmas time and you're heading on a pub crawl. Here's everything you need to know for the 12 pubs of Christmas rules.
Over the past decade or so, the 12 pubs, an activity aligned with debauchery and frivolous behaviour, has become synonymous with the festive season. The 12 pubs of Christmas, or sometimes simply called 12 pubs, is the name of an annual drinking game where groups of friends gather together, don silly Christmas garb, and venture on routes around cities or towns in Ireland, stopping at (and drinking at) 12 pubs along the way.
Almost a tradition at this stage, there are a series of rules (some standard and some just plain ridiculous) on how to conduct yourself when taking part in 12 pubs. We'll outline these 12 pubs rules, and even throw in some tips for good measure!
Basic 12 pubs rules
1. Christmas jumpers are essential. The more outrageous and/or embarrassing, the better.
2. Other Christmas related paraphernalia is encouraged. Think Santa hats, sleigh bells, twinkle lights, tinsel, etc.
3. One drink (usually a pint) must be consumed in each pub or bar.
4. One "rule" will be imposed per bar. Groups need to decide these "rules" in advance. Tip: write them down on your phone for ease of reference (it's pretty safe to say that once you are five pubs down, your memory won't be the sharpest!)
Although there are more 12 pubs of Christmas rules than we could possibly list, we're going to outline the most common. All you have to do is choose the 12 pubs rules you feel will make your night the most amusing!
Common 12 pubs rules
1. Accents – Simply put, every member of your group has to speak in a different foreign accent.
2. Partners – In this pub, you must pick a mate (sometimes you even have to link arms for the entirety of that pub visit). You can only drink your beverage by being fed it by your chosen mate. This is simpler than it sounds, especially in a crowded bar with too many jars in you!
3. No swearing – Sounds easy? Think again.
4. No pointing – This is really hard. Just take our word for it.
5. No talking – This is difficult for sure, but mainly just looks weird as hell, which then makes the whole situation awkwardly funny, and in turn, harder to not talk.
6. No first names – Strangely so, it's very hard not to call your mates by their first names, seeing as it's their name and all.
7. Speak in song – Add some lyrics to your night. Once drunk, this will be highly amusing.
8. No talking to the bartender – This will really piss off the bartender, but it's kind of funny, nonetheless.
9. No toilet breaks – This is just cruel.
10. Opposite hands – Drink with your opposite (i.e. lefties drink with your right hand, and vice versa).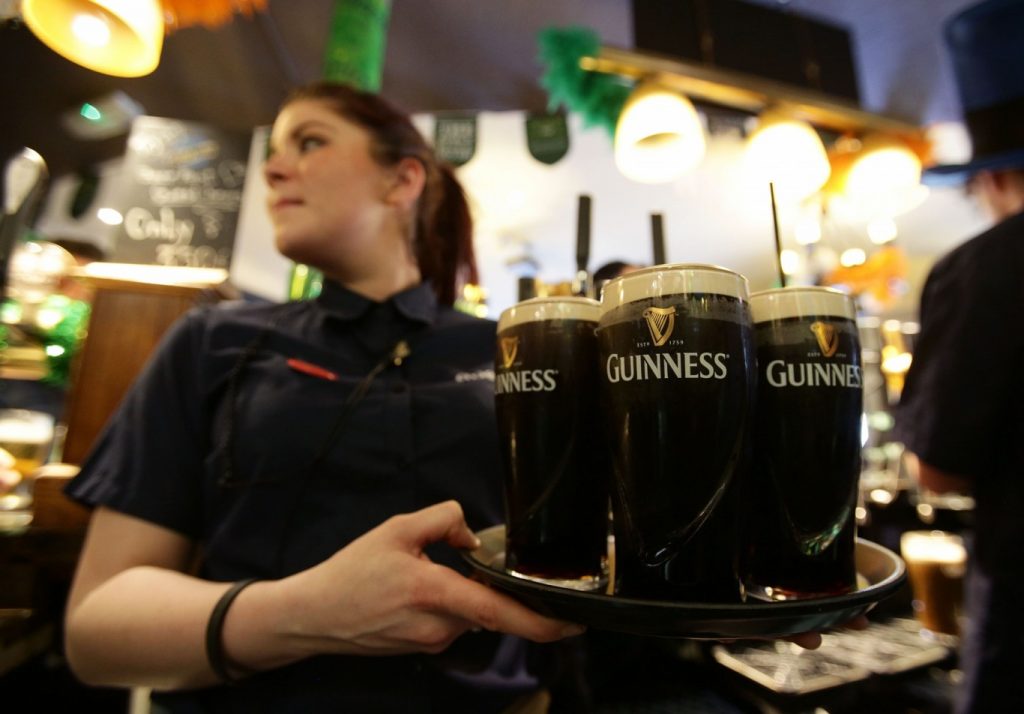 11. Call the barman 'Guinness' – This gets somewhat confusing. For example, "Can I get a Coors, Guinness". This may also piss the bartender off.
12. No phones – This shouldn't be too hard if you're genuinely having the craic with your mates.
13. Hold your drink – Easier than it sounds, you cannot let your drink touch any surface for the entirety of the pub, or until you have finished your drink.
14. Swap shoes – We're not entirely sure why this rule is a rule, but it's a popular one, no doubt.
15. Hug a stranger – This is pretty straightforward, hug a stranger before time is up in that pub!
Rule breakers
If someone breaks one of the rules, either intentionally or unintentionally, there are a known list of penalties ranging from harsh to fair. Here are some standard picks;
1. Do a shot
2. Buy the person who spotted you breaking the rule their next drink
3. Buy a drink and complete the pub as per the rule
Our top tips
1. Although it can be seen as "weak" to include a water rule, it's really the only way to go. 12 pints back-to-back will leave you legless and not remembering this epic night. We suggest you throw in one of these two rules:
a. Drink a glass of water in every pub
b. Drink a pint of water (alongside your alcoholic beverage) in every third pub
2. Eat a large, stodgy, carbohydrate-based meal before your start. This will not only give you longevity on the pints but will also slow down your descent into absolute drunkenness. Consider these two rules:
a. A food run after X amount of pubs
b. The dinner pub – This is where you have to have dinner and a pint/drink in said pub.
And lastly, remember: always leave with an Irish goodbye!
"12 pubs" can be known to get a little loud and bars and pubs can often turn away large groups of participants. Our tip: break into smaller groups as opposed to entering all at once. You've a better chance of being served!
There you have it, our top 12 pubs of Christmas rules. But one final point, enjoy your night and Merry Christmas!
Check out our suggested 12 pubs of Christmas routes for Belfast and Cork.
Get featured on Ireland Before You Die
Do you want to get your Irish business more online exposure? Especially to those interested in travelling the best places in Ireland? Then why not get a dedicated feature on Ireland Before You Die. Find out more 
here.