To beer or not to beer, that is (never) the question. In Ireland, there is only one answer!
Dare we say there is a grand stretch in the evening approaching? With summer well on the way, beer garden season is on the horizon.
Is there anything better than sitting in the sun with your pals enjoying a nice cold beer? For us, absolutely not.
With outdoor dining being the way of life for most of the summer months last year, many outdoor spaces were turned into new beer gardens while old staples got a facelift transforming into stunning spaces.
So, if you're looking for a great spot to enjoy a beer in the sun, here are our top 20 best beer gardens in Ireland.
20. O'Flaherty's, Co. Donegal – one of Buncana's most popular pubs
One of the most popular pubs in the area, the beer garden at O'Flaherty's is one to be experienced.
With Irish music nearly every night and their very own Out The Back festival taking place in April, a night of singing and dancing is almost guaranteed.
Address: 41 Upper Main St, Ardaravan, Buncrana, Co. Donegal, F93 X21F, Ireland
19. Ging's Bar, Co. Leitrim – one of the best beer gardens in Ireland
Located on the banks of the Shannon, the stunning views from Ging's Bar are second to none.
Ging's Bar in Carrick-on-Shannon is the ideal spot to enjoy a pint and admire the alluring scenery around you.
Address: Cortober, Carrick-On-Shannon, Co. Leitrim, N41 R583, Ireland
18. The Towers Bar and Restaurant, Co. Mayo – in the heart of Westport
Westport rarely disappoints, and neither does The Tower Bar.
Come and sample some of the most fantastic food Mayo has to offer whilst having a drink in their quayside beer garden with breathtaking views of Croagh Patrick and Clew Bay.
Address: The Quay, Cloonmonad, Westport, Co. Mayo, F28 V650, Ireland
17. O'Sullivan's Bar, Co. Cork – for the most southerly pint in Ireland
In the heart of Crookhaven, you'll find O'Sullivan's Bar. Facing onto the beautiful Crookhaven Harbour, you could spend hours here.
They also claim they serve the most southerly pint in Ireland. If that's not an excuse to visit, we don't know what is.
Address: Crookhaven, Co. Cork, Ireland
16. Jack Meade's Bar and Beer Garden, Co. Waterford – a kid-friendly bar
Ever been to a beer garden with a playground? Jack Meade's is a very unique beer garden with a spacious wooden bench area for the adults and a play area for the kids.
It really is the best of both worlds as there's no need for a babysitter now.
Address: Cheekpoint, Co. Waterford, X91 NY64, Ireland
15. Haddington House, Co. Dublin – a fantastic Dun Laoghaire pub
Don't feel like going into the city for a pint? We've got you covered.
The spacious beer garden at the gorgeous Haddington House, which looks onto Dublin Bay, is the perfect spot for a pint and a spot of scenery. This is a nice reward after walking the Dun Laoghaire pier.
Address: 9-12, Haddington Terrace, Dún Laoghaire, Dublin, A96 F2R9, Ireland
14. Sean's Bar, Co. Westmeath – the oldest bar in Ireland
It may be Ireland's oldest pub, but its lively beer garden is anything but old-fashioned.
Pop in to enjoy a pint from one of Ireland's most historic pubs. They boast antique decor and even have their own whiskey.
Address: 13 Main St, Athlone, Co. Westmeath, N37 DW76, Ireland
13. Scannells Bar, Co. Cork – the smallest bar with the big garden
Their tagline, "The small bar with the big garden," tells you all you need to know.
Enjoy a drink in their beautiful garden surrounded by flowers of every type and colour.
Address: 5 Connolly Street, Maulnaskehy, Clonakilty, Co. Cork, Ireland
12. Billy Byrnes Gastro Bar and Venue, Co. Kilkenny – a truly unique gastropub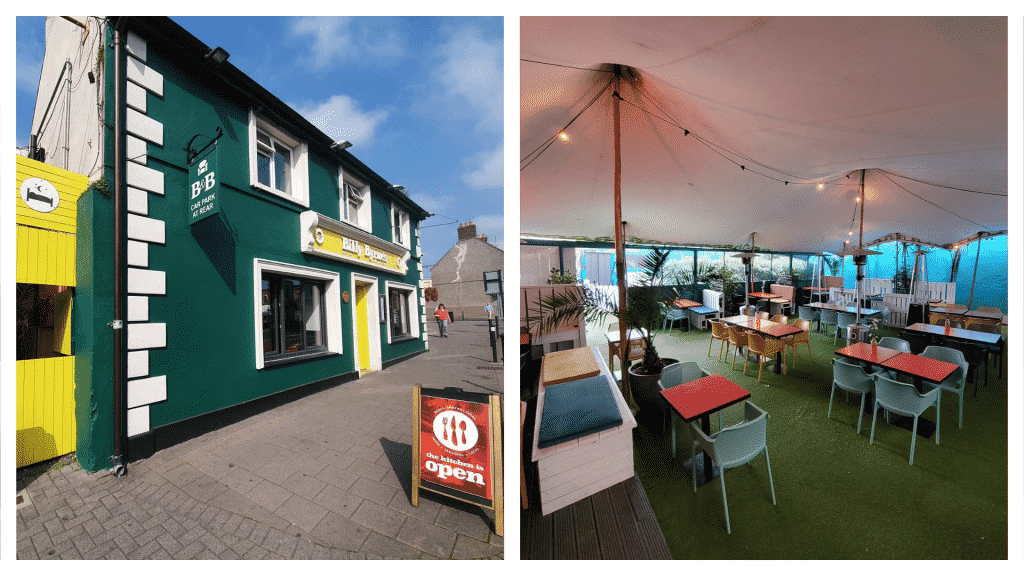 You haven't seen anything yet until you pay a visit to the Medieval Capital of Ireland and to Billy Byrnes specifically.
The outdoor area is like something you would stumble across at Electric Picnic. Have we mentioned the renovated old double-decker bus? This is certainly one of the best beer gardens in Ireland.
Address: 39 John Street Upper, Highhays, Kilkenny, R95 K091, Ireland
11. Tigh Ned, Co. Galway – a must-visit in Inis Oirr
Fancy a boat trip to Inis Oirr? Tigh Ned is a small family-run pub located on the smallest of the Aran Islands.
If you want to feel like you are in old ancient Ireland, come sit and enjoy a pint in their outdoor beer garden surrounded by stonewalls with views so beautiful you may forget about your pint.
Address: Tigh Ned, Inisheer, Oileáin Árann, Co. Galway, H91 KT63, Ireland
10. JD's Bar and Garden, Co. Kerry – a beautiful beer garden in County Kerry
After you're done sunbathing on the beautiful Ballybunion beach, make sure to come up for a pint in JD's Bar and Beer Garden.
The newly refurbished garden is a hidden treasure, making it a great place to enjoy a few refreshing drinks with friends.
Address: Main Street, Sandford, Co. Kerry, Ireland
9. Deep South, Co. Cork – popular with visitors to Cork's Jazz Festival
If you've ever been to the Cork Jazz Festival, you know this is the place to be.
Don't be fooled by the seemingly small exterior of the Cork City pub; it has one of the best beer gardens in Ireland and a great selection of drinks.
Address: 51 Grand Parade, Centre, Cork, T12 H677, Ireland
8. The Living Room, Co. Dublin – a great spot in the capital
Regarded as one of the best pubs to watch sport in Dublin, The Living Room is an ideal spot to take in a match and a pint on a sunny day in the capital.
With the largest beer garden in Dublin City, this outdoor spot offers a fantastic drinks menu and plenty of space. We can think of nowhere better to spend a summer evening in the city.
Address: Cathal Brugha St, Rotunda, Dublin 1, Ireland
7. Flanagan's on the Lake, Co. Tipperary – for stunning lake views
The location of this place couldn't be more stunning. Looking onto Lough Derg, Flanagan's is quite literally on the lake.
On a nice summer's day, it is the only place you'll want to be to enjoy an outdoor drink.
Address: Ballina Quay, Ballina, Co. Tipperary, Ireland
6. The Curragower, Co. Limerick – enjoy a great view of King John's Castle
A perfect afternoon in Limerick City involves two things: a pint and sitting in the pleasant beer garden at the Curragower.
With a view of King John's Castle right in front of you, it's a no-brainer to visit here.
Address: Clancy's Strand, Limerick, Ireland
5. An Púcán, Co. Galway – eye-catching décor and great pints
It's easy to see why An Pucan Bar is extremely popular with people all around the country, as it has the best beer gardens in Galway!
You step into another world when you enter the popular beer garden at An Pucan with its eye-catching decor and unforgettable atmosphere.
Address: 11 Forster St, Galway, H91 P65D, Ireland
4. Jimmy Rabbitte's at The Camden, Co. Dublin – for an old-style pub feel
Before you head into The Camden to dance the night away, you've got to check out one of Ireland's favourite beer gardens at Jimmy Rabbitte's.
With an old-style pub feel to the beer garden, it's a great place to enjoy a cold pint.
Address: 84-87 Camden Street Lower, d2, Dublin, D02 DH36, Ireland
3. CARGO by Vertigo, Co. Antrim – a great spot in the heart of Belfast
This trendy spot is located in the Titanic Quarter, and you can see the Harland and Wolff cranes as you sip on your pint.
Belfast's largest open-air al fresco venue is one to put on your list.
Address: Titanic Quarter, Queens Rd, Belfast BT3 9DH
2. The Boatyard at Luker's, Co. Offaly – beers in an old boatyard
This newly transformed old boatyard in County Offaly is one of the coolest beer gardens out there.
There's live music and delicious food to be enjoyed as well.
Address: Lock House, Main St, Raghra, Shannonbridge, Co. Offaly, Ireland
1. The Courtyard at John M. Reidys, Co. Kerry – one of the best beer gardens in Ireland
Our number one pick has to be the Courtyard at John M. Reidys.
Nestled in the heart of Killarney, this bar is packed nearly every night, which is no surprise with the pub's unique decor that sees each area designed with a different theme.
This place is a fantastic spot for a drink and some live music.
Address: 4 Main St, Killarney, Co. Kerry, V93 CC82, Ireland
Other notable mentions
The Locke Bar, Co. Limerick: A great spot for an outdoor drink in the city.
The Beachcomber Bar, Co. Donegal: Stunning sea views to accompany your drink.
The Bone Yard at Pug Uglys, Co. Antrim: Grab a drink and a 'Pug' pizza in Belfast.
The Marker Hotel, Co. Dublin: The Marker Hotel is home to one of the best rooftop bars in Ireland, offering panoramic views of Ireland's capital city.
Sammy's Bar, Co. Kerry: Located close to the sandy beach in Inch, this fantastic beach bar offers a bustling beer garden and a wide selection of drinks.
The Dirty Duck, Co. Down: The Dirty Duck in Holywood, County Down, is one of Northern Ireland's most popular bars. The amazing beer garden at the Dirty Duck offers a great drinks menu and beautiful views of Belfast Lough.
Fade Street Social, Co. Dublin: Located in Dublin City Centre, Fade Street Social is a hot spot among locals. With a wide selection of craft beers and a great drinks menu, there is plenty to enjoy here.
The Belfry, Co. Dublin: Known as a sun trap in the evenings, this is one of the most popular venues among locals for after-work drinks.
FAQS about the best beer gardens in Ireland
Which Irish town has the most pubs?
Feakle in County Clare has the most pubs per person.
Where is the best pint of Guinness in Ireland?
According to popular opinion (and, of course, The Guinness Guru himself), the best pint of Guinness in Dublin can be found at John Kavanagh, The Gravediggers Pub in Dublin.
What are the oldest pubs in Ireland?
Sean's Bar in Athlone, County Westmeath, is widely regarded as the oldest pub in Ireland, dating back to 900 AD.
Get featured on Ireland Before You Die
Do you want to get your Irish business more online exposure? Especially to those interested in travelling the best places in Ireland? Then why not get a dedicated feature on Ireland Before You Die. Find out more 
here.