We learned some fascinating things at The Old Bushmills Distillery.
For over 400 years, Bushmills Irish Whiskey has produced some of the finest blended and single malt whiskeys in the world at The Old Bushmills Distillery which is one of the best whiskey distillery tours in Ireland.
We've always wanted to visit this world-famous distillery, and we finally got the chance to venture up a few weeks ago.
It was a fantastic day out. We took the public tour inside the famous distillery followed by a premium tasting tour. Both were genuinely amazing experiences.
Here are six amazing things we took away from our trip to the north coast.
1. Bushmills Distillery is the oldest licensed whiskey distillery in the world
Bushmills Distillery is the world's oldest licensed whiskey distillery, and it is located in the village of Bushmills, County Antrim.
The local area has a long tradition with distillation. According to one story, as far back as 1276, an early settler called Sir Robert Savage of Ards, before defeating the Irish in battle, fortified his troops with "a mighty drop of acqua vitae".
In 1608, a licence was granted to Sir Thomas Phillips (Irish adventurer) by King James I to distil whiskey.
The smooth blend of Bushmills appeals to a range of palates and is enjoyed worldwide by whiskey lovers and novices alike.
2. Bushmills' Ingredients originate from three key locations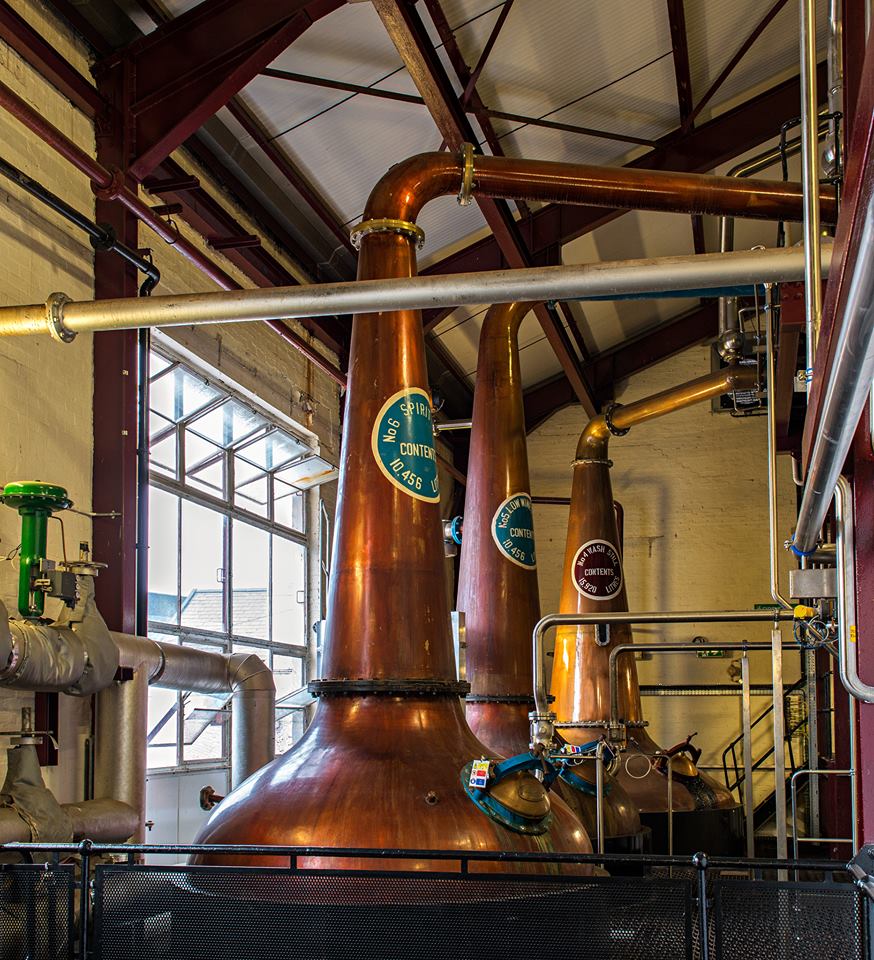 Bushmills is unique as unlike many other Irish whiskeys, they use 100% malt barley to handcraft triple distilled whiskey in small batches giving it that unparalleled Bushmills smoothness.
Each step in the whiskey making process takes place in Ireland making it a distinctive gift for family or friends from Ireland or abroad.
Interestingly, Bushmills Whiskey is made from three key ingredients: malted barley sourced from Southern Ireland (Kildare), distillers yeast which comes from Scotland and Bushmills water from St Columb's Rill, a tributary of the River Bush.
3. The reason why whiskey is a brown colour
Have you ever wondered why whiskey is a brown colour? Well, we learned the answer during our visit to Bushmills.
Interestingly, whiskey get's its colour from the barrels which store the spirit for at least three years.
Alcohol is a solvent, so it leaches flavour and pigment compounds from the wood it's aged in. The longer a whiskey spends in a barrel, the darker the colour!
4. Black Bush has to be one of the best value whiskeys in Ireland
Often referred to as Bushmills' best-kept secret, Black Bush has an undeniable flavour.
Black Bush Whiskey combines a uniquely high proportion of malt whiskey matured in former Oloroso sherry casks with a sweet, batch-distilled grain whiskey.
To enjoy this versatile whiskey at its best, serve neat or in a classic cocktail such as an Old Fashioned to accentuate its distinctive flavour and smooth finish.
We loved this whiskey and thought it was the best value whiskey on offer at Bushmills, and it has to be one of the best value whiskeys in Ireland.
Bottled at 40% ABV, Black Bush has an RRP of €32. At just €4 more than Bushmills Original, they are practically giving it away!
5. If you like Whiskey, you NEED to take Premium Tasting!
When we were on our tour of the fantastic Bushmills Distillery, we joined the premium tasting option which lasted one hour.
Our 'guide' was friendly, knowledgeable and took his time taking us through the tasting experience.
The whiskeys we tasted included Bushmills Original, Black Bush, Johnny Walker Red Label, Jack Daniels, Bushmills 10 Yr, 16 Yr, 21yr and a 12 Yr thrown in at the end.
The tour is excellent value for money as you learn a lot about whiskey and you get to taste a wide range of whiskeys, thereby determining what whiskeys suit you best.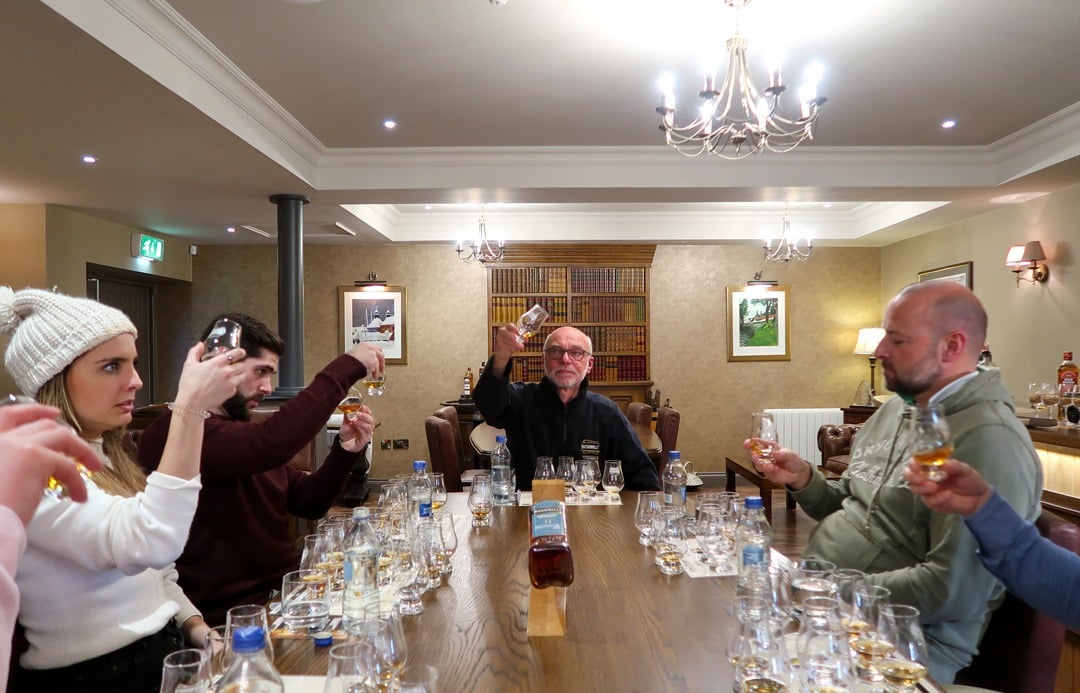 For us, we loved the Black Bush, the 12-year-old, the 16-year-old and the 21-year-old.
Regardless of what level of whiskey drinking you are at, if you are interested in whiskey, we'd highly recommend taking the premium tasting tour when you visit.
6. You get to taste a €175 bottle of whiskey on the premium tasting experience!
As mentioned above, on the premium tasting session, we tried a wide range of the fantastic whiskeys Bushmills produces. Among them, was the 21-year-old single malt.
Aged for a minimum of 19 years in former Oloroso sherry and Bourbon-seasoned casks, then transferred into Madeira casks for the final two years of its maturation, Bushmills 21 year old accentuates the soft and sensual taste of vanilla and dark chocolate with a toasted wood finish.
It has a considerable depth that interweaves dried fruit flavours with spicy, aromatic maltiness and subtle nutty raisin notes.
We absolutely loved this whiskey. It is sold at a whopping €175 which is the most expensive whiskey we have ever tasted!
This is a bit out of our price range for the time being but if anyone would like to buy us this for Christmas, the Ireland Before You Die team would be very grateful!
Public Tours and Pricing Information
Individual and groups with 14 people or less will be allocated places on a first come first serve basis. Tour places are limited and subject to availability on the day.
ADULT £8.00
STUDENT 18 Years+, ID required £7.00
SENIOR 60 years + £7.00
CHILD* 8 – 17 years £4.50
FAMILY** 2 adults & 2 children 8 – 17 years £23.00
GROUPS Groups of 15 + qualify £6.50
Reservations
Groups of 15 + may book in advance, subject to availability. Bookings are taken on the hour and half hour between 09.30 and 13.00h only. No Sunday Bookings.
Please contact Bushmills at [email protected] to ask about availability. A deposit is required to secure all bookings.
Premium Tasting Experiences
A chance to taste and learn more about our range of whiskeys. Contact Bushmills at [email protected] for more information on these events.
Get featured on Ireland Before You Die
Do you want to get your Irish business more online exposure? Especially to those interested in travelling the best places in Ireland? Then why not get a dedicated feature on Ireland Before You Die. Find out more 
here.