If you're visiting Dublin but want to experience Ireland's scenery without going too far, or if you live in Dublin but you're tired of seeing the same ol' places, County Meath is the place for you! Situated on the Boyne Valley, County Meath is a place steeped in culture and mythology and just a short drive from the capital. It has some amazing scenery and mythological sights that are perfect for the travelling soul. Here are 5 places you can visit if you want to experience the myths and scenery of the place.
5. The Hill of Tara
An archaeological complex located near Navan, the Hill of Tara contains a number of ancient monuments and, according to tradition, it was the seat of the High King of Ireland. A sacred place of Celtic myths and traditions, the hill is the place of many man-made sacred monuments, the most notable being The Fort of the King and The Stone of Destiny. It is rumoured that when the true king of Ireland will touch it, the stone will roar. So, give it a try, you never know?
4. Trim Castle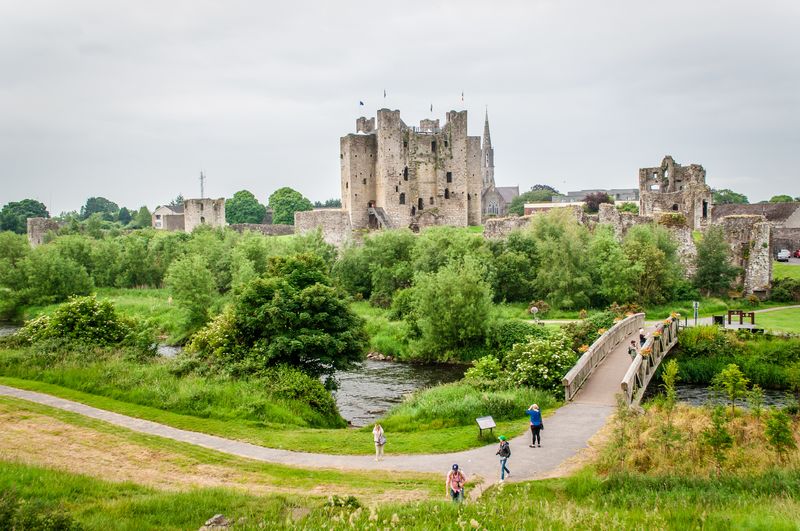 A short distance away from The Hill of Tara, Trim Castle is best known for being the filming site of Braveheart; so if you liked the scenery in that film, you should give it a go. Trim Castle is Ireland's biggest Norman castle, popular for its three story Keep built in the form of a crucifix, with twenty corners. You can visit this incredible site in a guided tour, on weekdays from November to February. Or simply wander around the quaint little town of Trim and it's riverside walkway.
3. Slane Castle
When it comes to castles, County Meath sure has a lot to offer! Slane Castle is probably the most versatile site, hosting a number of events, from weddings to concerts of big names like U2, Guns n' Roses, Foo Fighters and Hozier. If you want to solely enjoy its architecture though, you can take a tour throughout the year. Bonus: Slane Castle has an amazing bar and restaurant that you can enjoy afterwards. Furthermore, from January 2018 Slane castle will be launching full tours of it's new on-site Slane Castle Whiskey distillery. The recently constructed, state-of-the-art distillery is soon to become a very big feature on Meath's tourism map.
2. Bective Abbey
Also a filming site for the film Braveheart, Bective Abbey is 15th-century Cisternian abbey in the town of Bective. The abbey contains a 13th-century church, a 15th century cloister and a 16th-century tower, open for visiting all year round, free admission! The abbey stands as a simbol for a time when monasteries were considered the sites of cultural creativity, and, like many others, it preserved precious religious texts and Christian art. Since those times, the abbey has gone through state confiscations and purchases by laymen like Thomas Asgard who strayed away from its religious purposes and used it as a manor house. Presently, the Abbey belongs to the state and it is protected as a national monument. It can be visited as a fascinating testament to bygone eras and it is a paradise for history enthusiasts!
1. Newgrange
Newgrange was built over 5,200 years ago, making it one of the oldest monuments in the world. It is a megalithic tomb, shaped like a dome and surrounded by kerbstones adorned with megalithic art. The monument was built by Stone-Age farmers and its purpose is most likely connected to seasonal changes; this can be clearly seen every December 21st (weather permitting) when the rays of the early morning sun penetrate the cairn's "roof box" to illuminate the passage. It is fascinating how a monument of that magnitude was built with pre-historic means of transporting heavy materials. A tour of Newgrange will immerse you in its history and let you experience its heritage first-hand as you enter the tomb. The site also provides and excellent souvenir shop and a restaurant, making it the perfect place for an exciting day trip! Newgrange is part of the Bru na Boinne megallithic complex which also boasts two other significant tombs named Knowth and Dowth, the former is also open for tours and hosts over one third of all of Europe's megallithic art in one site.