Not only are the Irish fond of a pint, they have a unique sense of humour with "having the craic" a popular pastime in pubs up and down the country. But it may not only be the traditional fiddle or the infectious laughter flowing from the pubs of Ireland that catches your attention. Some of the best boozers have the funniest names that will stay with you long after the morning after the night before. Here are just 10 of the more unique pub names in Ireland. How many have you had a pint in?
10. The Bottom of the Hill, Finglas, Dublin
This Dublin pub has everything you would expect from a good old-fashioned local … and a bit more. With sing-a-longs, plenty of beer and mighty craic, The Bottom of the Hill has by no means lost its original charm and offers a classic night to remember. And yes, it's at the bottom of the hill!
9. Tom and Jerry's, Limerick
Set in the heart of Limerick city and welcoming a steady flow of visitors in need of a good night out this cracking pub's name is not the only thing that will catch your eye. Live sporting events are shown regularly while traditional music and DJ nights are also held. A super venue to add to a thriving social scene in Limerick.
8. The Sky and The Ground, Wexford
With live music, a heated beer garden, a buzzing atmosphere and great Guinness, this eye-catching pub in Wexford is the place to be. And if pints are not your thing, the choice of Whiskey on offer has been hailed as "one of the best in the country". A great spot for gigs or a sneeky snifter after shopping on Wexford's main street.
7. The Blue loo Bar, Glengarriff, Cork
Famous for its blue painted walls and killer sandwiches this popular Glangarriff watering hole is one to watch out for. Proud of its traditional atmosphere, dirty postcards and super pints this Southern gem is worth a visit…if only to check out if the loos are actually blue!
6. The Hole in the Wall, Galway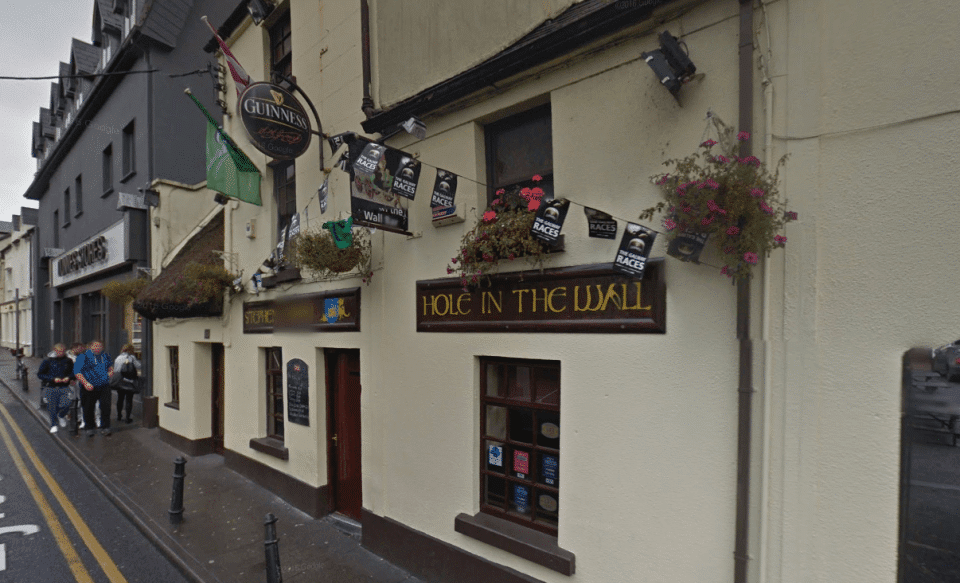 So the story goes that there was a hole in the garden wall behind this pub that led to the police station on Eglington Street. Gardai on duty would avail of the hole to have a cheeky pint without being seen drinking in uniform. The hole is no longer there but the name remains and The Hole in the Wall is a lively spot for students and horse racing fans during the Galway Races.