Over the years I have accumulated a group of International friends that I am extremely fond of. Sometimes, these internationals decide to visit.
After my dear Greek friend made a 24-hour trip, I had to show off my land, I had to get creative. I came up with probably the greatest North Coast route for such a visit. One that ensures that they see the best bits, enjoy the best food and feel like they got the truest experience of Northern Ireland.
Starting from airport pick up to drop off, this route is one that will give your guests the best experiences of the North.
1. The Creamery Can
Located off the A26 at Glarryford, the Creamery Can is the most endearing family-owned coffee shop. I don't know where to begin. The location is stunning, the decor is perfect, the customer service is exceptional but more importantly, the food is majestic.
If I could recommend anything, I'd encourage the caramel squares. I'm an easy target, I have a sweet tooth. I only eat the main course to get to dessert and these caramel squares are everything and more. A perfect stop on the way up north from the airport.
2. Dark Hedges
If your friends are the sorts that geek out over Game of Thrones then this is the perfect place to begin. Home to the 'King's Road' in Game of Thrones, these enchanting beech trees that are intertwined across a country road make for some epic photography. Keep an eye out for the road signs, I've been twice and have been lost each time for a significant amount of time. Thankfully the internationals didn't know we were lost, I played it cool.
3. Ballintoy Harbour
Another Game of Thrones filming location for the 'Greyjoy Kingdom of Pyke' in the show. I'm going to pretend like I didn't have to Google it so you GOT fans respect me more.
A stop at Ballintoy harbour is one that I'd highly recommend. It is such a peaceful location even with tourists everywhere. The photo opportunities are endless and a lot of fun to explore climbing the rocks. There is even a giant cave on the other side of the car park, I don't know what more this place can offer.
4. Giant's Causeway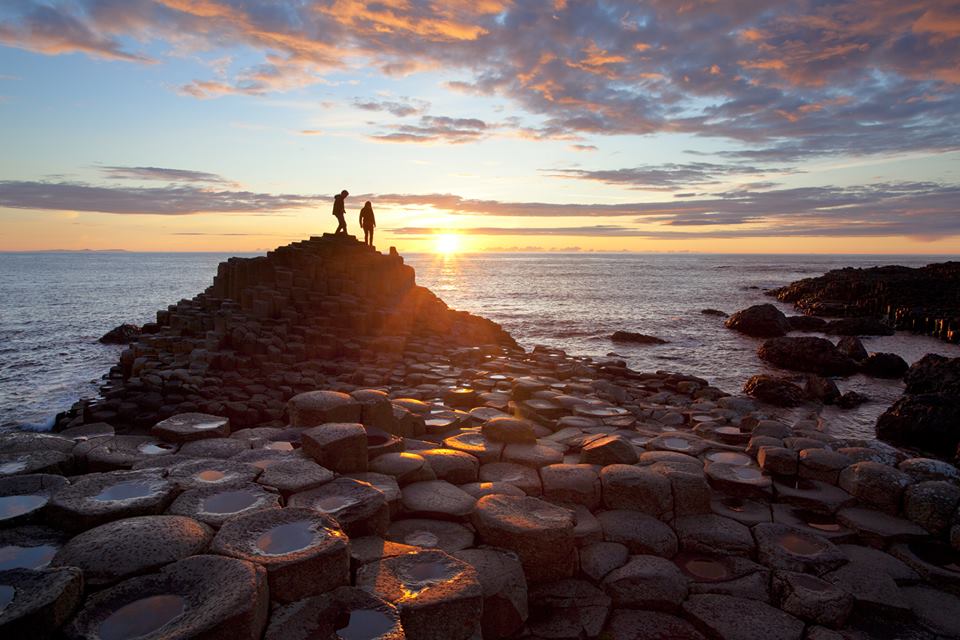 One of the most iconic landmarks in Northern Ireland, 44,000 naturally formed hexagonal shaped rocks that fit together perfectly. This one still blows me away when you really think about what it is. It is a gorgeous walk to go down and up from the rocks, but to save time, you can jump on the bus which is £1 each way.
5. Bushmills Inn
This may be my favourite place on my top 10 list. I choose to stop at the Bushmills in for 3 things and 3 things only, Guinness, fresh soda bread and the rocking chair by the fire. Bushmills Inn also has a lot of character which enhances the experience. Make sure to check out the 'Secret Library' upstairs. Though I'd hate to tell them that a sign that says 'Secret Library' is a little bit of a giveaway. Nice try though…
6. Dunluce Castle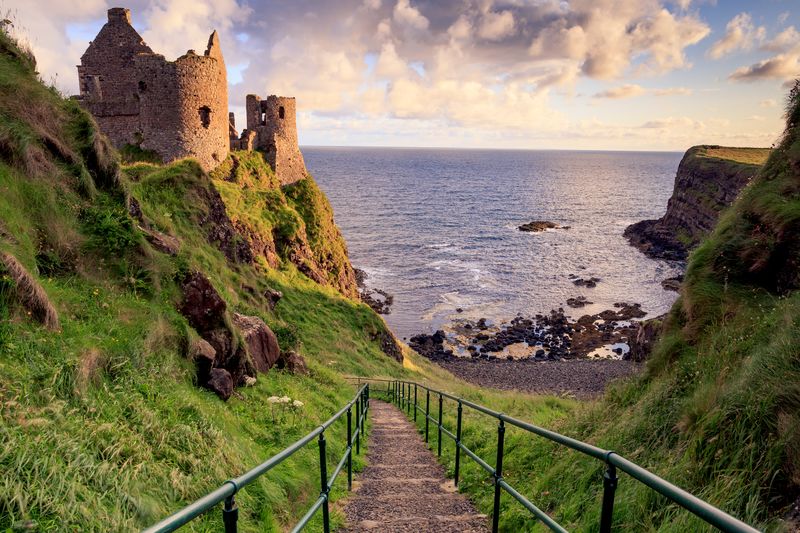 As far as Irish stereotypes go, Dunluce Castle is all of that and more. Most of my guests melt at the sight of castle ruins, I pass this almost every day I'm kind of over it. It sometimes takes having guests to remember that it is pretty amazing. It does make for some pretty amazing photos, especially when you catch a glimpse of the northern lights in the background.
7. Portstewart
I am aware that somehow Portrush got the title of 'Portmagic' somewhere along the line. It makes me cringe a little, but makes me more endeared by the classier and more superior Port of Stewart. Portstewart Strand is simply blissful and if you chose to walk the cliff path from the promenade it is one of the most scenic locations. I thoroughly enjoy this walk, and if you so happen to fall into Harry's Shack to partake in an afternoon pint by the sea, so be it.
8. Mussenden Temple
This spot is one for the history lovers, Mussenden Temple overlooks Portstewart, Donegal, and parts of Coleraine. A great spot for a sheep selfie, though I wouldn't recommend it (again…) they never look impressed.
Exploring the ruins of the Bishop's House is pretty exciting and as a photography lover, it makes me come alive. The temple itself stands at the end of the cliff above the sea and Downhill Beach. It is a breathtaking spot, for the view and the walk to it.
9. Ramore Wine Bar
Your north coast trip would not be complete without overfeeding your guests at the Ramore Wine Bar. I get pretty predictable here with what I order, so it is interesting to see how the first-timers react. I usually steer them in a very clear direction and if they decide to go against that, they do at their own risk. No matter how full you are, there is always room for a dessert the size of your head.
10. Lost and Found Coffee
Depending on the time of the flight the following day, Lost and Found in Coleraine is always a good call. A family-owned coffee shop in the heart of Coleraine is full of character and uniqueness that has been partnered with incredible food and coffee. I should also mention that they have won 'Best cafe in Ireland'. That seems like a good selling point, it won me over.