Like an old pair of shoes that should have been discarded a long time ago, most people stick to their trusty favourites when it comes to a takeaway.
Whether it's the Saturday night chippy, pizza, Chinese, or the Sunday night feast to cure a hangover, we don't deviate too far past the same number used the last time we made a ravenous phone call.
Just one look at the number of takeaways in Newry shows the vast array of choice.
It's no wonder most of us don't stray far from what we know. If your struggling to pick, here are our top 5 best takeaways in Newry…
5 – Blue Print
The Blue Print is a family run business with a passion for great food. They are well known for using the freshest and best ingredients in a warm, stylish and sophisticated environment.
The food is delicious, pizzas and burgers are particularly fresh. You can see them being prepared, always a plus in any restaurant.
You may need to give the dessert menu a miss, with the food portion sizes being so large. Not usually a bad thing and your jeans will definitely thank you for it the next morning.
The chicken wings are very tasty, although may not be suitable for a first date, were most begrudgingly opt for the salad.
This restaurant can be very busy, and you could have to wait longer than normal for a table or a takeaway, but it's worth it.
Children are always well looked after with an extensive kids' menu, so don't book the babysitter for this one.
More Info:
Address: 28 Corn Market, Newry BT35 8BG
Phone: 028 3025 0596
Menu: blueprintpizza.com
4 – Art Bar Funkel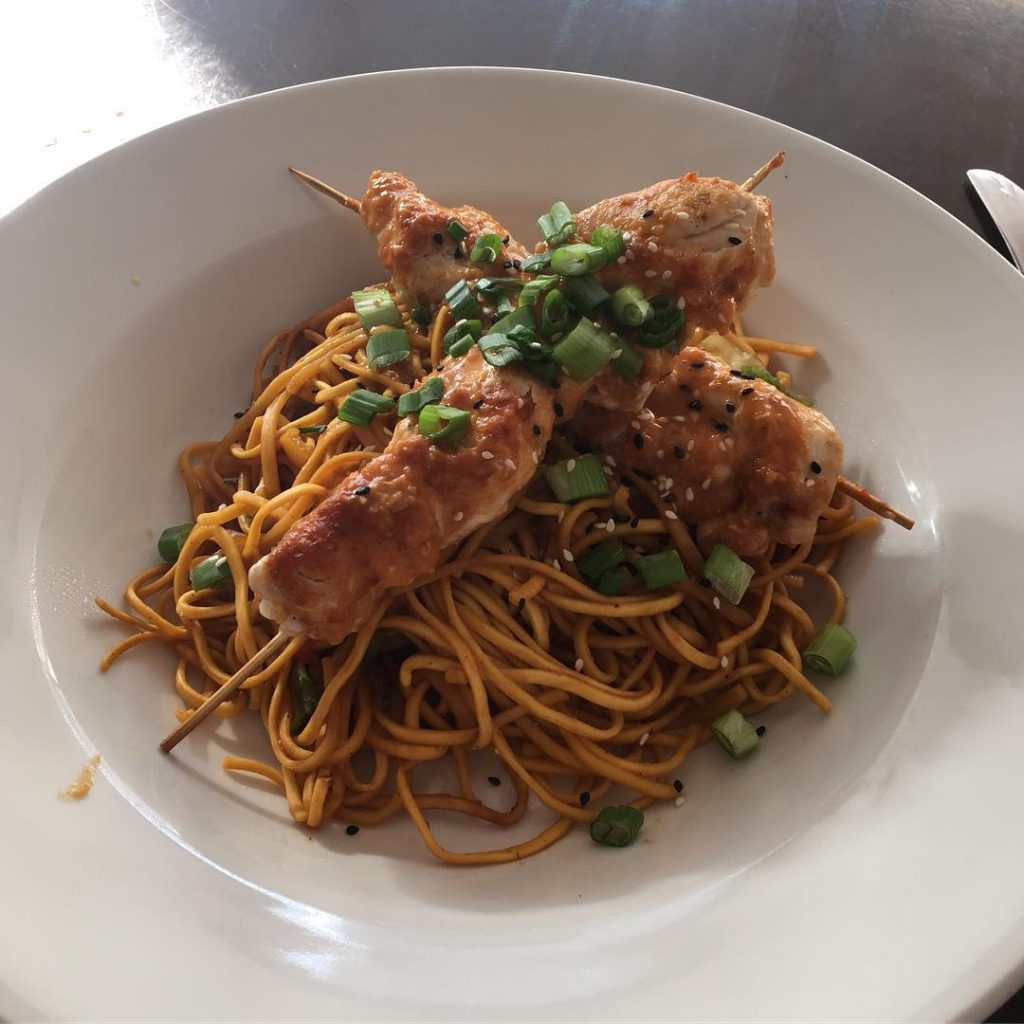 The original Art Bar Funkel Bistro was established in February 2006 at the Newry Arts Centre, where they got their name.
They have since moved to the Newry Creamery Quarter and have become one of the local's favourites.
Their bistro features an interactive wall map of the world and customers are encouraged to attach magnets from their holidays around the globe. A nice touch which you won't see in many places.
The food is wonderful, and so is the service. It's served tapas style, giving you the chance to sample more options.
Although again, as with many places, the chicken wings are a popular choice.
Art Bar Funkel as you can imagine is very popular, so make sure to ring in your order or book in advance to guarantee a table.
More Info:
Address: 3 Monaghan St, Newry BT35 6BB
Phone: 028 3025 1935
Menu: artbarfunkel.com
3 – Bunreal
Bunreal is run by the husband and wife team David and Vicki. They opened in August 2018 on Monaghan Street, Newry.
Their idea was formed by a love for all thing's burgers. They created the initial idea over a year in advance prior to the official opening while they looked for the perfect premise.
Burgers are what Bunreal is all about. Although they also provide different fries, shakes and wings options.
Their speciality is in smashed style burger patties as they believe this is the only way burgers should be cooked. Allowing customers to then create their own burger with a selection of fresh toppings and sauces.
Only one way to find out if their new style of burgers is the way forward, right?
More Info:
Address: 12c Monaghan St, Newry BT35 6AA
Phone: 07554 066864

2 – Friar Tucks
Friar Tucks is a family run business which started in 1983 with one restaurant on Monaghan Street. They now have an established chain of restaurants with an always growing menu that now includes a fresh food deli.
The ground floor in the main Monahan street restaurant has undergone major renovations to upgrade the seating and make it much more comfortable.
The first floor includes extra seating and a custom designed 'Kids play area'.
This kids' area is very popular with all ages of children who get free entry after the purchase of a kid's Happy Meal.
People have been known to come straight here from the airport after years away to rekindle their taste buds with the world famous 'Chicken Burger'. You have to try one.
Make sure to get extra coleslaw. Thank me later!
More Info:
Address: 6 Monaghan St, Newry BT35 6AA
Phone: 028 3026 8486
1 – La Dolce Vita
Sometimes there's just nothing better than 'a good aul pizza', and if you're looking one in the Newry Area, this is the place to go. For regulars, these two have become the norm but if you're a newbie try either their 'Chicken Chip Kebab' or 'Chicken Chip Kebab Pizza'. Both excellent and the two most popular choices on the menu.
La Dolce has a huge menu with no less than 19 Pizza selections including their weekly special. They also have a dessert menu in their newly opened restaurant, on which the 'Smores Cookie' has risen to the top in popularity.
Anyone who fancies something different from your usual takeaways, La Dolce Vita should be top of your list.
More Info:
Address: Patrick St, Newry BT35 8DN
Phone: 028 3025 2700
Order: just-eat.co.uk