There is so much to see and do on the Wild Atlantic Way, but you only have a week! Don't fret; here is our seven-day itinerary of the best stops on Ireland's famous west coast.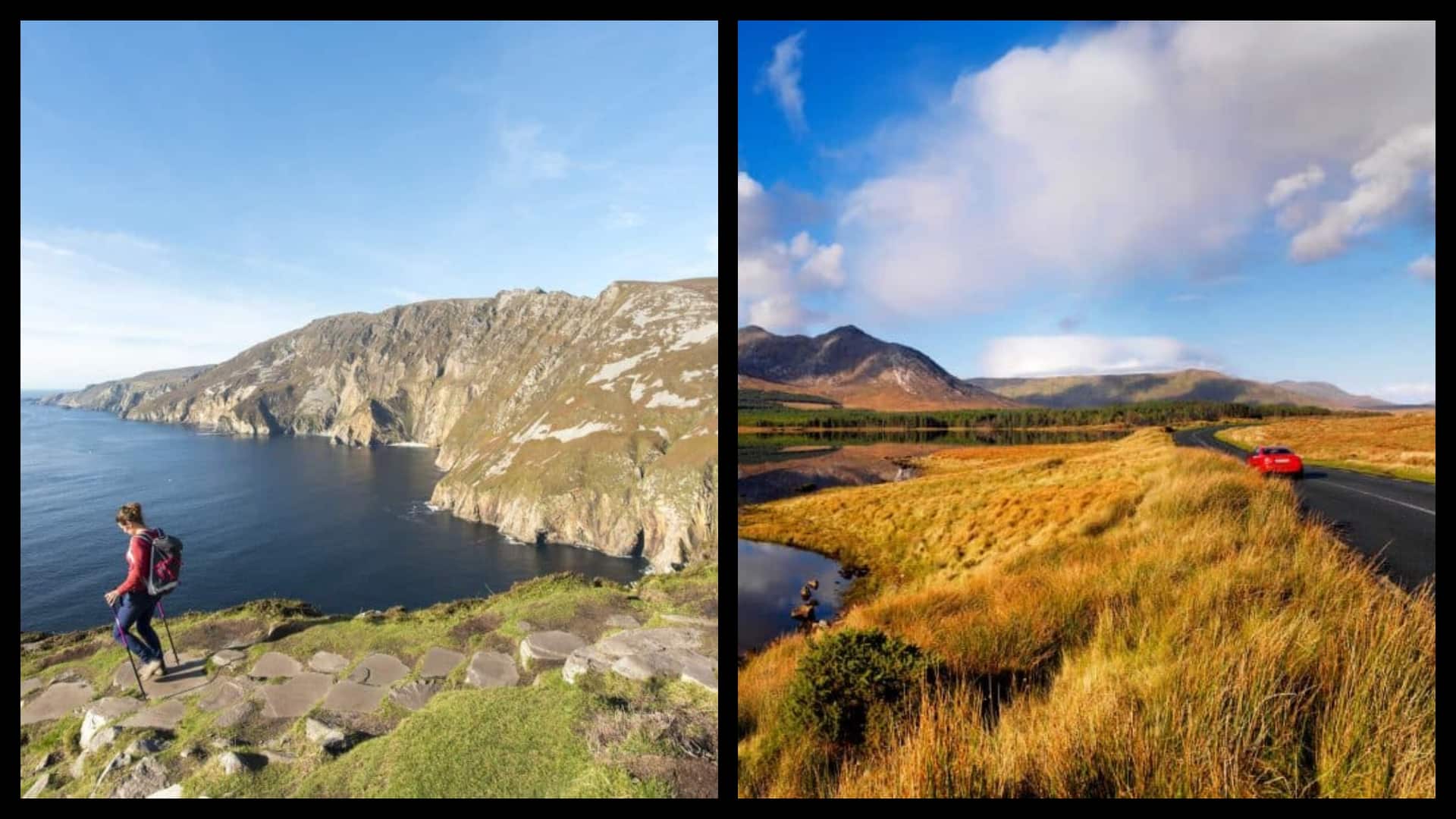 From top to bottom, a non-stop drive along Ireland's Wild Atlantic Way route would take you just nine hours. Still, we doubt that would be an enjoyable journey.
However, the short distance between Ireland's most northern and southern points make it the perfect place for a road trip. It's totally doable to see all the best bits of the west coast in as little as a week.
With so much you'll want to fit in, planning a road trip can be pretty daunting. So, we have put together the perfect seven-day Wild Atlantic Way itinerary that will allow you to see all the best bits this route has to offer.
Day one – Co. Donegal
Morning
Donegal is the perfect place to start your Wild Atlantic Way route on a high. Rugged coastlines, quaint town centres, and beautiful beaches are some of the great things to see while you're here.
Start at the county's north coast with some breakfast from Nancy's Barn in Ballyliffin. The diverse breakfast menu means you'll be spoilt for choice with everything from scones to buttermilk pancakes or full Irish breakfasts.
Once you feel fuelled and ready to go, head north to Malin Head, the most northern point on the island of Ireland, for some incredible views of the Irish coastline overlooking the Atlantic Ocean.
If you're a Star Wars fan, this is a must-see as scenes from Star Wars: The Last Jedi were filmed here!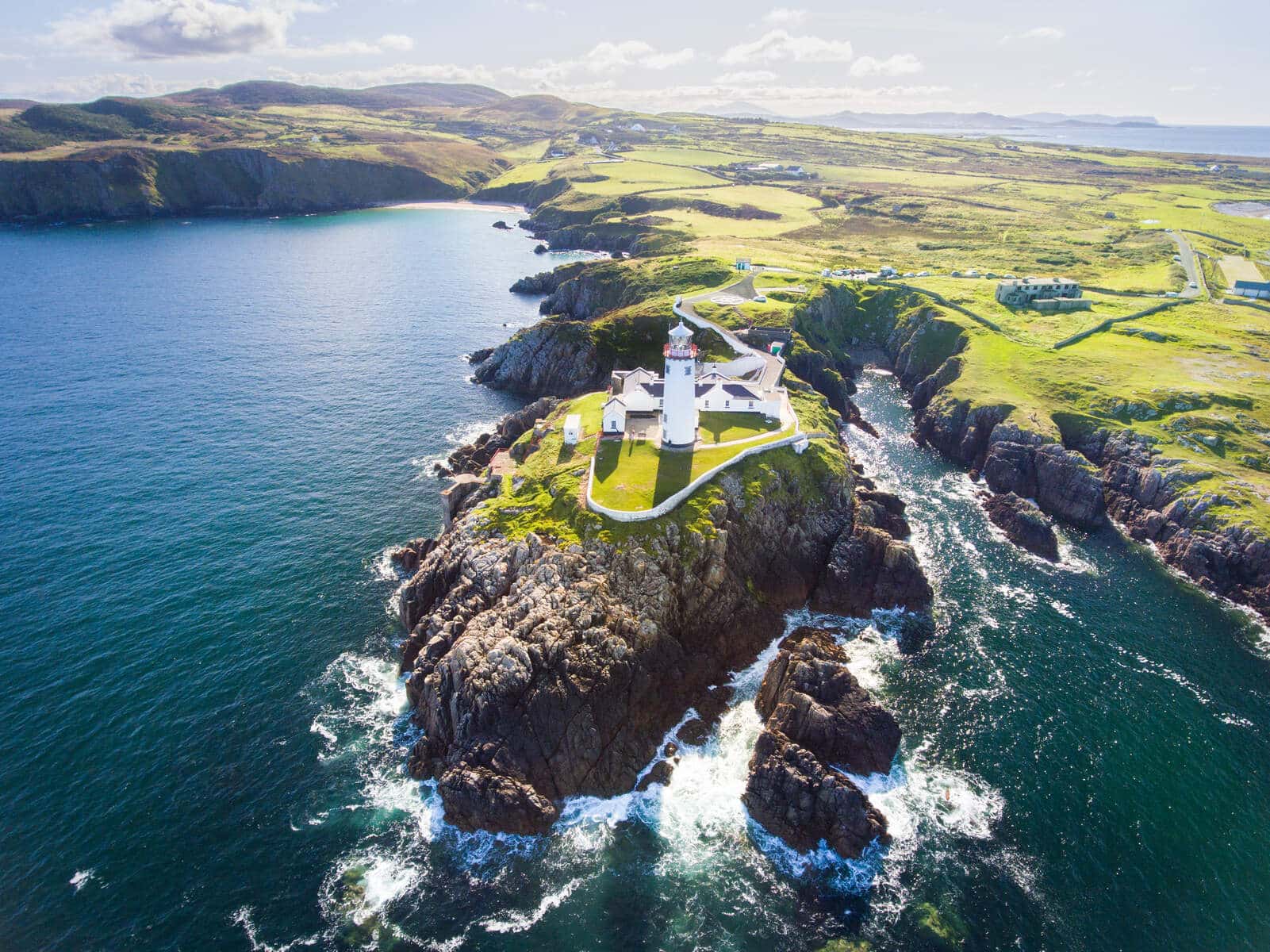 Afternoon
After you've had enough of the wind on the coast, head towards Donegal's largest town, Letterkenny. A must add to your Wild Atlantic Way itinerary.
While you're here, be sure to check out Donegal's only Roman Catholic Cathedral and the Donegal Museum, which is located in a former famine workhouse and is considered the best county museum in Ireland.
After exploring the town, head for lunch at The Lemon Tree Restaurant. You can sample some delicious contemporary Donegal cooking or Brewery Bar and Restaurant for a more traditional Irish feed.
After lunch, head to the popular Fanad Head Lighthouse, just a 45-minute drive from Letterkenny. Built in 1817 and hailed as one of the most beautiful lighthouses in the world, Fanad Head Lighthouse is a must-see during your time in Donegal.
Evening
End your day in the small town of Dunfanaghy, a must on your Wild Atlantic Way itinerary.
Situated on the Wild Atlantic Way and overlooked by the majestic Derryveagh Mountains, this former fishing port has plenty to offer visitors from Blue Flag beaches, an 18-hole golf course, horse riding, hill walking, and much more.
The town is also home to some great bars and restaurants, including Rusty Oven Pizza, Lizzie's Diner, and Patsy Dan's Pub for some great food, lively atmosphere and live music.
This is the perfect way to end the first day of your Wild Atlantic Way itinerary.
Where to stay
€: Mount Errigal Hotel
€€: The Sandhouse Hotel and Marine Spa
€€€: Lough Eske Castle
Day 2 – Co. Donegal to Co. Sligo and Co. Mayo
Morning
Start your second day on the Wild Atlantic Way off with some breakfast at Batch, where you can treat yourself to a full Irish breakfast or some sweet fruit-topped pancakes.
After breakfast, drive to Glenveagh National Park or Mount Errigal, where you can enjoy some of the best scenery Donegal has to offer.
You can either get out and explore or just take the scenic drive to enjoy your surroundings from your car window.
Afternoon
Continue south along the Wild Atlantic Way, stopping off at Nancy's Bar for a hearty lunch before visiting one of Donegal's main attractions, Slieve League, home to the highest sea cliffs in Europe.
Stopping here, you'll be treated to some dramatic scenery that will take your breath away. After a while exploring Slieve League, take a one-hour, 45-minute drive towards Sligo.
On the road, you'll pass through Donegal Town and south towards Mullaghmore. This charming village is home to a beautiful sandy beach offering incredible views of the nearby Benbulben, a 1,725 ft (526 m) high flat-topped rock formation.
If you have time, spend the afternoon exploring the area before heading on to Mayo for dinner.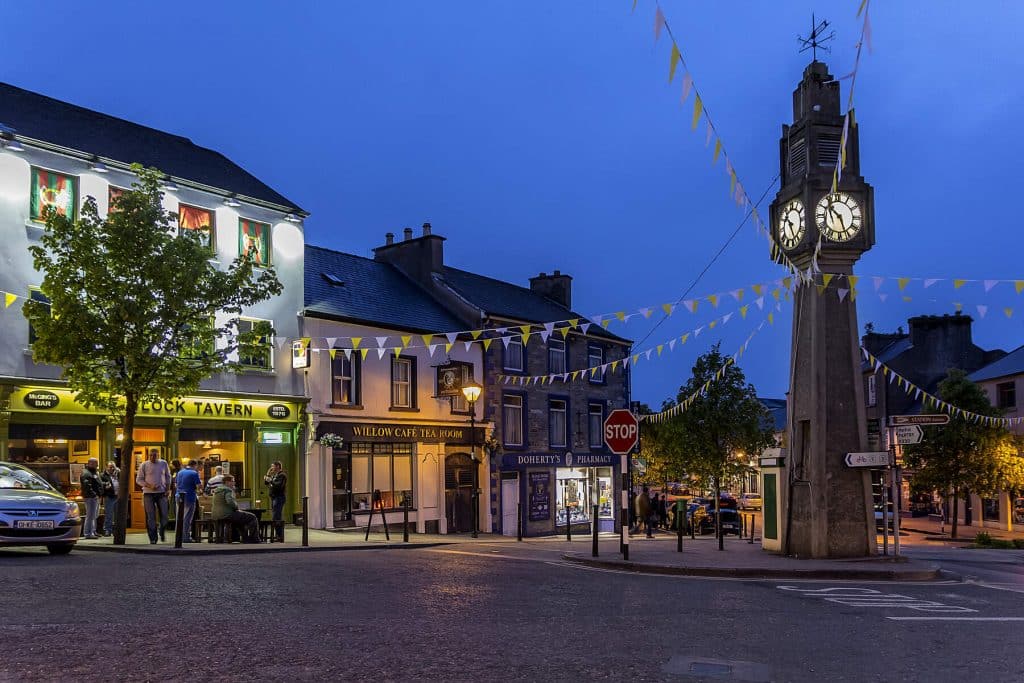 Evening
End your day in the quaint Georgian town of Westport and enjoy a delicious meal in one of the town's most popular restaurants, The Tavern Bar and Restaurant, which offers an extensive menu based mainly on local ingredients.
After dinner, take a stroll down to Westport Harbour to enjoy the beautiful sunset over Clew Bay. This is the perfect way to end a very busy day!
Where to stay
€: The Wyatt Hotel
€€: Knockranny House Hotel
€€€: Ashford Castle
Day 3 – Co. Mayo to Co. Galway
Morning
Start your third day off right with a delicious breakfast from one of Westport's delicious cafés. Try out This Must Be The Place or Leafy Greens Café for some great food and coffee.
After breakfast, make the hour and a half drive from Westport to Connemara National Park, where you will be treated to some incredible scenery. Highlights include Killary Fjord, the only fjord in Ireland.
While you're here, it is worth stopping off at Kylemore Abbey, a Benedictine monastery founded in 1920 on the grounds of Kylemore Castle.
Spend the rest of the morning exploring the beautiful Victorian Walled Garden and grab some lunch at Veldons Seafarer before heading on to Galway.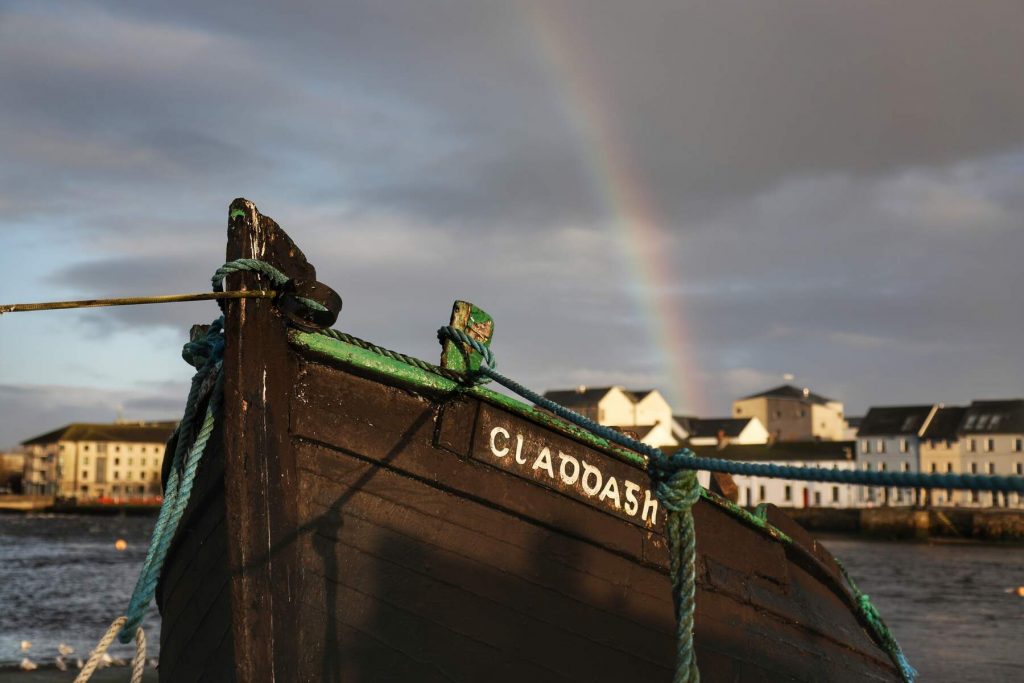 Afternoon
The drive to Galway will take about an hour and a half, leaving you plenty of time to explore this harbour city.
Galway is a must-visit for anyone looking to immerse themselves in Irish culture. The city blends old and new to give you a feel for Ireland past and present and a buzzing, friendly atmosphere as you're surrounded by great music and food.
Spend the afternoon exploring the city centre from Eyre's Square to the Spanish Arch, checking out everything that Galway has to offer, from great shops and restaurants to historic sites and independent bookstores.
Evening
You'll surely be tired and hungry after ticking off so many spots on your Wild Atlantic Way itinerary. So, head for a pizza at The Dough Bros. This place is super popular, so you might have to queue. Still, it's worth it for the delicious wood-fired pizzas.
Watch the sun go down over Galway Bay from the famous Long Walk before heading for a drink at one of the city's best pubs. There are lots to choose from, but we recommend O'Connell's Bar or The Front Door.
Where to stay
€: The Nest Boutique Hostel
€€: The Hardiman
€€€: The g Hotel and Spa
Day 4 – Co. Galway to Co. Clare and The Cliffs of Moher to Co. Limerick
Morning
You will be spoilt for choice for great breakfast options in Galway. Head to Dela Restaurant for their delicious eggs benedict or head to Jungle Café for a unique dining experience.
After a hearty breakfast, it's time to hop back in your car and take on the Wild Atlantic Way route again. On your way south from Galway, we recommend stopping at the impressive Dunguaire Castle, which dates back to the 16th-century.
With links to the great Celtic revival in Irish literature from writers such as W.B. Yeats, a tour around this castle will leave you feeling immersed in Irish culture and history.
Afternoon
Head towards Doolin for some lunch. Stonecutters Kitchen is a great option located in the most adorable bright yellow cottage with great views out over the surrounding land and coastline.
Serving a choice of sandwiches and hot food, there's sure to be something for everyone.
Just a five-minute drive from Doolin, you'll be greeted by the majestic Cliffs of Moher. These cliffs are one of Ireland's most well-known attractions and a must-visit along the Wild Atlantic Way route.
If you want to explore the entire scenic walkway above the rugged cliffs, it's best to leave aside an entire afternoon as it will take a few hours.
Evening
After such an action-packed day, you'll want to wind down with a relaxing evening. Head to Limerick, where you can enjoy a delicious meal and even head to the theatre or a comedy show if you aren't quite ready for bed!
Limerick is home to some great eateries, including The Locke Bar, Freddy's Bistro, and Texas Steakout.
Where to stay
€: Limerick City Hotel
€€: Absolute Hotel Limerick
€€€: The Savoy Limerick
Day 5 – Co. Limerick to Dingle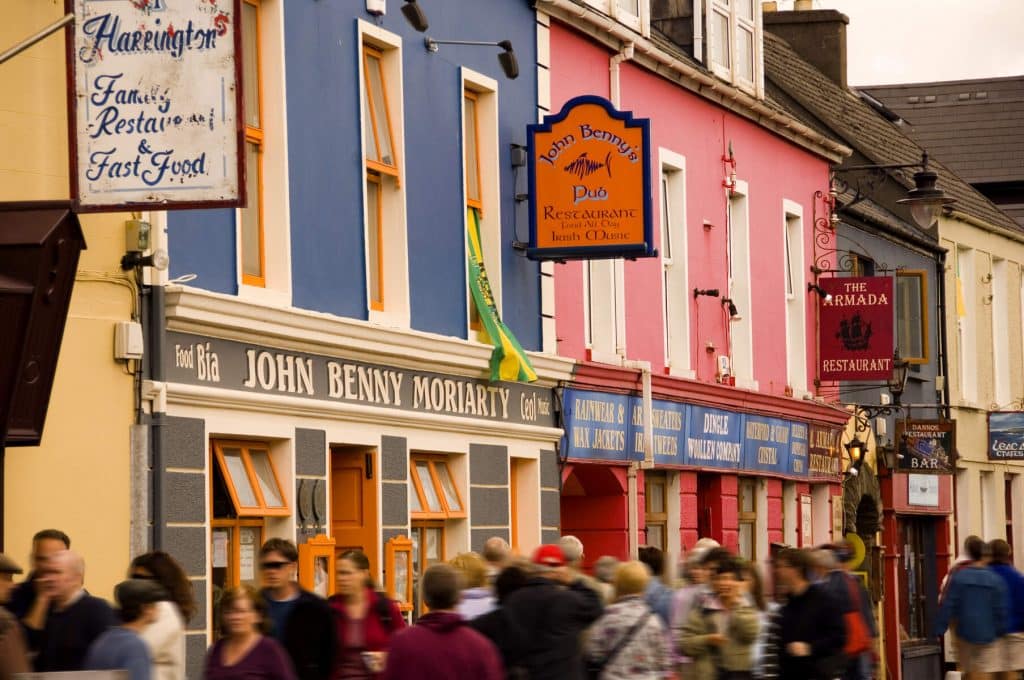 Morning
Hook and Ladder is a great spot for some delicious breakfast in Limerick, serving everything from breakfast bruschetta to buttermilk pancakes, French toast and waffles to eggs any way you like them.
After breakfast, it's time to make the two and a half-hour drive to Dingle, hailed by National Geographic as 'the most beautiful place on earth'.
Afternoon
No doubt you'll be hungry after such a long drive. So, head for lunch once you arrive in Dingle. We recommend trying out The Fish Box, which serves fresh local seafood followed by an ice cream from the famous Murphy's Ice Cream.
After lunch, you can head down to Inch Beach, one of Ireland's longest beaches with 4.83 km (3 miles) of uninterrupted golden sand. The beach has been featured in numerous films, and it's easy to see why as the sight of it will take your breath away.
If you're looking for a unique experience, take a boat trip from Dingle Harbour to see the town from a new perspective.
Evening
After a fun-filled day of exploring, head to The Boat Yard Restaurant for a delicious meal in an ideal location overlooking Dingle and the bay. John Benny's Pub is also a great spot for a tasty pub meal!
End your evening soaking up Dingle's famous pub culture. With a pint in hand, you'll enjoy live music and a lively atmosphere, a memorable stop on your Wild Atlantic Way route.
Where to stay
€: Dingle Harbour Lodge
€€: Dingle Benners Hotel
€€€: Greenmount House Dingle
Day 6 – Dingle to the rest of Co. Kerry
Morning
Start your day off with coffee and a pastry from the popular Bean In Dingle coffee shop before you head off on the legendary Slea Head Scenic Drive starting in Dingle town.
This circular route will take just over an hour without stops, but we recommend leaving aside the full morning to make the most of it. We won't blame you for wanting to stop and snap a few pictures of the exquisite Dingle scenery.
Some of the highlights along the way include Dunmore Head, Dunquin Pier, and Kilmalkedar Church.
Afternoon
Just over an hour from Dingle is your penultimate stop on your Wild Atlantic Way route: Killarney.
Head towards Killarney for a spot of lunch. The town is home to an array of bars and restaurants, so you'll be spoilt for choice. Then, hit the road again to take on the spectacular Ring of Kerry.
This scenic drive through the Iveragh Peninsula will take you through some of the best bits of Ireland's natural beauty, including rugged coastal landscapes, rural seaside villages, such as Kenmare and Portmagee, and Killarney National Park.
Evening
Head back to Killarney for a delicious meal from Treyvaud's or Bricín Restaurant and Boxty House. Then, call it a night on your penultimate day of your Wild Atlantic Way itinerary.
Where to stay
€: Radles Hotel Killarney
€€: The Lake Hotel
€€€: Muckross Park Hotel and Spa
Day 7 – Co. Kerry to Co. Cork
Morning
Wake up early to make the most of your last day in Ireland. Hit the road for the hour and a half drive to Cork, an absolute must on your Wild Atlantic Way route.
You should arrive in time for brunch, and there's no better place to be when hunger strikes than Ireland's culinary capital.
Check out one of the city's best cafés, such as Liberty Grill or The SpitJack, for a tasty, filling brunch before exploring the city centre.
Afternoon
After you've spent the morning exploring Cork city, take the 30-minute drive south to the charming, brightly coloured harbour town of Kinsale.
Walking around the quaint streets featuring buildings of all colours, you'll feel like you've stepped into a children's storybook.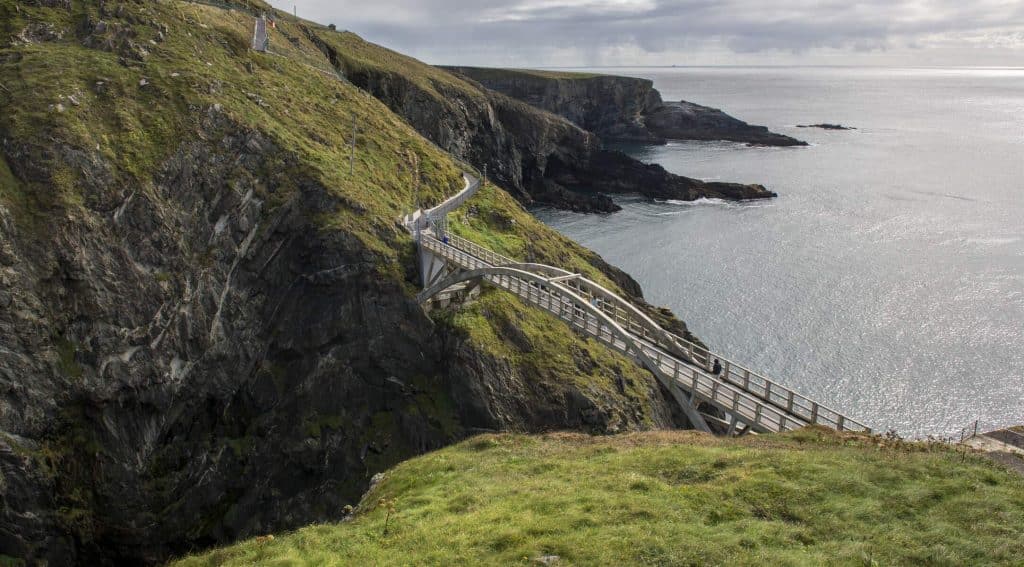 Evening
After a while wandering the streets of Kinsale, head back to Cork for dinner. Here, you'll be spoilt for choice of great options to choose from. We recommend Paradiso, Farmgate Café, or Market Lane.
After dinner, as the sun is starting to go down, head south to Ireland's most southwesterly point, Mizen Head. Here, you can enjoy a beautiful sunset, which is the perfect way to end your week-long Wild Atlantic Way itinerary.
Where to stay
€: Hotel Isaacs
€€: The Kingsley Hotel
€€€: Hayfield Manor Hotel