Back in the day, Ireland absolutely dominated the Eurovision Song Contest with a record seven wins. Let's take a look at why Ireland stopped winning Eurovision.
With the big show airing this weekend, we thought we'd take a look at Ireland's story in The Eurovision Song Contest throughout the years.
Any Eurovision fans out there will know that Ireland, usually along with the UK and some other countries, tends to finish somewhere at the bottom each year at The Eurovision Song Contest.
However, did you know that Ireland used to win big at the contest? We're going to have a look at Ireland's success in the show before the turn of the century and a look into the reasons why we stopped winning.
Ireland and Eurovision – not quite what you might think
So, these days when people think of Ireland and The Eurovision Song Contest, we think of a number of things.
We think of Ireland barely making it through the semi-finals, not making it through the semi-finals at all, or on the occasion we do make it to the big finale, we fail miserably at the bottom of the pile with a few other countries.
Just look at the semi-finals this week. Brooke Scullion sang for her country on Thursday, but unfortunately, Ireland's efforts weren't enough to qualify for this year's finals.
However, did you know that Ireland used to absolutely dominate at Eurovision? Despite what most people think, Ireland has won the competition seven times.
Yes, you read that right, SEVEN times! Plus, Ireland is the only country to win the contest three consecutive times.
Ireland made its debut in the contest in 1965 and has only not entered the contest twice since then. It is one of the most successful countries in the competition, despite more recent years.
Ireland's winning streak – pre-millennium success
Ireland's first win in the competition was by Dana, a school-girl from Bogside, Derry, with her rendition of 'All Kinds of Everything' in 1970 in Amsterdam.
We won again twice in the 1980s and a whopping four times in the 1990s, with three consecutive wins from 1992 to 1994.
The consecutive streak was won by Linda Martin with 'Why Me' in 1992, Niamh Kavanagh with 'In Your Eyes' in 1993, and Paul Harington and Charlie McGettigan with 'Rock 'n' Roll Kids' in 1994.
Ireland also had several runner-up results throughout the competition as well as placing in the top five 18 times.
However, since Ireland's win in Oslo in 1996 with Eimear Quinn's rendition of 'The Voice', our steady stream of success has diminished massively ever since. So, let's take a look at why Ireland stopped winning Eurovision.
The decline in success – questionable acts and financial instability
So, Ireland had massive success in winning the competition seven times, which is all well and good. However, winning seven times, in turn, meant hosting the competition seven times.
Now, this has never been a proven theory, however, it has long been said that Ireland began to submit below-par acts as a deliberate attempt to not win the competition, and therefore not have to host it again.
When Ireland won the competition three consecutive years, the financial implications were huge. There's even a Father Ted episode about it.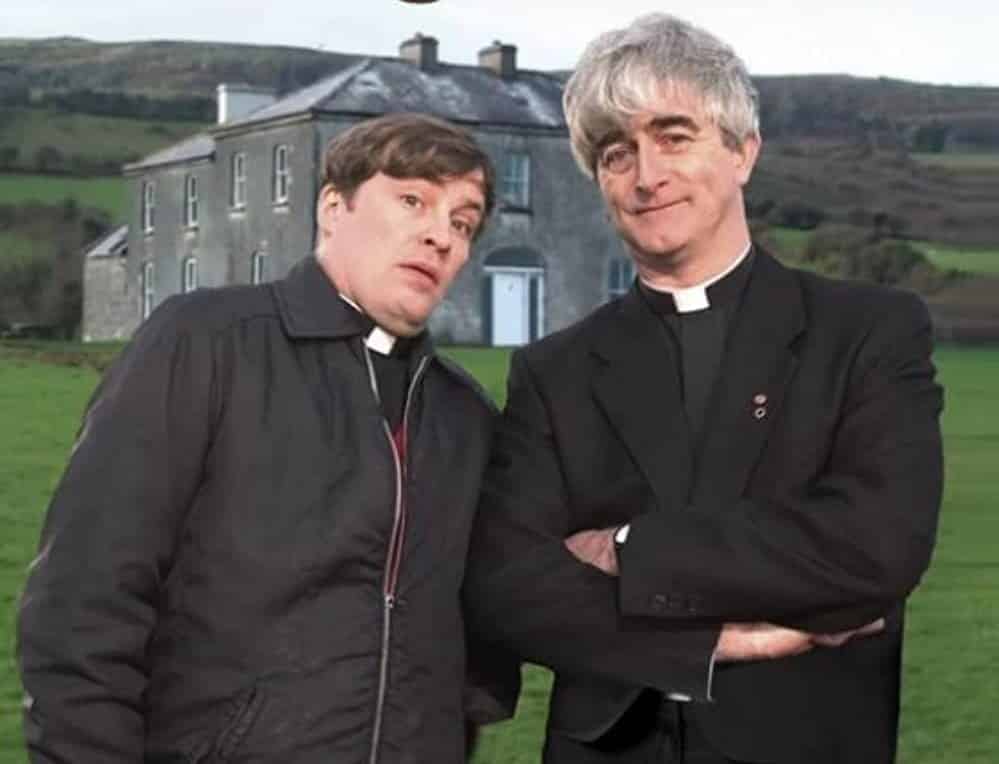 The episode jokes about Ireland's consecutive wins in the competition. In it, Father Ted and Father Dougal manage to make a song that sends them on their way to the Eurovision finals to represent Ireland.
Of course, they come away with a resounding "nul points". Funnily enough, though, Ireland won the competition again in 1996, one month after the episode aired.
Father Ted co-creator Graham Linehan explained, "When we did the Song for Europe episode, British people were aware that Ireland was always winning Eurovision and that there was a rumour we didn't want it, because we kept having to stage it".
Whether it's true or not, we're not sure, but the middle to the latter half of the 1990s saw Ireland have their last win to date.
Questionable acts – Dustin the Turkey, anyone?
Now, as the rumour went, Ireland began to submit lower quality acts in an attempt to reduce their chances of winning.
Since the introduction of the semi-finals for the competition, Ireland has failed to qualify nine times. We have continued this streak with our latest act, Brooke Scallion, unfortunately not making her way into the final this Thursday night past.
In recent years when Ireland has qualified for the finals, they have finished last twice. However, fortunately, we are yet to join the "nul points" club. To date, there have been 39 victims of the "Nul Points" club, including The UK, Portugal, Spain and many more.
So, we have seen Ireland enter some pretty questionable acts in the past. If anyone is wondering why Ireland stopped winning Eurovision, you just have to look at Dustin the Turkey.
In a pretty embarrassing display in 2008, Dustin Turkey was entered as our act. Of course, in a year where Bertie Ahern had just resigned as Taoiseach and Ireland were facing an economic crisis, the cherry on top was Dustin failing to make it to the finals.
No surprise, really. We did send a man pushing around a "Turkey" as the representative for our country and its talent. This performance was dubbed one of the worst in Eurovision history.
Among many others who just didn't quite hit the mark, Ireland's success has sailed off the edge of a cliff in recent years. The best Ireland has done in just over a decade is finishing in eighth place with Jedward's questionable performance in 2011.
Well, there we have it. We don't have a definitive answer to why Ireland stopped winning Eurovision, but all we know is that the glory days are long gone.
Even though this year's act for Ireland was a past The Voice contestant, miles ahead of Dustin the Turkey in talent, and despite her great voice, we just didn't make the cut.
Oh well, there's always next year!
Other notable mentions
Public votes: The year after Ireland last won, the voting system changed. Some people think this is one of the reasons why Ireland stopped winning Eurovision.
The introduction of televoting favoured countries in Eastern Europe, like Latvia, Estonia and Ukraine. The sizes of populations of different countries meant that there was then an imbalance of power with a combination of jury votes and public votes.
Language barrier: In the past, contestants were required to sing in their country's native tongue. Since 1999, no such restrictions exist. This was a benefit for other countries, but not so much for countries already singing in English.
Brian Kennedy: Brian Kennedy sang for Ireland in the 2006 Eurovision Song Contest.
Ryan O'Shaughnessy: O'Shaughnessy was the last person to successfully reach the final in his performance for Ireland in 2018.
FAQs about Ireland and Eurovision
Why doesn't Ireland win Eurovision anymore?
With a combination of rumours of financial issues, voting changes, and terrible acts representing Ireland, they haven't had success in the competition in years.
Why did they introduce the semi-finals?
It was actually following the end of the Cold War that the semi-finals were introduced. More and more nations were competing, so they had to come up with a way to lower the number of acts.
How many times has Ireland won Eurovision?
Ireland has won Eurovision a total of seven times.