Set on the picturesque Causeway Coast, the beautiful Whiterocks Beach is a must-visit during your time in Northern Ireland.
Whiterocks Beach is situated in a quiet cove below the cliffs of Northern Ireland's inspiring Causeway Coast.
Backing on to the impressive limestone cliffs that stretch from Curran Strand, Portrush's East Strand, to Dunluce Castle, the views from this incredible white sand beach are some of the best in the country.
So, whether you're looking for a peaceful seaside stroll or you fancy taking a dip in the water, here is everything you need to know about visiting Whiterocks Beach, Portrush.
When to visit – open all year round
Open all year round, when you choose to visit Whiterocks Beach depends entirely on the reason for your trip.
The Causeway Coast is a popular holiday destination for both locals and tourists alike, so the beach can become very busy during the summer and bank holidays. To avoid crowds, we advise visiting against visiting during these times.
Whiterocks Beach is a popular destination for surfers, bodyboarders, and surf kayakers. If you want to partake in watersports, we advise visiting during July or August while RNLI lifeguards are on duty.
What to see – incredible rock formations
As well as offering beautiful coastal views and the miles of sandy shore that wind their way along the coast, you can also see the impressive rock formations that stand behind the beach.
Some must-see caves and arches include the fantastic Shelagh's Head, the Wishing Arch, the famous Elephant Rock, and the Lion's Paw – truly impressive natural sights.
From the beach, you can also enjoy a fantastic view of the historic Dunluce Castle, which sits proudly atop the cliffs above.
Things to know – facilities and more
There is free car parking, including accessible parking, available at Whiterocks Beach in both the main and overflow car parks adjacent to the beach.
There is also an amenity block at the beach with toilets and shower cubicles, including accessible toilets.
Dogs are allowed on the beach, but restrictions apply from 1 June to 15 September. Similarly, horse-riding is permitted, but restrictions are in place from 1 May to 30 September.
Whiterocks Beach is continually awarded the prestigious Blue Flag Award, which recognises the cleanliness and upkeep of beaches. Whiterocks most recently received the award in 2020.
What's nearby – explore the Causeway Coast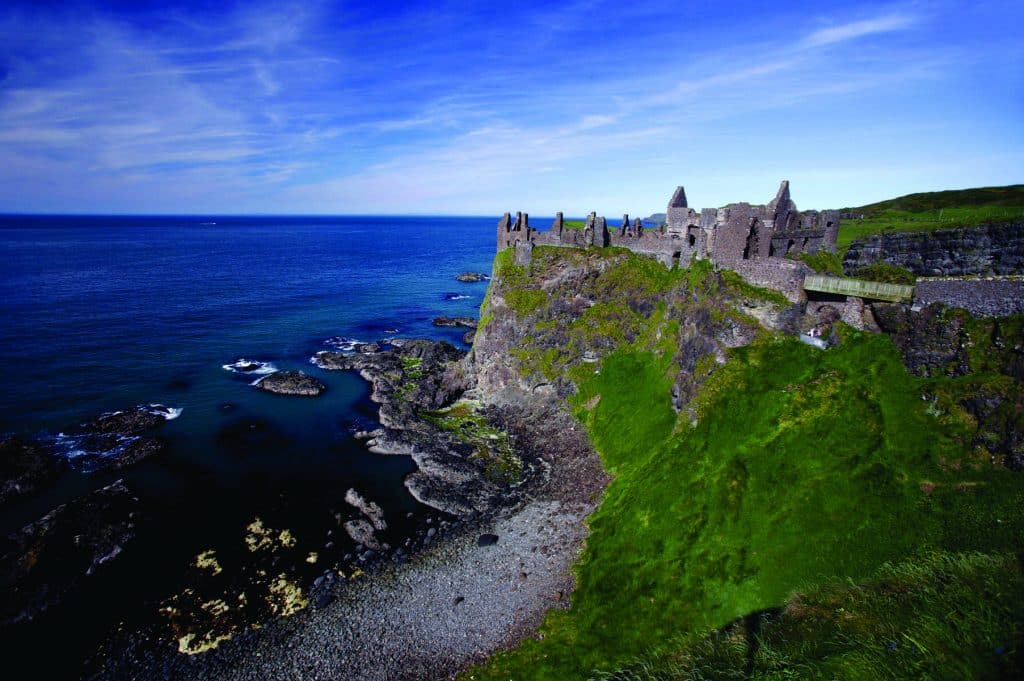 On the cliffs above the beach stands the historic ruins of Dunluce Castle, a medieval castle built in the early 1500s. The impressive remains are like something out of a fairytale and are well worth visiting.
One of Northern Ireland's most well-known tourist attractions, the Giant's Causeway, is only a twenty-minute drive from the beach and is well worth making the trip to if you are up north.
Take a walk along the entire length of the strand and reach the beautiful seaside town of Portrush, home to lots of small shops, cafés, and amusements.
Where to eat – fantastic food
There are plenty of great places to eat in the nearby seaside town of Portrush, from coffee shops and cafés to restaurants and wine bars.
For a quick coffee and a bite to eat, check out the unique Babushka Kitchen Café, a tiny little seaside hut that serves delicious breakfast and lunch options.
For afternoon tea, a cup of tea and a slice of cake, or some delicious pancakes, head to Panky Doos. Stepping into this little café, you'll feel like you've gone round to your granny's for the day.
For something more substantial, check out Ramore Wine Bar and Restaurants. An impressive complex of restaurants serving various cuisines from traditional Irish offerings to burgers and chips, Asian cuisine to pizza and pasta.
On clear days, you may want to enjoy a bite to eat while watching the sunset from one of the many beaches nearby. For this, we would recommend heading to Chequers for a traditional seaside meal of fish and chips.
Where to stay – cosy accommodation
As one of the most popular tourist destinations in Northern Ireland, the Causeway Coast is home to plenty of comfortable accommodation options.
Not far from Whiterocks Beach is the fantastic Golflinks Hotel, a modern hotel perfectly located just on the outskirts of Portrush town centre.
Standing directly behind Whiterocks Beach is the Royal Court Hotel. Its idyllic location provides unrivalled views of the stunning Causeway Coast and the Atlantic Ocean, stretching out for miles into the distance.