If you have ever wondered where to see puffins in Ireland, this guide is for you. We will reveal the top five spots to witness these colourful birds.
While there are three types of puffins in the world, the Irish coast is home to the most iconic species of the three: the Atlantic Puffin.
These birds have a wingspan of roughly 47cm to 63cm (18 to 24 inches) and can reach approximately 20 cm (8 inches) in height.
They have a very distinctive appearance as they resemble a cross between a penguin and a toucan, thanks to their black and white colour and orange beaks.
They usually tend to have their colonies on islands with no terrestrial predators as their chicks can be quite vulnerable to attack from gulls and skuas when young.
This article will list precisely where to see puffins in Ireland and which spots, in particular, are the best to find these magnificent bird species.
5. Inishbofin Island, Co. Galway – an Island well worth visiting
Off the coast of Galway and Connemara, the tiny island of Inishbofin is home to a colony of puffins during the breeding season and is thus the ideal location to spot them on your day trip.
While it's not guaranteed that you will spot any puffins, a visit to the island is still well worth doing anyway as it offers visitors stunning panoramic views and is home to many beaches which have been awarded the 'green coast award'.
Address: Inis Bó Finne, Knock, Co. Galway, Ireland
4. Clare Island, Co. Mayo – once home to a famous pirate queen
Next on our list is another island, this time Clare Island off the coast of Mayo. While the island is most famous for once being the home of famous Irish pirate queen Grace O'Malley, it is also a pretty good place to try to spot some puffins.
Be prepared to use your hiking boots, however, as you will need to trek up the coastal trails and cliff banks to have the best chance possible to witness these graceful creatures and adorable birds in action.
Address: Clare Island, Lecarrow, Co. Mayo, Ireland
3. Skellig Islands, Co. Kerry – home to a significant puffin colony
Besides being one of Ireland's most popular and iconic locations and a UNESCO World Heritage Site, the Skellig Islands in County Kerry also happens to be home to a significant puffin colony in spring and summer.
Thanks to their inclusion in the recent Star Wars movies, they have become even more famous. So, it is an excellent place to see some puffins and a great place for movie fans and fans of the Emerald Isle's beauty in general.
Address: Skellig Islands, Co. Kerry, Ireland
2. Saltee Islands, Co. Wexford – home to many great seabirds
In second place and the third island on our list is the Saltee Islands in County Wexford, which are privately-owned and virtually uninhabited islands that make them perfect for seabirds to live and thrive. These islands are one of the most unique places to visit in Wexford.
On Saltee Island, you will find many puffins with ease. You can also spy other fascinating seabird species, such as gulls, gannets, and Manx shearwaters, which makes the islands a true haven for birdwatchers.
Address: Saltee Islands, Co. Wexford, Ireland
1. Rathlin Island, Co. Antrim – a great spot to see puffins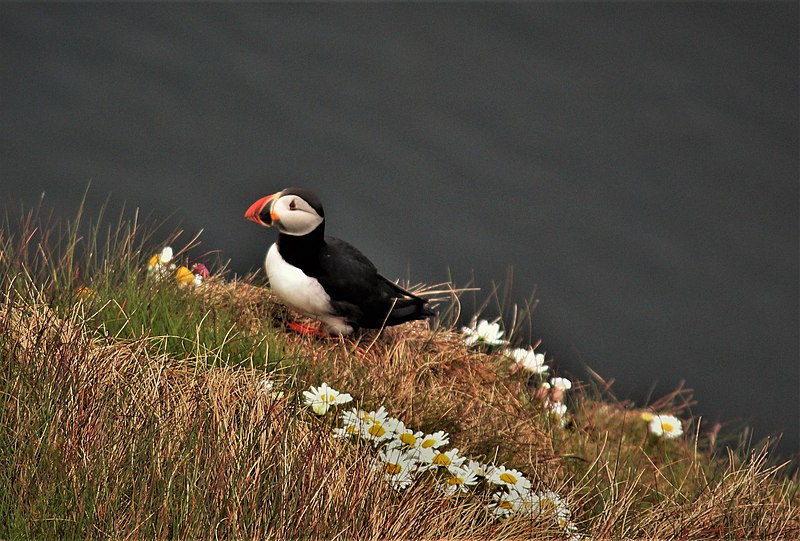 In first place on our list of where to see puffins in Ireland is Rathlin Island, off of the Causeway Coast of Northern Ireland. Rathlin Island is home to a large puffin colony, but it is also actually a puffin sanctuary.
The island is home to many other seabirds, and dolphins and seals can even be found in the surrounding waters. On the island, you will also find the West Light Seabird Centre, which the Royal Society runs for the Protection of Birds.
There are many rocky cliffs and wild sea stacks, which are perfect places to spot hundreds of puffins in action.
Address: Rathlin Island, Ballycastle, Co. Antrim
That concludes our complete list of where to see puffins in Ireland. Have you been to any of these great spots yet, and were you lucky enough to witness these fantastic creatures?
Other notable mentions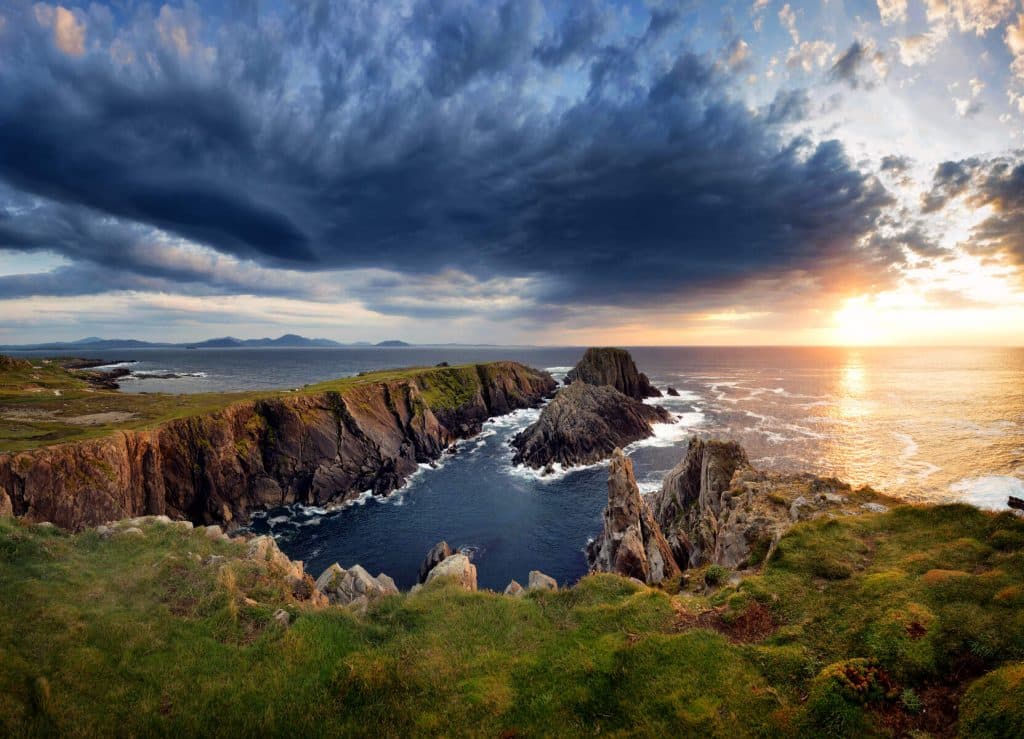 Loop Head Peninsula: The area of the Loop Head Peninsula in County Clare is quite an isolated location, and, as such, sightings of puffins are quite a common occurrence there.
Besides bird watching, the peninsula also has a lot to offer in terms of its spectacular scenery, which can be admired by car or bicycle around its circular route.
It also has many beautiful beaches to explore, with the Kilkee Blue Flag beach being a family favourite.
Cliffs of Moher: There is such a bountiful amount of puffins at the Cliffs of Moher in County Clare. Unlike other locations in Ireland, they're experiencing a vast increase in their numbers there.
With over 60,000 birds nesting at the Cliffs of Moher, you will see many other great birds.
Malin Head: Malin Head in County Donegal is chalked full of many delightful coastal cliff walks from which puffins can be easily spotted along the North Coast and is one of the best places in Ireland to see the Northern Lights.
The area that is Ireland's most northerly point is an area of great scenic beauty and a place of enormous historical, ecological, and scientific importance.
FAQs about where to see puffins in Ireland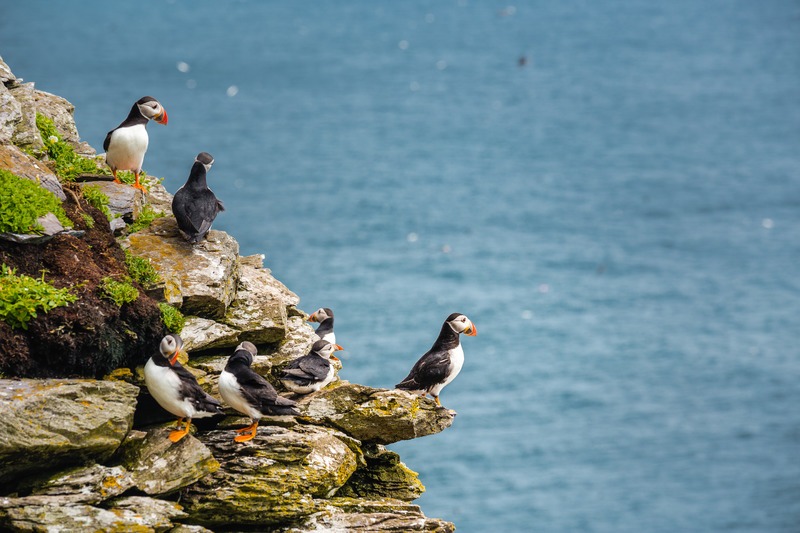 When is the best time of the year to see puffins?
Irish puffins can be spotted in their colonies in Ireland from late April to August, but June and July are the best months to see them as they will be busy feeding their chicks.
Where can I see puffins in Ireland?
Puffins are mainly found on the west coast of Ireland and a handful of other sites across the east coast. Puffins have also been found on Tory Island, Donegal.
Other places include Puffin Island, the Aran Islands, and the Blasket Islands, which provide an equally compelling bird watching experience.
Where do puffins migrate from Ireland?
The majority of puffins that migrate from Ireland tend to head across the Atlantic towards the east coast of Canada, where they hunt on shoals of Capelin.