Wondering where to see puffins in Northern Ireland? These iconic birds are one of many species that make their home on the island of Ireland.
Reminiscent of mini penguins, Puffins are an adorable bird species that can be spotted across the Emerald Isle.
Ireland is home to a wide variety of amazing wildlife, from mammals to reptiles, fish to birds. All around the Irish coast, you can find an incredible array of fauna on the island of Ireland.
One such species is the humble puffin, known for its black back and head, webbed feet, pale cheeks and underbelly, and distinctive brightly-coloured orange beak.
While puffins are not technically endangered birds, human activity often threatens their livelihoods. Thus, valuable work is carried out by conservation organisations all across the UK and Ireland.
So, do you want to see some of the most fantastic wildlife the north of Ireland has to offer? If so, then here is our ultimate guide on where to see puffins in Northern Ireland.
3. The Gobbins Cliff Path, Co. Antrim – one of the only mainland colonies in Ireland
The fantastic Gobbins Cliff Path, situated along the North Coast, is a great place to visit if you're wondering where to see puffins in Northern Ireland.
The Gobbins Cliffs are home to the only mainland puffin colony in Northern Ireland. The breeding birds return every summer to lay their eggs in June and typically remain in the area until mid-August.
Once the chicks have hatched, they usually fly the nest after 40 days and disperse throughout the North Sea and Eastern Atlantic. Come the cold winter months, these birds will migrate as far as the Mediterranean and even Newfoundland.
The Gobbins Cliff Path is one of the best trips to enjoy with the whole family, as taking a walk along this steel walkway offers a unique way to enjoy the stunning Irish coast.
This wild cliff face walk is a hair-raising experience. However, it is worth it all the same for the incredible scenery and even the chance to glimpse a nesting puffin colony.
Address: 66 Middle Rd, Ballystrudder, Islandmagee, Larne BT40 3SL
2. Copeland Bird Observatory, Co. Down – an excellent option for a weekend trip
Lying off the coast of County Down is Lighthouse Island, home to the Copeland Bird Observatory. Intending to collect data on migrating and breeding birds, this observatory is a great option if you wonder where to see puffins in Northern Ireland.
This small island is just 16 hectares in area, making it the perfect place for birdwatching newcomers. The island offers accommodation for up to 23 people in the converted ruins of the old lighthouse. So, it is the ideal spot for an overnight birdwatching adventure.
To get to the island, visitors will have to board a small boat at Donaghadee Harbour that leaves at 6 pm on Fridays and returns at 4 pm on Sundays. As accommodation is limited, your stay at Copeland Bird Observatory must be booked in advance to avoid disappointment.
For those who want to visit just for the day, there are also a limited number of day trips offered each summer. You can see the Copeland Bird Observatory website here for more details and the availability of these day trips.
On the island, other birds you can spot include Manx Shearwaters, robins, finches, and crows.
Address: Copeland Bird Observatory, Millennium Plantation, Lighthouse Island
1. Rathlin Island, Co. Antrim – home to hundreds of puffins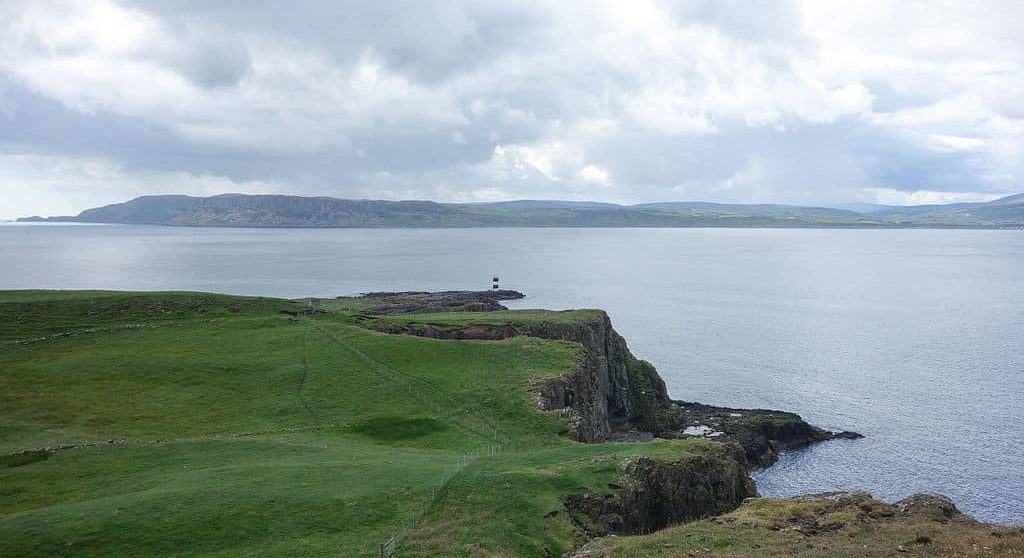 When it comes to where to see puffins in Northern Ireland, one place immediately comes to mind: Rathlin Island.
Located off the coast of Ballycastle, along the Causeway Coast, boats are scheduled every day to take visitors to this iconic island.
Puffins can be spotted all across the entire island. However, the RSPB Rathlin West Light Seabird Visitor Centre is home to one of the largest seabird colonies in Ireland, making this the perfect place to spot these iconic birds.
All around the cliff face, you can see not just puffins but also guillemots and razorbills. The island is home to an impressive colony of seabirds, making it one of the best day trips for wildlife lovers.
Kintra Boat Tours is the most popular boat service in this area. They allow visitors to take day trips out to Rathlin Island from the North Coast while checking out all the unique wildlife along the Irish coast.
Address: Rathlin Island, Ballycastle BT54 6RT
Other notable mentions
While those listed above are the primary locations to spot puffins in Northern Ireland, there are plenty of spots around the rest of Ireland where you can catch a glimpse of these adorable seabirds.
Ireland's Eye, Co. Dublin: A 15-minute boat ride from the seaside town of Howth in County Dublin, Ireland's Eye is a great place to spot puffins.
Skellig Islands, Co. Kerry: This UNESCO World Heritage Site off the coast of County Kerry is a famous puffin breeding ground.
Cliffs of Moher, Co. Clare: One of Ireland's most iconic tourist attractions and a popular spot on trips along the Wild Atlantic Way, the Cliffs of Moher are a great place to catch a glimpse of puffins.
Puffin Island, Co. Kerry: As the name suggests, Puffin Island, located off the Iveragh Peninsula in County Kerry, is home to a colony of puffins.
Saltee Islands, Co. Wexford: For those visiting the east coast of Ireland, the Saltee Islands are a great place to see puffins and for a bit of bird watching in general.
FAQs about where to see puffins in Northern Ireland
When is the best time of year to see puffins?
The best time of year to see puffins in Ireland is in the early summer, around May and June.
Where can I see puffins in Ireland?
There are plenty of great locations to see puffins in Ireland, including Puffin Island in Kerry, Rathlin Island, the Skellig Islands, the Cliffs of Moher, Ireland's Eye, and the Blasket Islands.
Are there puffins in Northern Ireland?
Yes, there are puffin colonies along the North Coast of Northern Ireland and on Rathlin Island.