Over the last decade, Northern Ireland has become a prominent filming destination for projects including Game of Thrones, Derry Girls, The Fall, and, of course, Line of Duty.
Ever wondered to yourself, just where is Line of Duty filmed? Well, wonder no more, for we have compiled a list of some of the most notable Line of Duty filming locations across Northern Ireland.
For those unfamiliar with the premise, Line of Duty is a BBC One police procedural drama featuring fictional Anti-Corruption Unit 12, better known as 'AC-12.'
Created by Jed Mercurio, the pulse-racing show follows Superintendent Ted Hastings (known for his infamous one-liners), DI Steve Arnott, DI Kate Fleming, and numerous others as they work to rid the Central Police Force of internal corruption.
The show, having filmed in Belfast from seasons two through six, is popular with fans for its intense and gripping action, and even more so amongst locals who enjoy tuning in to see where all they might recognise.
So, if you're interested in discovering the Line of Duty filming locations, read on!
10. Belfast Central Library, Royal Avenue – Central Police HQ
Located on Royal Avenue, Belfast Central Library doubles as the face of Pelbury House, the headquarters of Central Police Force.
Upon the steps of this Line of Duty filming location, characters have given speeches and took part in interviews. Inside, press conferences and an armed raid have occurred. 
Address: Belfast Central Library, Royal Ave, Belfast BT1 1EA
9. Invest NI building, Bedford Street – home to AC-12
The Invest NI building on Bedford Street serves as the exterior setting for AC-12's headquarters (also known as Kingsgate House).
Address: 1 Bedford St, Belfast BT2 7ES
8. BT Riverside Tower, Lanyon Place – also home to AC-12
Located in the city centre, BT NI Headquarters acts as the interior setting for AC-12's Kingsgate House headquarters.
Address: 5 Lanyon Pl, Belfast BT1 3BT
7. St Anne's Cathedral, Donegall Street – a true focal point
For over 100 years, this beautiful church has been the centrepiece of Belfast's Cathedral Quarter area. Now, it doubles as one of the most iconic Line of Duty filming locations.
The building acted as the location for the funeral of three fallen officers in series two.
Address: Donegall St, Belfast BT1 2HB
6. Royal Courts of Justice, Chichester Street – home of justice
Built in 1933, the stunning example of neoclassical architecture is home to Northern Ireland's Court of Appeal, High Court, and Crown Court.
Located beside the River Lagan, close to St George's Market, this Grade A listed building featured as a Line of Duty filming location for intense courtroom scenes.
Address: Chichester St, Belfast BT1 3JY
5. Tates Avenue – shoot-out by the stadium
The tense series three shoot-out between (then DC) Fleming and DI Matthew 'Dot' Cottan took place underneath a bridge on Tates Avenue.
CastleCourt shopping centre on Royal Avenue appears in the chase scene leading up to it, and later the national football stadium Windsor Park can be spotted in the background.
Address: Belfast BT12 6JP
4. Royal Mail HQ, Tomb Street – point of the infamous standoff
Fans of the show will remember (then DS) Arnott and rogue undercover cop John Corbett's famous standoff in series five. This is one of those ones where many asked themselves, "Where is Line of Duty filmed?"
The scene took place on Tomb Street beside the Royal Mail Headquarters building near known local landmarks, the River Lagan and the Big Fish sculpture.
Address: 7-13 Tomb St, Belfast BT1 1AA
3. Victoria Square Shopping Centre – site of a no-show
Belfast's premier shopping centre doubled as 'The Pallisades'. This fictional shopping complex is where Corbett deserted the scene of a no-show meet-up in series five.
You can also spot the famous Jaffe Fountain, The Kitchen Bar, and Bittles Bar in the scene.
Address: 1 Victoria Square, Belfast BT1 4QG
2. Corpus Christi College, Ard Na Va Road – MIT Headquarters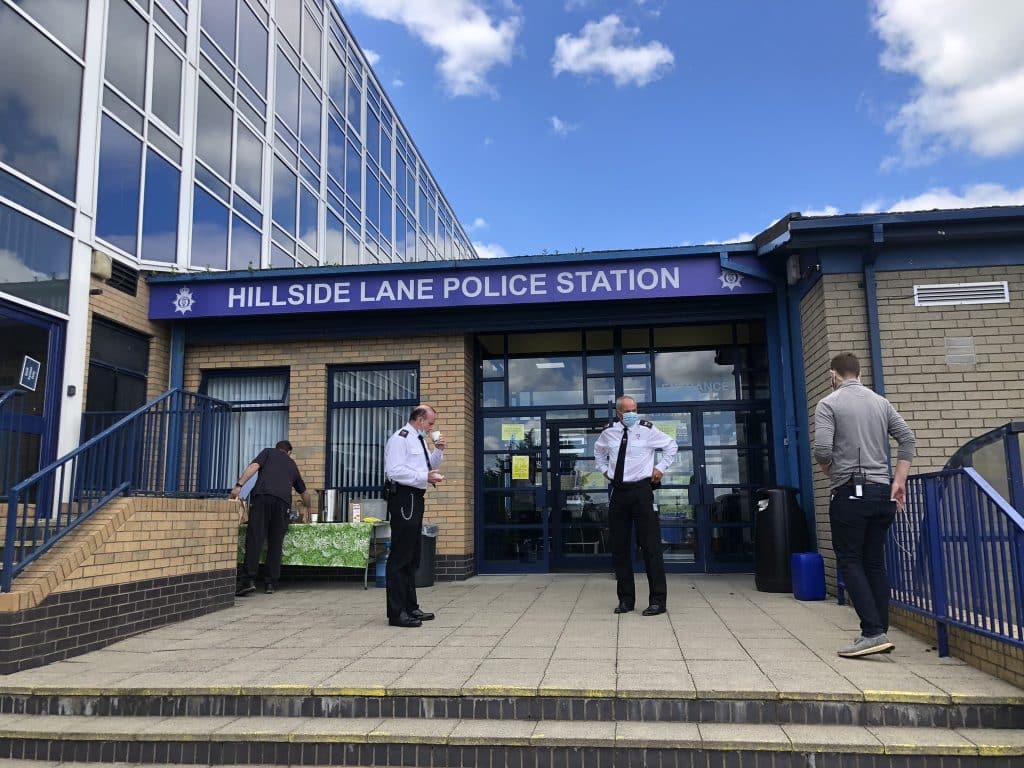 The West Belfast college served as a stand-in for Hillside Lane Police Station (also dubbed 'The Hill'), the base of the Murder Investigation Team.
The site, which featured heavily in series six, was home to various 'bent coppers', including (spoilers ahead!) DCI Davidson, former DSI Buckells, and PC Pilkington.
Address: Belfast BT12 7LZ
1. Albert Memorial Clock, Queen's Square – ideal for secret liaisons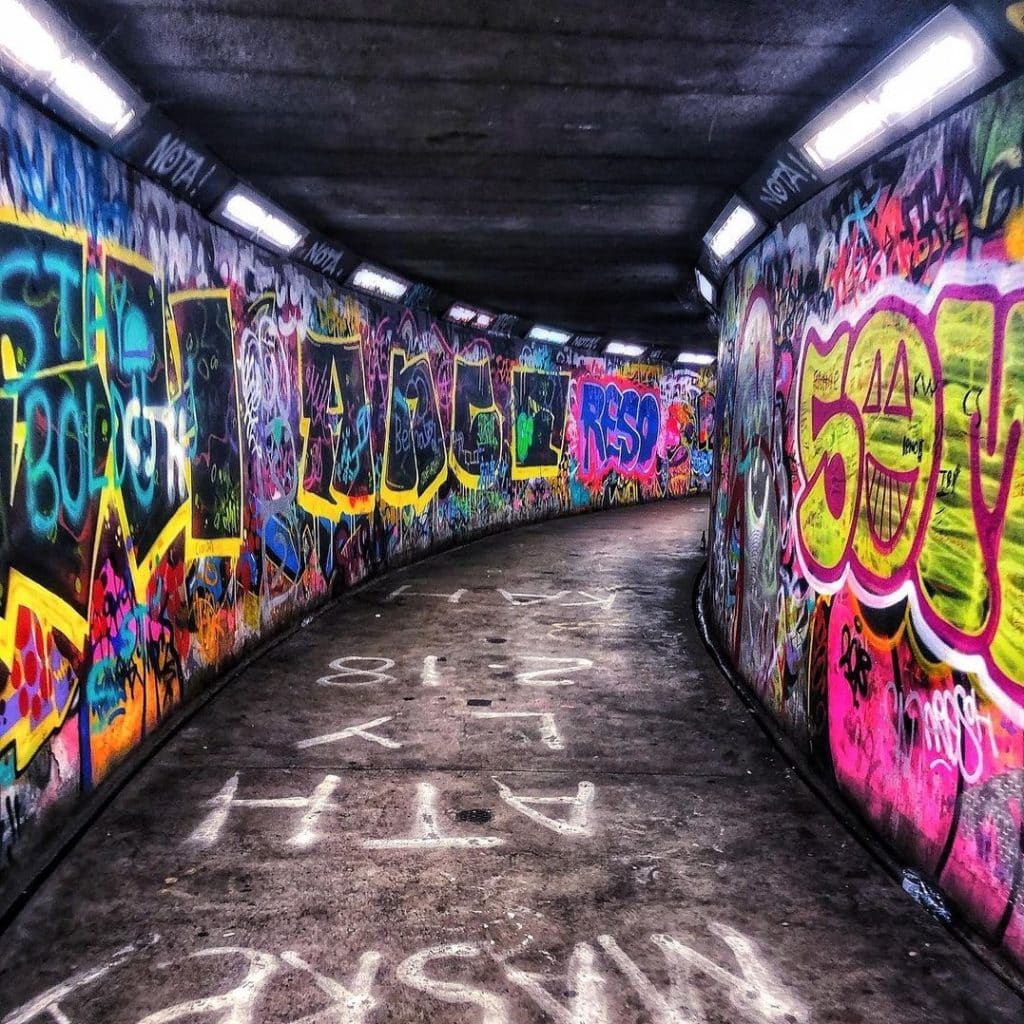 Arguably one of the most beloved and instantly recognisable Line of Duty filming locations is the graffiti-adorned subway located between Belfast's Albert Memorial Clock and High Street.
A favoured rendezvous point amongst characters, the underpass housed Arnott and Fleming's hushed conversations.
Address: 17 Queens Square, Belfast BT1 3FF
Other sites featured include the former Belfast Telegraph Building, Odyssey Pavillion, and Custom House Square. You can also check out Belfast City Hall and the East Belfast Yacht Club, amongst others. 
And, with a two-hour guided walking tour set to debut in August 2021, fans wondering, "Where is Line of Duty filmed?" will be able to get a behind the scenes look at many of the famous Line of Duty filming locations and discover the real-life inspiration behind the show!