At Ireland Before You Die, we like to celebrate the whole of Ireland and its tourist attractions, both man-made and natural. This road-trip will take you on a 5 day trip through the Wexford and Waterford coastline and inland towards the Comeragh mountains. Choose whatever takes your fancy, you won't be short of photogenic locations.
Day One: Wexford (Kilmore Quay and the nearby islands)
Kilmore Quay
Our first stop is the gorgeous town of Kilmore Quay. Visitors will enjoy strolling around the marina and admiring the views of the rugged Wexford Coast. If you're lucky you'll see a seal as these mammals often come up on to dry land in this town! Beautiful thatched holiday homes are also up for grabs!
Saltee Islands
Five kilometres from Kilmore Quay are the Saltee Islands. The bigger of the two islands, owned by the Neale family since 1943,  is called The Great Saltee Island and functions as a sanctuary for birds. Species of birds that can be located on The Saltees range include puffins and gannets and also a Grey seal population that are frequently breeding.
Day Two: (Hook Peninsula and Loftus Hall)
Hook Head
Less than an hour's drive takes you to the stunning lighthouse of Hook Head. The lighthouse is over 800 years old, you'll learn all about life as light keeper and during medieval times. The surrounding rocky landscape is a great spot to take photographs, fish and also for camping.
Loftus Hall
Views of the Hook Peninsula are a real treat as you make your way inland from Hook Head to your next destination: Loftus Hall. This ancient house is a favourite spot for those interested in the paranormal. Supposedly the devil appeared here and a ghost of a young girl still walks these corridors. If you can handle the spookiness, there is a café on location with delicious cakes and snacks to give your energy back! There are many Bed and Breakfasts in the area to accommodate you.
Day Three: The Kennedy Homestead (The Kennedys and surrounding tourist attractions)
The Kennedy Homestead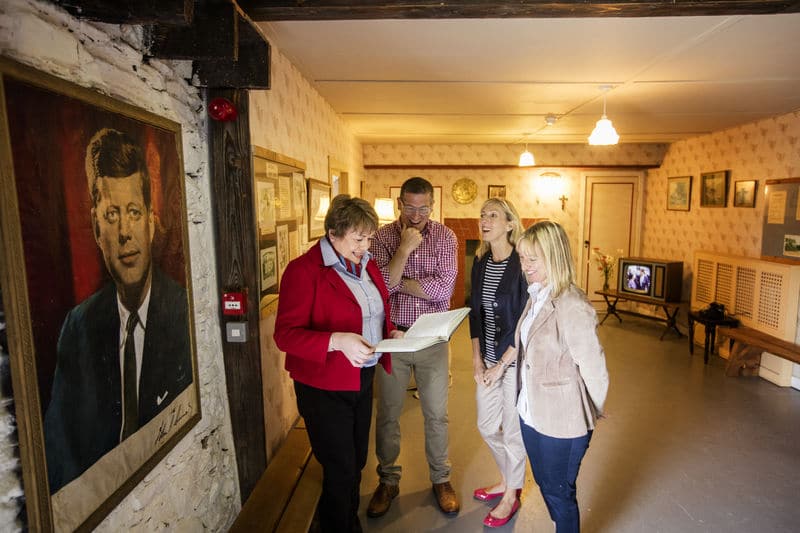 This next location takes you inland away from spooky Loftus Hall and to the origins of the Kennedy dynasty. The homestead is dedicated to preserving the history of the Kennedys in New Ross and of Patrick Kennedy's voyage to America. Through audio-visuals and memorabilia, you follow the Kennedys as they rise to power in the United States.
Dunbrody Abbey
Less than 7km away from the Kennedy Homestead and still part of the Hook Peninsula is the Dunbrody Abbey. Founded in 1170, the Abbey was given to the Office of Public works in 1911 and still stands over 800 years later. There is a maze to explore if you decided to bring children and a fun filled pitch and putt course. Brandon House Hotel is the perfect place to grab some food or rest your head for the night!