Walsh. What does it mean? Where does it come from? Let's find out the meaning, origin, and popularity of this Irish surname.
Like most Irish surnames, Walsh comes with a rich history. From the meaning to the origin, we're going to delve in and find out what it's all about.
Being the fourth most popular surname in Ireland, and therefore a common surname, I'm sure lots of you are keen to find out the surname's meaning, origin, and popularity, explained.
Walsh – where does it come from and what does it mean?
Walsh, pronounced 'wall-sh', was originally used to describe the Welsh people who came to Ireland during Strongbow's Anglo-Norman invasion in 1170.
Strongbow, also known as Richard FitzGilbert and Richard de Clare, was Earl of Pembroke and Strigoil and Lord of Leinster.
The first use of the surname appears to have been Haylen Brenach, whose alias was Walsh. He was the son of 'Philip the Welshman', one of the invaders of Ireland.
'Philip the Welshman' and his brother David are said to be the forebearers of the Walshes in the southeast of Ireland. His family went on to be people of noble status in Killkenny, Laois, Waterford, and Dublin.
The Walsh surname now lends itself to many families throughout Ireland. However, it is most prominent in County Mayo.
The word, which in Irish is, 'Breathnach', simply means 'Welshman'. Like many Irish surnames, there are variations. These include Welsh and Welch.
The Walsh family name – how did it become so popular?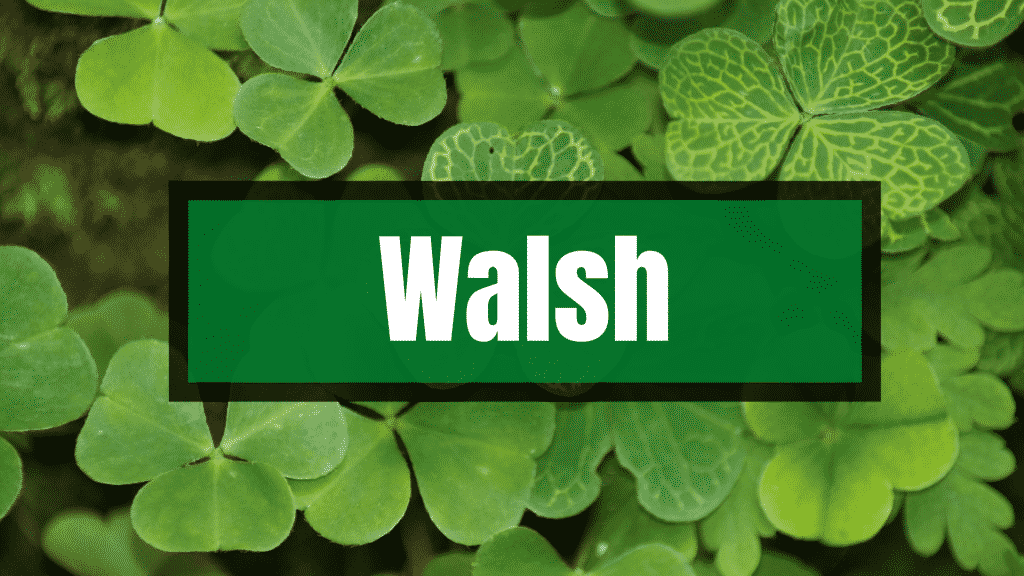 The Walsh surname comes with a rich family history. After the early creation of the name in the 1100's, for many reasons, whether it be economic or political, families with the name have continued to grow.
Nowadays, there are Walshes all over the world. Whether it is England, America, France, Canada, or Australia, you will be sure to find Walsh families all over the world.
According to immigration records, the name became quite prevalent in England in the 13th century. The second name le Waleys, meaning from Wales, started to pop up all over the West of England. Also, in 1273, Henry le Waleys was the Mayor of London.
In the 16th century, the Walsh family in the west of Ireland were believed to descend from Walynus, a Welshman who came to Ireland in the military retinue of Maurice FitzGerald. The name is therefore steeped in Irish history.
Also, in the 16th and 17th centuries, Penal Laws were enacted in Ireland that made it difficult for Catholics to practice their religion. This meant that there was a big influx of Irish Walshes to France.
Furthermore, Walshes became quite prevalent in America, too. A teacher named Andrew Walsh moved his family from Ireland to North Carolina in the 19th century. He left many descendants in the state.
Since then, the name grew in popularity in America, with lots of Walshes moving to bigger states like New York and Boston. The Walshes were even one of the big Irish family gangs in New York in 1850.
Famous Walshes – you'll definitely know a few
There are many famous people with this name, and we're sure you'll recognise a few.
Louis Walsh, from Kilitimagh, County Mayo, is a TV personality, talent manager, and judge on the television music competition, The X Factor. He has managed Irish music acts such as Boyzone, Westlife, and Jedward.
Maurice Walsh was an Irish novelist from County Kerry. He was one of Ireland's best-selling authors in the 1930's. Now, he is best known for his short story, The Quiet Man.
This is because The Quiet Man went on to become a film starring John Wayne and Maureen O'Hara. It was directed by renowned Western director, John Ford. Better still, it went on to win the Oscar for Best Director and Best Cinematography.
Bradley Walsh is an English actor, comedian, English footballer, and presenter. More recently, you might have seen Bradley Walsh on your screen as the presenter of the quiz show The Chase.
Kathleen Erin Walsh is an American actress. She is best known for her role as Dr Addison Montgomery on Grey's Anatomy. You might also recognise her from shows like Emily in Paris or 13 Reasons Why.
Kimberley Walsh is an English singer who is best known for being a member of the popular girl band, Girls Aloud.
She grabbed her claim to fame in 2002 when she auditioned for a reality TV series called Popstars: The Rivals. It was from here that she gained her spot in Girls Aloud.
Notable mentions
Amanda Walsh: Amanda Walsh is a Canadian actress. You might recognise her from Ghosts of Girlfriends Past or The Big Bang Theory.
John Edward Walsh: John Edward Walsh is an American TV personality who created and hosts America's Most Wanted. He is also a victim's rights advocate.
Jared Walsh: Jared James Walsh is an American professional baseball player for the Los Angeles Angels of Major League Baseball.
Kerri Walsh Jennings: Kerri Walsh Jennings is an American professional beach volleyball player. She has won gold at The Olympics three times and bronze once for her craft.
Paul Walsh: All-Ireland minor winner Paul Walsh is an Irish Gaelic footballer.
Marty Walsh: an American politician who was former Mayor of Boston and US Secretary of Labor.
Kenneth Branagh: The surname Branagh derives from the Irish translation of Walsh, Breathnach. Therefore, Northern Irish/British actor and director Kenneth Branagh belongs on this list as well.
FAQs about the Walsh surname
Where is the Walsh family from?
The Walsh family name comes from descendants of 'Philip the Welshman'. It is an Irish surname, most commonly found in County Mayo.
What is the Irish word for Walsh?
The Irish word for Walsh is Breathnach.
How do you pluralise the last name Walsh?
The Walsh surname needs an 'es' on the end to become pluralised; Walshes.