From boats to tree-houses, lighthouses and more, there are so many unique and wonderful places to stay in Ireland. Here are our top ten unusual places to stay in Ireland.
Renowned for its hospitality, Ireland is no stranger when it comes to offering incredible places to stay.
Right across the Emerald Isle, there are countless unusual places to stay that will make you want to clear your schedule and head off for a once-in-a-lifetime experience.
Whether you are looking for a romantic getaway, a weekend away with friends, or a family holiday, there are options for everyone.
However, with so many options to choose from, it can be difficult to find those unique and hidden gems. Read on for our top ten unusual places to stay in Ireland.
10. Portsalon Luxury Camping, Co. Donegal – luxurious glamping in a yurt
Nestled on the picturesque hillside overlooking Lough Swilly are five luxurious yurts. Spread out over an 18-acre site; these luxurious yurts offer stunning views of the Atlantic Ocean and surrounding mountains.
Each yurt comes with a king-size bed and has carpeted floors making it extra warm and cosy. Admire the breathtaking views from the outdoor seating area with your own personal hammock, fire pit, and barbeque area!
Address: Cashelpreaghan, Co. Donegal, Ireland
More Info: HERE
9. Martello Tower, Co. Dublin – set on the rocks
This 1804 Martello Tower in Sutton in the north of County Dublin is definitely one of the most unusual places to stay in Ireland.
With thick walls and the original narrow stone staircase, you will be instantly transported back to a time when there was a threat of cannon fire.
With a stunning veranda which allows for beautiful views of Dublin Bay, you will enjoy the sights no matter the weather. For 360-degree views, head out onto the balcony, which goes around the entirety of the tower.
Address: Red Rock, Sutton, Co. Dublin, Ireland
More Info: HERE
8. Clissman Horse Caravans, Co. Wicklow – fulfil a childhood dream
One of the most unique ways of exploring the County Wicklow countryside is by taking to the road with a horse.
This eco-friendly option of a horse pulling your home offers the fulfilment of a childhood dream as you get to experience a home on wheels.
The wagons sleep four to five people, and they come with cooking facilities as well. We can think of no more unusual way to explore the Emerald Isle than with a horse-drawn wagon!
Address: Cronybyrne, Rathdrum, Co. Wicklow, Ireland
More Info: HERE
7. The Holiday Pub, Co. Tipperary – a uniquely Irish experience
Ireland is known for its good pints and even better craic that can be had in the local pubs dotted up and down the country. The Holiday Pub allows people to enjoy an Irish country pub all to themselves.
Having operated as a pub until 2010, this unusual place to stay has all the quirks that come with staying in a pub.
From the pub seating to the stage stocked with musical instruments, the outdoor beer garden, and, of course, the traditional bar, this pub has it all.
Address: Ballinderry, Nenagh, Co. Tipperary, E45WY94, Ireland
More Info: HERE
6. Mayo Glamping Hobbit Village, Co. Mayo – a favourite with Lord of the Rings fans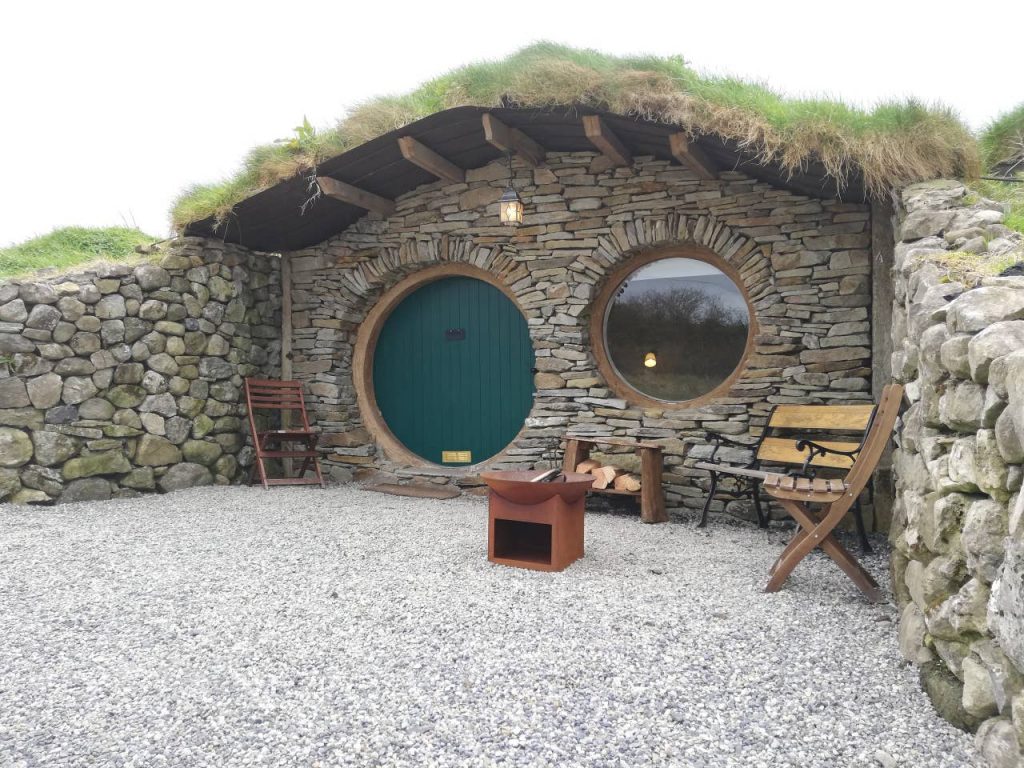 With grassy green roofs, and round windows and doors, you will feel as though you have stepped into the world of J.R.R. Tolkien.
This collection of hobbit huts offers the ultimate Tolkien glamping experience, with the rolling hills of Mayo acting as a backdrop.
There is also a woodfired sauna, hot tub, outdoor pizza oven, and fire pit for enjoying those special moments with friends.
Between this and the communal kitchen and onsite games room, you will never want to leave this Middle-Earth experience.
Address: Keelogues Old, Ballyvary, Castlebar, Co. Mayo, Ireland
More Info: HERE
5. Ciara Constantia, Co. Galway – be rocked to sleep by the sea
This 1933 ex-French coastal patrol ship now calls Galway home. Having been recently restored, she now sleeps up to four guests and is perfect for those wishing to experience an unusual place to stay while exploring Galway.
This unique houseboat is beautifully decorated and offers a truly unique experience. Moored conveniently close to all things in Galway City, it still enjoys the tranquillity that comes with being on the water.
If you aren't convinced this is one of the most unusual places to stay in Ireland, you will be when you wake up with a shower under the porthole, which was once home to a 50mm canon.
Address: Spanish Parade, Galway, H91 CX5P, Ireland
More Info: HERE
4. The Birdbox, Co Donegal –perfect for a treetop escape
Situated amongst the trees is a beautifully handcrafted treehouse overlooking Glenveagh National Park in County Donegal.
To get to this fairy-tale treehouse, you must walk along a wooden walkway amongst the trees before crossing a rope bridge.
This compact space offers everything you might need for a treetop escape, including a kitchenette and a wood-burning stove. The views are absolutely spectacular, and trust us when we say you will never want to leave!
Address: Meentymorgal, Fintown, Co. Donegal, Ireland
More Info: HERE
3. Cabra Castle, Co. Cavan – second scariest hotel in the world
Staying in a castle is an absolutely luxurious experience already, but combine it with the exhilarating and hair-raising thought of it being haunted, and you'll be treated to a truly unique stay.
Legends surrounding this magnificent castle have been around for years. From presences in the hallways to the screaming cries of an infant, it is no wonder it was voted Tripadvisor's second scariest hotel in the world in 2010.
When you're not looking for spirits, you can enjoy the 100 acres of parkland and gardens on which the castle is set.
The castle is tastefully decorated with period features full of old-world charm. It is a dream to behold. However, if you see a ghost, it could be your worst nightmare!
Address: Carrickmacross Rd, Mullantra, Kingscourt, Co. Cavan, A82 EC64, Ireland
More Info: HERE
2. Clare Island Lighthouse, Co. Mayo – keep watch over Clew Bay
For over two centuries, this incredible lighthouse has acted as a guide for those navigating through Clew Bay.
Perched high atop the cliffs, this magical lighthouse is now a boutique accommodation with spectacular sea views.
Relax and escape from the busy world of everyday life as you enjoy the warmth of the lighthouse.
With a stunning library and drawing room, along with locally sourced foods to dine on, this is an experience not to be missed when exploring Ireland.
Address: Ballytoughey Clare Island Clew Bay, Co. Mayo, Ireland
More Info: HERE
1. Finn Lough, Co. Fermanagh – for unrivalled views of the night sky
Nothing quite says unusual places to stay like the ultimate hideaway underneath the starry night sky, the perfect location for a romantic getaway.
Enjoy uninterrupted views of the stars as you relax and unwind in a transparent bubble dome situated in a private forest.
Whether you are looking to restore your energy levels or just fancy a luxurious but unique getaway, this is the place for you!
With some offering a free-standing stone bath that overlooks the breathtaking woodland, the Finn Lough Bubble Domes have to be number one on our list of the most unusual places to stay in Ireland.
Address: 37 Letter Road, Aghnablaney, Enniskillen BT93 2BB
More Info: HERE
Other notable mentions
Blackhead Lighthouse, Co. Antrim: Another lighthouse on the list, this time in Northern Ireland, is Blackhead Lighthouse, where you can enjoy spectacular views of the coast.
Coolbawn Quay, Co. Tipperary: On the shores of Lough Derg, Coolbawn Quay will offer a remote and unique experience, the perfect spot for your stay in Ireland.
The Mustard Seed Country House, Co. Limerick: As well as offering luxurious accommodation, this heritage property was converted into a boutique hotel. It's perfect for a peaceful escape.
Chléire Haven, Co, Cork: You can stay in Mongolian yurts at Chléire Haven, an unusual and exciting stay away from home.
FAQs about unusual places to stay in Ireland
Where are the most unusual places to stay in Ireland?
Every county in Ireland has some weird and wonderful accommodation options from the top to the bottom of the country.
What is the best on the list to stay for families?
Mayo Glamping Hobbit Village is guaranteed to be a family-fun stay.
Does Dublin have unusual accommodations?
Martello Tower is one of the most unique and interesting stays in County Dublin.