With live events cancelled around the world, Ireland's most famous band U2 to broadcast four online concerts as part of their The Virtual Road tour.
U2, one of the best Irish rock bands of all time, have announced a series of four online concerts that will be broadcast from their YouTube channel from St Patrick's Day.
With many scheduled concerts and tours having been cancelled over the past year due to the COVID-19 pandemic, music fans everywhere have found their calendar of events to be pretty empty.
With no indication of when music events and large social gatherings will be able to resume, many are struggling to find something to look forward to.
However, with the cancellation of scheduled events, artists have also found they have a lot more time on their hands and are turning to the internet to entertain their fans and do what they love.
One of which is Dublin-born band U2, who have announced they will be broadcasting a series of four online concerts as part of their U2: The Virtual Road tour.
How to see the concert – don't miss out
Starting on St Patrick's Day, the Irish four-piece will broadcast four of their best concerts on their YouTube channel that will be available to view for up to 48 hours after they're originally published.
On 17 March, U2 will be going back to County Meath with their iconic 2001 Slane Castle performance. The concert will also include a special opening act from Dermot Kennedy that was recorded in Los Angeles last week.
Their 25 March concert will take fans back to the band's early days, with a concert recorded in June 1983 at Red Rocks Amphitheatre in Colorado. Irish post-punk revival band Fontaines will open the show.
Tune in on 1 April to watch their 1997 Live at Mexico City performance at the Foro Sol Stadium with an opening act from Carla Morrison.
The final concert will be broadcast on 10 April and will take fans back to Paris in 2015 when the band returned to the city less than a month after the horrific terrorist attacks on the city. French band Feu! Chatterton will open the show.
A special concert series – never seen before footage
Three of the concerts broadcast in U2's The Virtual Road tour have never been available digitally before, namely Slane, Red Rocks, and Mexico, so this series is a must-watch for fans of the band.
Speaking on the launch of their virtual tour, the Dublin band commented,
"Every show is memorable for us, but these four particularly so.
"It's exciting to be on the road again. Embracing all the wonder of the virtual road and especially exciting to be joined by such a brilliant line-up of fellow travellers in Dermot Kennedy, Fontaines D.C., Carla Morrison and Feu! Chatterton."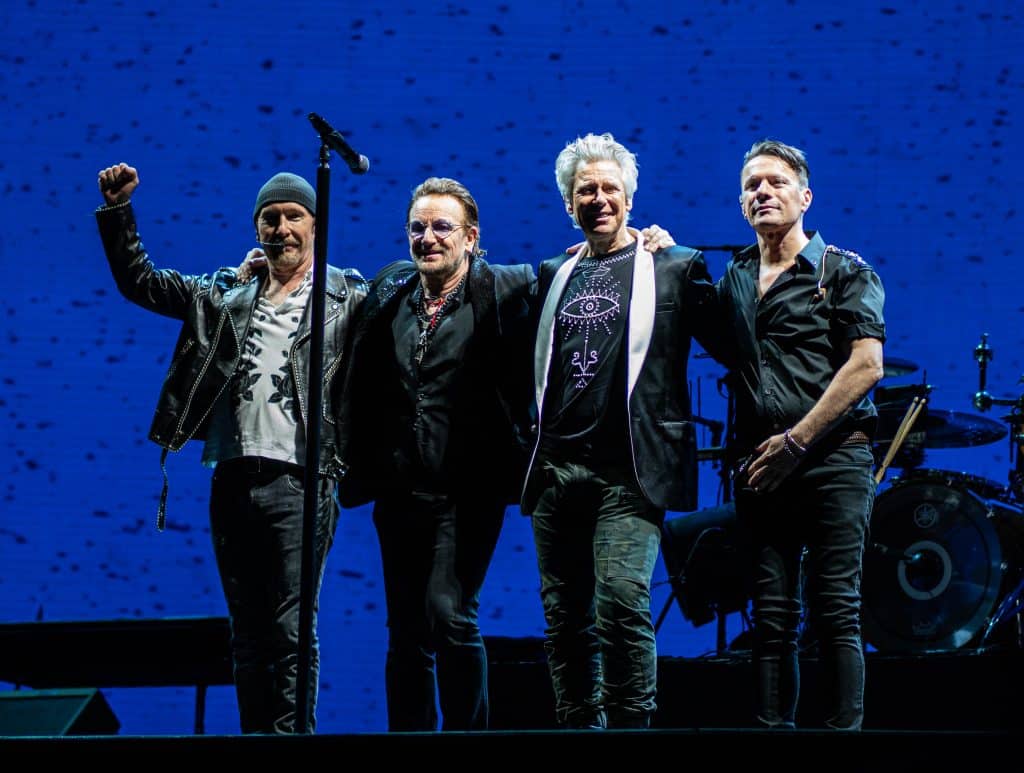 Director of YouTube Music for EMEA, Dan Chalmers, said it was "fantastic that YouTube is partnering with U2 for this exclusive broadcast.
"The four concerts featured in The Virtual Road are the most memorable and iconic in the band's history, and indeed rock history at large.
As one of the world's best-selling music artists, U2 have been at the top of the global rock scene for the past four decades. When they perform, the world takes notice – their performances are always a landmark moment for music lovers around the world.
"We're proud to be providing the platform for an artist that has come to embody the definitive live music experience."
You can watch U2's four online concerts as part of their The Virtual Road tour on their YouTube channel here.