June 2019 sees the return of the prestigious sporting event, The Open Championship. Taking place this year at the Royal Portrush Golf Club in County Antrim, this will be the first time that the tournament has been featured at the club since 1951.
This year will mark the 148th instalment of the professional golfing tournament and numbers are expected to soar, as golfing enthusiasts head for the North of Ireland.
Running from 18 – 21 June 2019, this high-class event is bucket list worthy for anyone who enjoys taking a swing on a manicured green. Although most tickets have sold out, tickets to practice days are still on the go.
For all of you travelling up to Portrush in pursuit of The Open Championship, here are ten things you should know.
10. The Where
Royal Portrush Golf Club is a private members golf club located in Northern Ireland in County Antrim. It is considered one of the most prestigious clubs in Ireland and consists of 36-holes across two links: the Dunluce Links and the Valley Links.
9. Tickets
Tickets are all but sold out. Originally a full week pass, as well as a weekend bundle went on sale alongside tickets to all major Open Championship days. These have all sold out. What remains are tickets to practice days one, two, three and four.
Re-sells may pop up online so keep your eyes peeled if you're looking to capitalise on the fact that a previous ticketholder can no longer attend.
Find any remaining tickets HERE
8. Getting There
Due to expected high levels of congestion, attendees are encouraged to take public transport to the event.
There will be bus, coach, ferry and train services on offer and extended services to accommodate increased numbers.
For those who plan on driving to the Open Championship, please note increased restrictions on road usage and parking will be enforced near the site.
There will be no public parking in the vicinity of the club, but there will be a paid park and ride facility with shuttle buses to and from the course.
The website says that "Spectators are advised to turn off their satellite navigation systems and follow the appropriate signage."
7. Gate Opening Times and Park & Ride (P&R)
| | | | | |
| --- | --- | --- | --- | --- |
| Day  | Gate Opens |  Hours of Play | First Service from P&R to the course  | Last Service from course to P&R  |
|  14 July | 9AM | All Day  | 8AM | 8PM |
| 15 July | 7AM | All Day | 6.45AM | 8PM |
| 16 July | 7AM | All Day | 6.45AM | 8PM |
| 17 July | 7AM | All Day | 6.45AM | 8PM |
|  18 July | 6AM | 6.35AM – 8.30PM Approx. | 5.45AM | 10PM |
| 19 July | 6AM  | 6.35AM – 8.30PM Approx. | 5.45AM | 10PM |
| 20 July | 7AM  | 8AM – 7PM Approx. | 6.45AM | 9PM |
| 21 July | 7AM  | 8AM – 7PM Approx. | 6.45AM | 9PM |
6. Accommodation
With an option of bringing your own kit or purchasing a pre-pitched tent, the Open Camping Village is perhaps the best accommodation for the event.
According to its website, the campsite is "a 15min bus ride to host venue… The bus stop is 5-8 minutes walk from the main entrance…Buses will run every 10 minutes to and from the course."
Other options in the area include bed and breakfasts, hotels and self-catering stays that are sure to suit every sort of budget.
5. Junior Tickets
According to The Open Championship website, "All tickets for Juniors (Under 16 as of 13th July 2019) are free of charge."
"All Juniors require a valid course admission ticket in order to attend The Open and must be accompanied by a responsible adult who holds a valid course admission ticket (Adult or Youth)."
4. Viewing
With so much action at The Open Championship, you won't want to miss one second – lucky the event has this covered.
There will be, according to its website, "thousands of public seats located around the course including at the 18th green and at the Practice Ground".
There will also be large TV screens tracking the top coverage splashed throughout the event.
A Spectator Village will also offer a break from green-side viewing while keeping attendees up to date with live coverage broadcasted throughout.
3. Prohibited Items
Before you head off en route to this year's Open in Portrush, here is a list of top things you're not allowed to bring!
Ladders or any items used to achieve an elevated position are not allowed. Nor are selfie sticks, for that matter! Loud devices including portable speakers are off the table, too.
No bicycles, skateboard, scooters or roller blades are allowed at the event, and unmanned vehicles (such as drones) are also a major no-no.
Alcohol is also not allowed to be brought into the event, although there will be vendors on-site to quench your thirst.
2. If You're In, You're In
Note that there is no same-day re-admittance to the event once you have arrived.
The site goes on to say, "This policy has been in place in recent Open Championships to protect golf fans from the mis-selling of tickets and hospitality products by unofficial operators."
1. Dress Code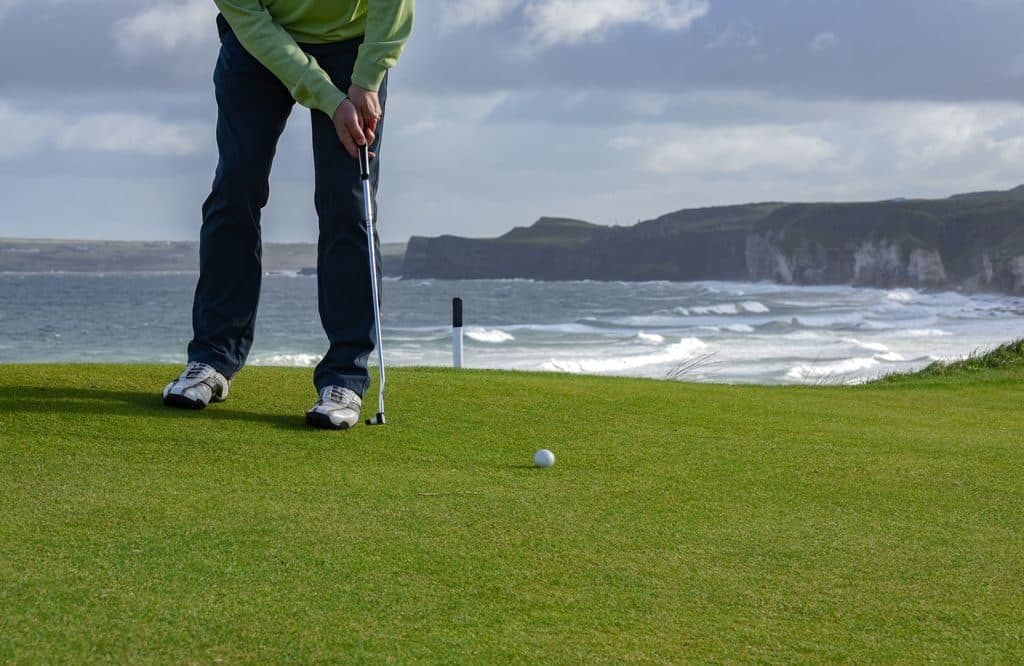 While there is no exact dress code for this event, attendees are encouraged to wear weather appropriate clothing. More so, no jeans or trainers will be allowed in Hospitality.