If you've ever wanted to know what it's like to time-travel, look no further than Ireland's folk and heritage parks!
Visiting one of Ireland's folk and heritage parks is a must-do for anyone who wants to learn more about what life was really like in the past.
These open-air museums offer incredible experiences that can't be replicated in a conventional museum. Each of these sites features restored or saved from destruction by removal from their original location, or reconstructions of historic structures based on archaeological evidence.
Ulster Folk Museum, Co. Down – a trip back in time on Belfast's doorstep
With a reconstructed village and traditional farmhouses, Ulster Folk Museum is one of the greatest of Ireland's folk and heritage parks, populated by reenactors and farm animals.
Ulster Folk Museum is only a short train ride from Belfast. Located right beside the Ulster Transport Museum, you can purchase a combined ticket for both.
View a silent movie at the village cinema, learn how antique photographs were made at the photography studio, watch the blacksmith at work in the forge, the weaver at work on the loom, and the basket maker crafting costumes for mumming (a traditional form of folk theatre)!
Address: 153 Bangor Rd, Holywood BT18 0EU
Ulster-American Folk Park, Co. Tyrone – relive the Irish emigrant's experience in America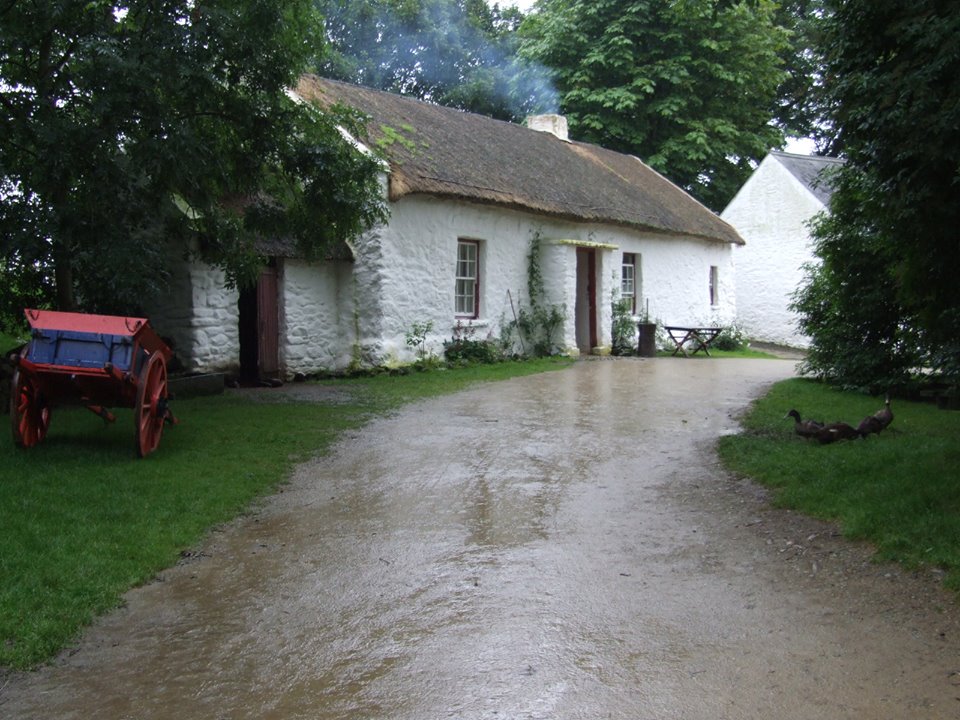 With original reconstructed houses and other buildings from both Ireland and the U.S., the Ulster-American Folk Park provides a fascinating glimpse into Ireland's vast history of immigration. This state-of-the-art open-air museum lets you walk in the footsteps of our ancestors.
Located in Omagh, County Tyrone, the Ulster-American Folk Park is possibly the most unmissable of Ireland's folk and heritage parks, and one of the best things to do in Tyrone.
Each year the park plays host to the Omagh Bluegrass Festival, the largest festival of bluegrass music in the world outside of America.
Address: 2 Mellon Rd, Omagh BT78 5QU
National Heritage Park, Co. Wexford – a journey of over a thousand years
The National Heritage Park in Ferrycarrig, County Wexford, takes visitors right back to the very beginnings of Irish civilization.
With reconstructed buildings, the National Heritage Park lets you discover what life might have been like for Ireland's inhabitants during the Prehistoric, Early Christian, Viking, and Medieval periods.
A range of historical activities can be tried at the park, as well as guided tours and classes in blacksmithing, woodcarving, printing, basket weaving, and many more!
Address: Ferrycarrig, Co. Wexford
Bunratty Castle and Folk Park, Co. Clare – discover the lives of everyday people and the medieval nobility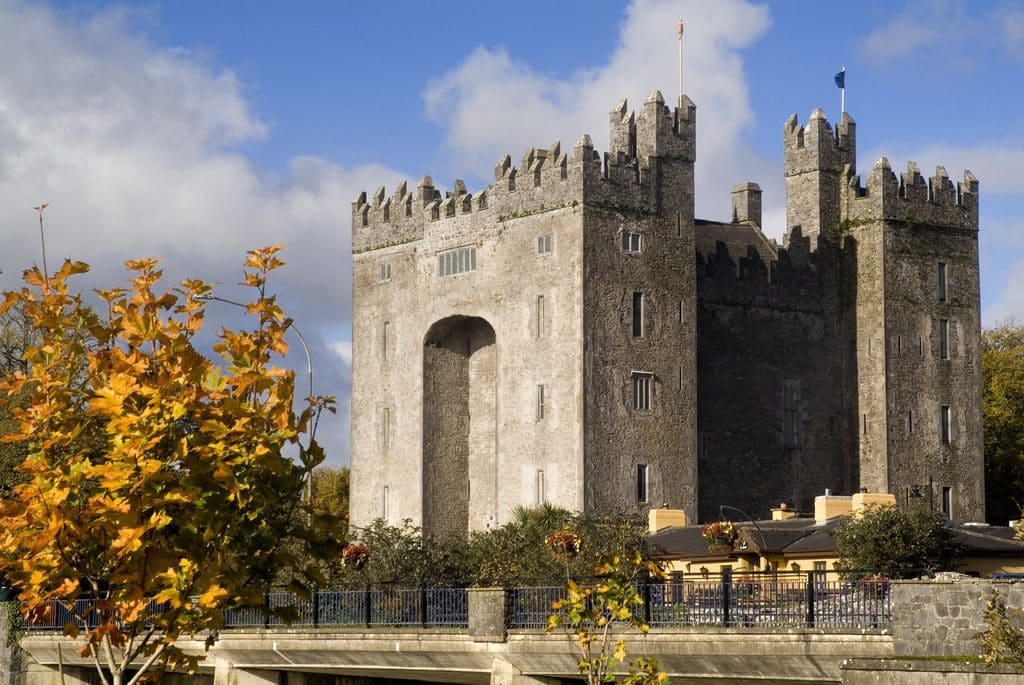 We're willing to bet Bunratty holds the title for being the most famous of Ireland's folk and heritage parks. Bunratty Castle was built in the 15th century and was lovingly restored in the 1960s. The castle is lavishly decorated with rare examples of medieval furniture.
The world-famous Bunratty Banquet takes place here; an evening of entertainment designed to give you a taste of the Middle Ages' high life.
Outside the castle's walls, Bunratty Folk Park tells the story of the everyday people of Ireland in the 19th century. The park includes reconstructed thatched cottages, a village street, and the childhood home of the founders of HB ice-cream!
Address: Bunratty West, Bunratty, Co. Clare
Muckross Traditional Farms, Co. Kerry – a look at life in our parents' and grandparents' generation
Muckross Traditional Farms are located within the estate of Muckross House in the breath-taking Killarney National Park.
This site explores rural life in 1930s and 1940s Ireland, showcasing the colossal changes that have taken place in Irish life in less than a hundred years.
As thousands of visitors each year from both Ireland and abroad can tell you, a trip to County Kerry is not complete without a visit to Muckross House, Torc Waterfall, and the Lakes of Killarney.
Address: Killarney National Park, Cloghereen Lower, Co. Kerry
Craggaunowen Castle and Crannóg, Co. Clare – one of the best of Ireland's folk and heritage parks
Craggaunowen includes a restored castle built in 1550, as well as a reconstructed crannóg (a type of lake dwelling used in Ireland from the late Bronze age, to the Celts, and until as late as the 1600s), a ring fort, an Iron age road, and a reconstruction of the type of boat St. Brendan might have taken on his legendary voyage to North America.
The park is also home to now rare animal breeds who once populated the country, including wild boar.
Address: Craggaunowen, Kilmurry, Co. Clare, V95 AD7E
Doagh Famine Village, Co. Donegal – uncover life during the most damaging event in Ireland's history
While being one of the smallest of Ireland's folk and heritage parks on our list, the Doagh Famine Village in Donegal tells the essential story of one of the most tragic events in Irish history; the Great Famine 1845-1851.
The site consists of a clachan; a small group of cottages bundled together, representative of the kinds of community many Irish people lived in the early 1800s. The museum offers visitors a chance to learn about Irish wake traditions and the experience of eviction.
Address: Lagacurry, Co. Donegal