For anyone looking for a traditional Irish festival in the New Year, Dublin's TradFest 2020 is right up your street.
If Christmas leaves you feeling deflated and looking for the next adventure, then bag some tickets for TradFest 2020 in Dublin.
It is a music festival held over five days, hosting a plethora of traditional and folk acts in and around Temple Bar.
TradFest 2020 will run from Wednesday 22 until Sunday 26 January from 13:00 until 23:00 every day. It will have more than 200 different acts performing in some fantastic venues.
Winter tradition
In 2006, Dublin's TradFest began as the city's first niche music festival, intending to inspire the next generation of trad/folk artists.
Since then, it has become bigger and better every year and is now one of Ireland's largest traditional music festivals.
It showcases artists from the Emerald Isle as well as international musicians and welcomes many styles of performances from Nu-Folk to Celtic Rock.
The cobbled streets of Temple Bar make the perfect location for the festival with plenty of traditional pubs to visit and great restaurants to eat in.
With many of the smaller events being free, it is a great festival to attend just after Christmas when the bank balance may be running low.
Ticketed acts will be held in some of the finest venues in the city, including Lost Lane, The Button Factory, and Pepper Canister Church.
After the busy Christmas rush of shopping, dining, and drinking, Dublin will come alive again with warm city vibes during the five nights of TradFest 2020.
A stellar line-up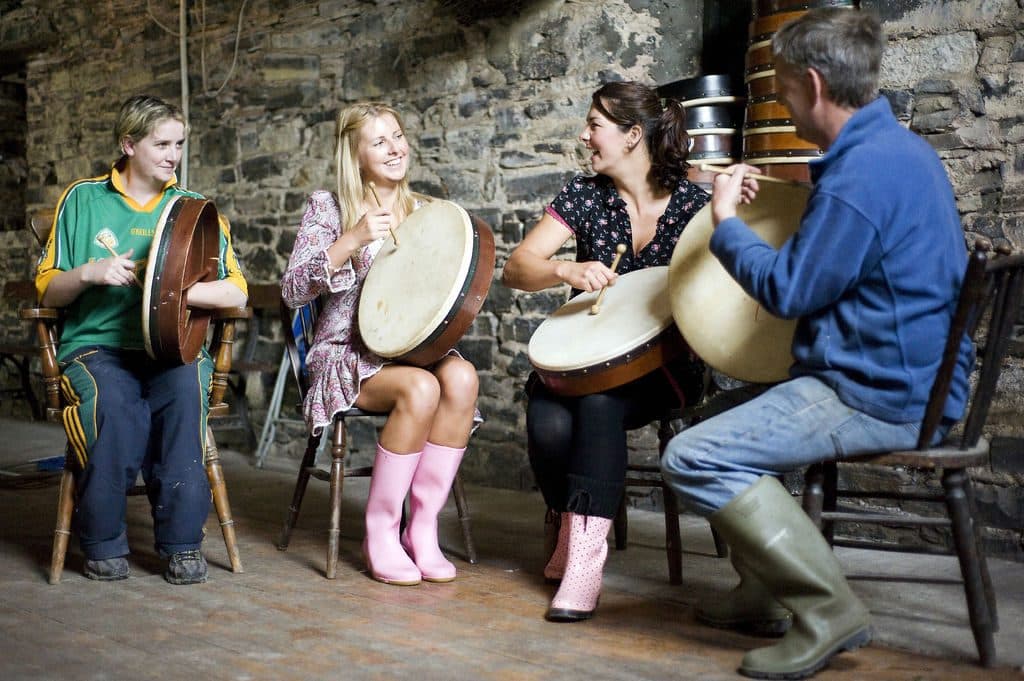 As with any music festival, it is the quality of the performers that lay the foundation for the event's success.
Traditional Irish musicians are world-renowned for their outstanding talent, and TradFest 2020 is no exception.
Next month's line-up consists of traditional bands like Cherish the Ladies, The Shandrum Céilí Band, all-star band Kevin Glackin, Robbie Walsh, Paddy Kiernan, and Sean Potts.
Special guests include Cathy Davey, Sean Keane, and Caoimhe Hogarty. Not to mention, The Remnant Kings, The Screaming Orphans, Hothouse Flowers, and so much more.
Tickets to see artists, such as the fabulous Maria Doyle Kennedy, Lisa Lambe, and Della Mae, can be found at www.tradfest.ie along with full details of The Dublin Sessions, podcasts, and all headline acts.
The Temple Bar Company
TradFest 2020 is organized by The Temple Bar Company, a unique events provider established in 2003 in Ireland's capital.
It brings all cultural and voluntary sector hubs and businesses in Temple Bar together, uniting them in one voice for the area.
Their mission is to develop one of Ireland's most treasured locations for entertainment, business, and culture while making sure the area is kept clean and safe for visitors and residents alike.
Temple Bar TradFest is a perfect example of their collaborative work and a superb way to enjoy the area's rich history, deep-rooted culture, and unique vibe.
For anyone planning a trip to Dublin in January, TradFest 2020 comes highly recommended and is sure to kick off your new year with a bang.
Get featured on Ireland Before You Die
Do you want to get your Irish business more online exposure? Especially to those interested in travelling the best places in Ireland? Then why not get a dedicated feature on Ireland Before You Die. Find out more 
here.