Over the past decade or so, Ireland has seen a boom in its tourism industry.
Indeed, Ireland may be a small country, but its presence and charms seem to have soared to the far stretches of the globe. And, today we welcome people from all over the world to our ancient shores in abundance each year.
In 2018 alone 11.2 million people travelled to the Emerald Isle from abroad. Whether tourists come in search of a good ole' time, history or heritage, the numbers continue to grow.
Here we take a look at who visits Ireland, where they come from and what they're up to when visiting the Emerald Isle!
Note: Statistics and figures are accurate according to Tourism Ireland Facts and Figures 2017, and Fáilte Ireland Tourism Facts 2017.
The Who
According to Tourism Ireland Facts and Figures 2017, the Irish tourism market welcomed 10.6 million overseas visitors during 2017. This positively brought a sum of €5.6 billion to the Irish economy.
According to Fáilte Ireland, other aspects of tourism (domestic tourism, for example) surmounted to a whopping total of €8.8 billion in 2017.
In 2017, according to Fáilte Ireland Tourism Facts 2017, the majority of Ireland's tourists came from Great Britain. This is a pattern which has remained steady since 2013.
Countries in mainland Europe accounted for the second-largest group of tourists travelling to the Emerald Isle.
German tourists came first from the mainland Europe group, followed by (in descending order) France, Spain and Italy.
There were also high tourist numbers from The Netherlands, Belgium, Poland and Switzerland.
The United States saw dense numbers of tourists travelling to Irish shores, as did Canada and Australia.
The What
According to the facts and figures released by Tourism Ireland, nearly half (48%) of 2017's overseas visitors were here for a holiday. That's a whopping 346,000 more visitors vacationing on the island of Ireland in comparison to 2016.
The figures also list 34% of those coming to the Emerald Isle to visit a friend or family member. A sixth (15%) of tourists listed their reason for visiting the island as a business trip.
Top long-haul tourist markets included North America (such as the United States and Canada) as well as Australia. This comes as no surprise when these three countries are booming with Irish expats and citizens sharing in Celtic ancestry.
In terms of popular areas, it seems, according to Tourism Ireland Facts and Figures 2017, that Dublin was a hot spot for overseas visitors. The capital drew the largest volume of tourists in 2017 it is said with 56% of travellers visiting the capital during their trip.
The Southwest of the country (including Cork, Waterford and Kerry) are other places of great interest in the tourism market. Northern Ireland also remained a top spot for travellers when visiting the Emerald Isle in 2017.
According to the same report, 87% of people were visiting for the first time, 31% were on a repeat-visit, and 2% were visiting the country in which they were born.
The highest number of overseas tourists to Ireland in 2017 were in the 25-34 age bracket (28%) and the most common timeframe to stay in Ireland was five to eight nights.
In terms of accommodation, the most popular trend was visitors staying with friends or relatives (30% of all tourists). Hotels and rented properties were split second, both with 19%. "Other" types of accommodation, which could include camping and caravanning, was listed as 24% for all tourists.
The Growth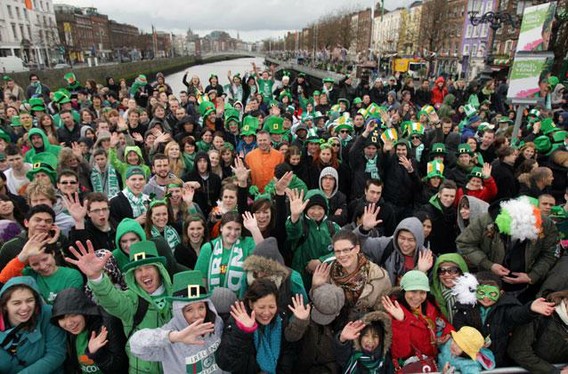 According to Tourism Ireland Facts and Figures 2017, the fastest-growing markets, in terms of the growing volume of overseas visitors, include the United States and China.
Nordic countries, such as Iceland, Denmark, Finland, Norway and Sweden were also major growth areas, as were tourists from Spain.