The Midlands Region of Ireland is often overlooked when it comes to Ireland's must-see places; frequently by-passed on the tourist's and even Irish person's journey either east or west. This can be an unfortunate occurrence, as the region's natural beauty containing spectacular lakes, canals, rivers and bogs coupled with an ancient heritage and with the charm, wit and friendliness of its people rank it high the places you must see before you die.
In order to get a true sense of the area the visitor needs to take time-out a mix with the locals and what better place to do just that but in one of the abundant spectacular Irish pubs which can be found in the counties of Laois, Offaly, Longford and Westmeath. In this feature, travel journalist Ger Leddin looks at ten of the finest pubs the region has to offer.
10. Kavanagh's Bar and Venue, Portlaoise, Co. Laois
If you're feeling like having a bit of a laugh or perhaps listening to some good music then drop into Kavanagh's in Portlaoise. This pub and music venue has been operating since 1869 and is the longest running pub in the Town. Renowned for its comedy nights and both its free and paying music gigs, Kavanagh's serves the best of drink in what can truly be termed beautiful surroundings.
A traditional warm and inviting pub occupies the ground floor while the first-floor venue area hosts some of the best musicians and comedians the country has to offer. Kavanagh's pride themselves on the TV sports coverage they provide and honestly it's a great place to watch a match and enjoy the banter and craic.
Address: 28 Main St, Moneyballytyrrell, Portlaoise, Co. Laois, R32 EP2K, Ireland
9. Bob's Bar, Durrow, Co. Laois
If you're looking for quirkiness in a bar, well, you'll find it here, for Bob's bar situated on the banks of the River Erkina and has to be one of the most interesting pubs this writer has visited. Outwardly the pub looks like any other typical Irish small town pub, however inside it's a whole different story.
With an old boathouse now effectively incorporated into the main pub, there is ample room for the fantastic display of old photographs and memorabilia which adorn the walls and overflow onto any available floor space. The pub itself is cosy and inviting and the owner Bob will even take you and your partner on a splendid pony and trap jaunt. Well worth the visit.
Address: The Bridge, Durrow, Co. Laois, Ireland
8. Kellys Bar, Birr, Co. Offaly
Many people visit Birr Castle Gardens and Science Center in Birr County Offaly. If you are one of these you could add the little extra to your trip and extend your visit to include a stop at Kelly's Bar on Green Street.  A comfortable warm and inviting bar with high backed stools and padded leather seats allows you to sit back, relax and enjoy your drink and sample some of the very fine food and drink on offer.
Like many pubs in Ireland Kelly's is family run and it shows. The friendly bar staff will go out of their way to be welcoming and to be honest the craic in this pub at night is as they say in Offaly "awesome."
Address: Green St, Townparks, Birr, Co. Offaly, Ireland
7. Ollie Hayes' Pub, Moneygall, Co. Offaly
Ollie Hayes' pub in Moneygall doesn't need an introduction. The pub was featured countless times in both national and international media as the ancestral home of former US President Barrack Obama who visited his Irish cousins and had a few pints on his first visit to Ireland. But apart from the fuss surrounding his famous cousin, Ollie. Hayes runs a decent pub, serves good drink and practically guarantees you'll enjoy yourself. Don't be surprised if a spontaneous sing-song breaks out, it has been known to happen.
Address: Main Street, Moneygall, Birr, Co. Offaly, E53YX38, Ireland
6. Giltraps Pub, Kinnitty, Co. Offaly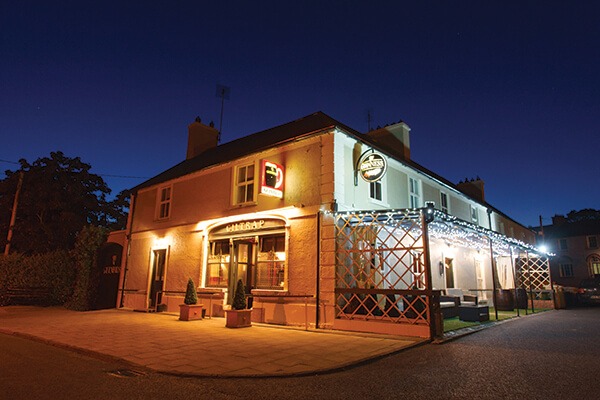 The beautiful village of Kinnitty lies on the western slopes of the Slieve Bloom Mountains and dates back to pre-Christian times; although Giltrap's can't trace its history back quite that far — only to the 17th century — so you could say it is a relative newcomer to the village. But leaving that aside, Giltrap's is one of the finest hostelries in the Midlands.
Managed now as a family run pub the weary walker or rental car driver can be assured of a warm welcome — the pub boasts a lovely open fire — and all the staff wear welcoming smiles. The Guinness here is superb and if you are very lucky or ask nicely you might even avail of the pub's famous barbeques.
Address: The Walk, Offaly, Ireland