Are you looking for a great place for a first date in Dublin after swiping right? Well, look no further; these are the ten best places for a first date in Dublin.
When someone catches your eye, and you hope to impress, you need a showstopping first date. With countless options for first dates in Ireland's capital, we have narrowed it down to the top ten places for a first date in Dublin.
From snazzy restaurants to fun and exciting activities, there are so many options when it comes to choosing a fantastic first date.
There are loads of perfect options, whether you're planning a date for the weekend or a date after work. Here are our top 10 places for a first date in Dublin.
10. Café En Seine — bringing Paris to you
As one of Dublin's ultimate destination venues, this three-storey gastropub will hit all the right spots for that all-important first date.
This tastefully decorated venue has it all, between magnificent dining options as well as an impressive drinks collection.
So, whether you start your first date here or end up there after an evening of fun, you are bound to have a great time!
Address: 40 Dawson St, Dublin
9. The Irish Film Institute — a typical first date with a twist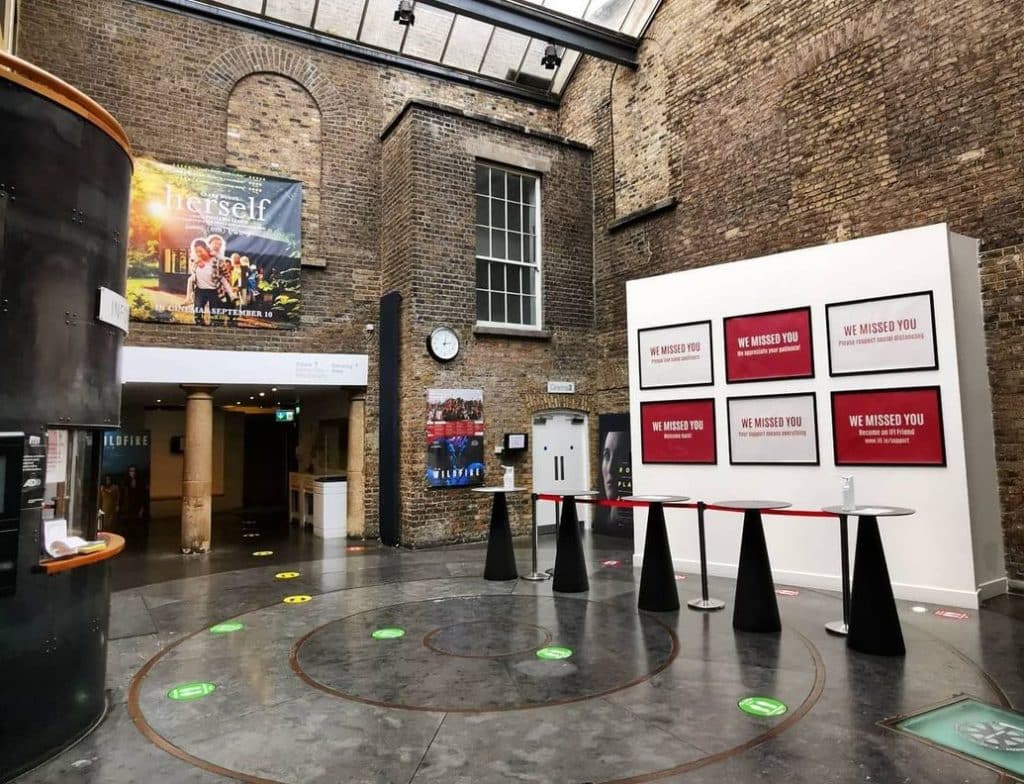 A trip to the cinema is usually high on the list of first dates, so if this is your go-to, then why not change it up! The IFI shows a range of films and documentaries that are not ordinarily shown in mainstream cinemas.
Nip over to the bar for some drinks and food prior to the screening, and you'll be all set for an evening of cinema.
Address: 6 Eustace St, Temple Bar, Dublin, D02 PD85
8. The Rink at D12 — for lots of laughs
Put your balance to the test with a first date to Dublin's only roller disco. Although a little different, this is bound to be a barrel of laughs for all involved, perfect for breaking the ice on a first date.
Who knows, you may even get to hold hands while skating your way around the rink — saucy!
Address: Finches Industrial Park, Long Mile Rd, Walkinstown, Dublin, D12 P62N
7. Jameson Distillery Bow St. — for an intimate experience
Enjoy a tour of the magnificent Jameson Distillery or perhaps do a whiskey tasting with one of the experts. After your tour, have a drink or two in JJ's Bar, where the cocktails are mighty.
This is a great first date for whiskey lovers and will be a memorable experience no matter the date's outcome!
Address: Bow St, Smithfield, Dublin 7, D07 N9VH
6. La Peniche — a showstopping first date
Nothing says a first date quite like a romantic evening afloat on the canal. La Peniche is a beautifully restored classic cargo barge that has been converted into a unique dining experience.
Enjoy award-winning food and drinks as you get to know your date in this romantic setting.
Address: Grand Canal, Mespil Rd, Dublin 4
5. Adventure Rooms — test your skills as a pair
Head to Dublin's top-rated escape rooms for one of the best first dates in Dublin. Work together with your date to solve puzzles and escape from a mysterious room within 60 minutes.
With multiple escape rooms to choose from, you can always come back for round two on your second date!
Address: Classic House, Green St, Rotunda, Dublin 7
4. The Blind Pig Speakeasy — for delicious drinks
This authentic prohibition bar serves some of Dublin's finest cocktails that will delight your tastebuds.
Tucked away in the heart of Dublin City, you will only receive the exact location of this bar close to your reservation time. Then using the secret password, head down a set of stairs to where your first date awaits.
Address: 18 Suffolk St, Dublin 2, D02 NP97
3. Tea Garden — for a chilled out evening
Looking to enjoy a quiet evening in Dublin that doesn't involve drinking? Well, look no further than the sanctuary that is the Tea Garden.
Enjoy over 40 varieties of tea from across the world in one of six beautiful rooms or perhaps smoke some shisha — the perfect way the spend a first date!
Address: 7 Ormond Quay Lower, North City, Dublin 1, D01 NN72
2. Token — battle it out
This retro arcade and award-winning restaurant are ideal for those looking for a fun and exciting first date.
With over 40 machines, three bars, and an extensive food menu that caters to all dietary requirements (including vegan), there truly is something for everyone at Token.
Did we mention they serve colourful and delicious cocktails as well?
Address: 72-74 Queen St, Smithfield, Dublin 7
1. City Kayaking Dublin — for the adventurous types
For a unique first date idea, why not head for a kayak on the Liffey. You can rent kayaks, or you can enjoy a guided tour through Dublin City via kayak.
For a kayaking session even more special, why not enjoy Music Under the Bridge, where some of Dublin's finest musicians play a private gig beneath the historic bridges.
Address: Custom House Quay, North Dock, Dublin