When it comes to charm, Ireland boasts an abundance – and can you think of anything more charming than a colourful Irish village?
Like splatters of paint among the rolling green fields of the Emerald Isle, Ireland is dotted with charming towns and villages you just need to visit. Here are the top ten most colourful towns and villages in Ireland.
From quiet fishing villages to lively towns filled with traditional Irish pubs, each of these spots have a unique character that you won't want to miss.
As colourful as the personalities of the Emerald Isles inhabitants, these spots are sure to brighten up your Instagram feed.
So, if you're in need of a little colour injected into your life, then here are the top ten most colourful towns and villages in Ireland.
10. Kenmare, Co. Kerry – a must-stop on the Ring of Kerry
This perfect postcard town is situated at the head of Kenmare Bay as it opens out into the wild Atlantic Ocean in County Kerry.
Filled with traditional Irish charm, there is no shortage of colourfully painted pubs and restaurants in this quaint little town on the Ring of Kerry.
9. Eyeries Village, Co. Cork – perched on the Wild Atlantic Way
Situated on the breathtaking Beara Peninsula is one of the most colourful towns and villages in Ireland: Eyeries Village.
The colourful County Cork village boasts some of the most amazing views in Ireland, as well as great shops, cafes, and places to stay – not to mention an abundance of friendly locals!
8. Cobh, Co. Cork – a historic port town
There are so many cool things to do in Cobh and you will no doubt recognise this beautiful place from widespread promotional pictures of the Emerald Isle.
Known as the Titanic's last port of call before its fateful voyage across the Atlantic, Cobh is a treasure trove of history and things to do and see.
7. Adare, Co. Limerick – a medieval village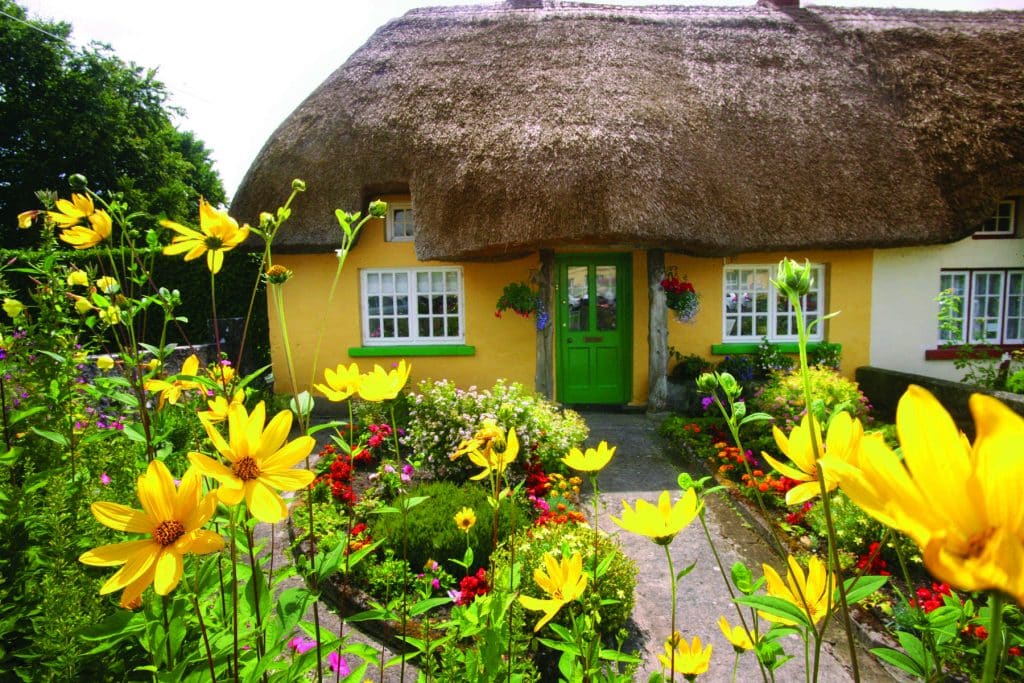 Founded in the 13th-century, Adare in County Limerick is a village rich in cultural heritage and history.
Recognisable for its thatched cottages, historical monuments, and, of course, the luxurious 5-star Adare Manor Hotel and Golf Resort, Adare Village is an Irish gem everyone needs to visit.
6. Westport, Co. Mayo – a great base to explore Mayo
Westport is not only a great base from which to explore the sights of County Mayo, such as Croagh Patrick and Achill Island, it is also one of the most colourful towns and villages in Ireland.
A lively destination in its own right, the Georgian town lies on the banks of the Carrowbeg River. Home to some of Ireland's best nightlife, like Matt Molloy's, you'll never be bored when in Westport.
Heading into Northern Ireland is Killyleagh, a stunning village on the banks of Strangford Lough in County Down.
Not only does this town offer incredible views out over Strangford Lough and the Ards Peninsula, but it is also home to its very own 12th-century castle, which is well worth checking out.
4. Doolin, Co. Clare – a gateway to the Aran Islands
Situated close to some of Ireland's most popular sights, including the Cliffs of Moher and the Aran Islands, Doolin is a must-visit if you're exploring the west coast of Ireland.
Not only does this village boast an abundance of colourfully painted buildings, but it is also known as the music capital of Ireland, making it a must if you're a fan of traditional Irish music.
3. Dingle, Co. Kerry – a stunning port town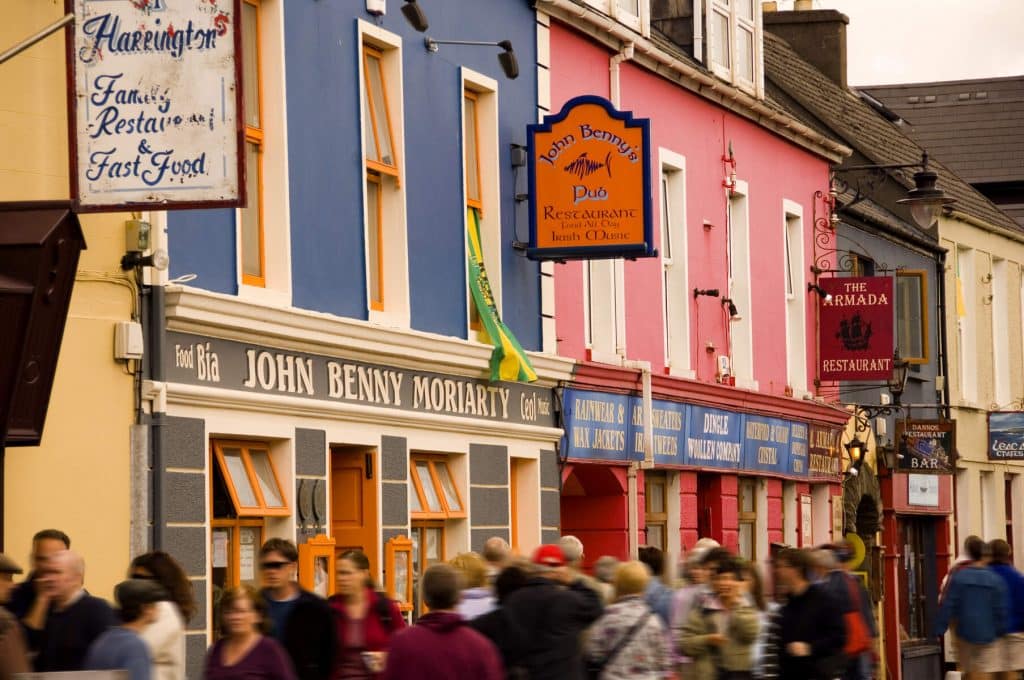 Dingle is one of the must-stop locations on the beautiful Ring of Kerry. You may recognise this town from pictures of the iconic Dunquin Harbour, known as Ireland's sheep highway.
Full of traditional Irish pubs and restaurants, rugged coastal scenery, and beautiful beaches, Dingle is unmatched in beauty and enchantment.
2. Carlingford, Co. Louth – on the shores of Carlingford Lough
This coastal town in County Louth, just south of the border with Northern Ireland, oozes traditional Irish charm and is one not to be missed on a road trip of Ireland.
The charming Medieval village is located on the East coast of Ireland, overlooking the stunning Mourne Mountains to the north.
1. Kinsale, Co. Cork – a beautiful Irish town
Topping our list of the most colourful towns and village in Ireland is Kinsale in County Cork, and we're sure you can see why!
Located on the southern coast of Ireland, wandering the streets of this town feels like you've stepped into a fictional world with its abundance of colourful cafes, pubs, and restaurants.