There is no better way to get out in nature than exploring the wonders of a forest park. Here are the ten best forest parks in Ireland.
Wandering through a woodland is the perfect way to immerse yourself in nature, whether you just want to explore somewhere new on your daily walk or desire to clear your head amidst peaceful surroundings.
If you want to explore some of the magical woodlands the Emerald Isle has to offer, here are the ten best forest parks in Ireland, ranked.
10. Gougane Barra Forest Park, Co. Cork – a magical experience
Gougane Barra Forest Park in County Cork spans an incredible 137 hectares of rich scenery and magical forest. It is also home to the historic St Finbarr's Oratory, which sits on the lake island.
Located in a valley at the edge of the Sheehy mountains, this stunning forest park is the ideal place to take in the sights, go for a hike, have a picnic, or just take a leisurely stroll.
Address: Coomroe, Co. Cork, Ireland
9. Portumna Forest Park, Co. Galway – a serene woodland
Located on the northern shore of Lough Derg, Portumna Forest Park in County Galway is certainly one of the best forest parks in Ireland.
The ideal place to lose yourself in nature, Portumna Forest Park is a haven for walkers, cyclists, picnics, and bird watchers.
Address: 6 St Joseph's Rd, Portumna Demesne, Portumna, Co. Galway, H53 AH10, Ireland
8. Castlewellan Forest Park, Co. Down – great for mountain biking
Castlewellan Forest Park in County Down, Northern Ireland, is a beautiful park that is perfect for walking, cycling, fishing, and canoeing.
Sitting in the shadow of the Mourne Mountains, the park is home to several mountain bike trails, as well as the Peace Maze and the beautiful Annesley Garden and Arboretum.
Address: Forest Park View, Castlewellan BT31 9BU
7. Ards Forest Park, Co. Donegal – a park by the sea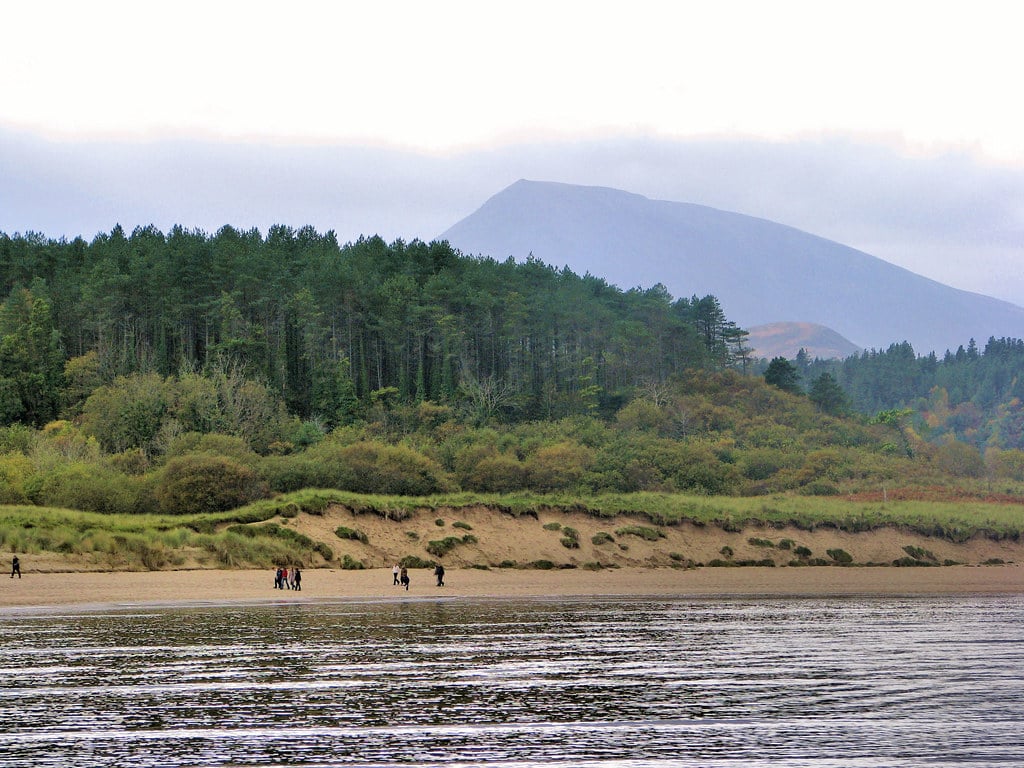 Located close to Dunfanaghy in County Donegal is Ards Forest Park, a stunning woodland right beside the sea.
Visitors can explore a range of archaeological features and national monuments, as well as enjoying the flora and fauna of this beautiful natural habitat.
Address: N56, Cashelmore, Co. Donegal, Ireland
6. Rossmore Forest Park, Co. Monaghan – a park filled with history
Situated just outside Monaghan town, Rossmore Forest Park is a true haven for nature and history lovers.
Alongside several nature trails and forest walks, the historical estate is also home to the remains of an 18th-century castle, a walled garden, a children's play park, and a Giant Sculpture trail.
Address: Skeagarvey, Co. Monaghan, Ireland
5. Curragh Chase Forest Park, Co. Limerick – once the home of Aubrey de Vere
Comprising 300 hectares of parkland, trails, mixed woodland, lakes, and an arboretum, Curragh Chase is definitely one of the best forest parks in Ireland.
The wooded estate is home to what remains of the 18th-century Curraghchase House, which was once the home of poet Aubrey de Vere.
Address: Kilcornan, Toreen, Co. Limerick, Ireland
4. Avondale Forest Park, Co. Wicklow – Ireland's tallest trees
Avondale Forest Park in County Wicklow takes in an impressive 500 acres of stunning woodland, which includes the tallest collection of trees in Ireland.
Home to Avondale House, which was built in the late 18th-century and once home to Charles Stewart Parnell, the park and house is a great place to explore Irish nature and history
Address: Avondale, Rathdrum, Co. Wicklow, Ireland
3. Glenariff Forest Park, Co. Antrim – for stunning waterfalls
Located on Ireland's north coast, Glenariff Forest Park is a truly stunning park, which offers incredible views over the Irish sea.
Some of the best parts of this forest park are its array of beautiful waterfalls that punctuate the trails and pathways that wind their way through the trees.
Address: Glenariffe Rd, Ballymena BT44 0QX
2. Dún na Rí Forest Park, Co. Cavan – part of the old Cabra Estate
Situated on the County Cavan-County Monaghan border, Dún na Rí Forest Park forms part of the historic old Cabra Estate, formerly owned by the Pratt family.
The ruins of the original Cabra House can be seen near the Wishing Well, which is one of the main attractions in this fantastic forest park.
Address: R179, Mullantra, Kingscourt, Co. Cavan, Ireland
1. Lough Key Forest Park, Co. Roscommon – home to Castle Island
Topping our list of the best forest parks in Ireland is Lough Key Forest Park in County Roscommon.
This forest and activity park is home to beautiful trails and several adventure activities perfect for the whole family.
One of the main draws of this brilliant forest park is its namesake Lough Key, which is home to several islands, including the well-known Castle Island, upon which sits the 12th-century McDermott's Castle.
Address: Boyle, Co. Roscommon, F52 PY66, Ireland