County Tyrone is located in Northern Ireland. Large in size, County Tyrone is, in fact, the eighth-biggest county on the island of Ireland.
Most people would associate Country Tyrone will postcard-worthy green pastures, grazing herds of sheep and cows, and stunning pastoral settings.
What many people often overlook, though, is the dense amount of activities and sites of historical and cultural interest on hand to pepper a visit to the county.
Should you be passing through or planning a trip, check out our top ten things to do in Tyrone.
Ireland Before You Die's tips for visiting Tyrone:
Pack appropriately! Bring comfortable shoes if you plan on hiking.
Weather in Ireland is temperamental, be prepared for all seasons in one day!
Try some typical Irish food like soda bread or Irish stew.
Book in advance outdoor activities such as Todd's Leap to avoid disappointment.
Research the area's history and visit sites such as the Ulster American Folk Park.
10. Mellon Fun Farm – to go wild
Well, it is all in the name here at Mellon Fun Farm. This family-friendly facility aims to offer amusement for the entire clan on this farm in the countryside.
There are tonnes of animals sheltered at this open-air farm, and with lots of space to run around (both people and animals), it is safe to say this will be an activity to remember in County Tyrone.
Address: 25 Mellon Rd, Omagh BT78 5QU, UK
RELATED: The top 5 best open farm parks and petting zoos in Northern Ireland.
9. The Brewer's House – for some dinner and drinks
This pub-come-restaurant is an old-school addition to our list.
Located in the town of Donaghmore in County Tyrone, this pub has roots that reach back to the 18th-century. In fact, it is one of the oldest watering holes in the province.
While the setting has been renovated to meet contemporary comforts, this little local gem still offers a classic pub feel, with cold brews and fresh fare.
Address: 73 Castlecaulfield Rd, Tyrone, Dungannon BT70 3HB, UK
8. Tullyhogue Fort – for history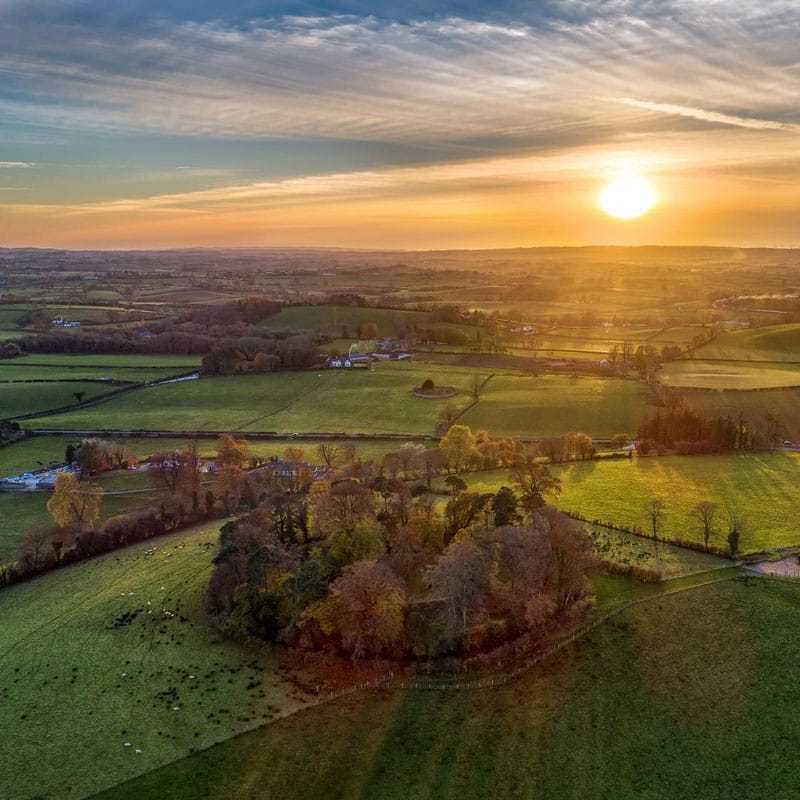 This site is said to have been the ancient ceremonial grounds used by the high chieftains of Ireland: the O'Neill clan.
The natural mound features an indented-centre with a curtain of trees offering privacy to this historical landmark.
Address: Cookstown BT80 8UB, UK
7. Strule Arts Centre – for art-lovers
For those of you keen to brush up on some local culture while in the scenic setting of County Tyrone, check out the Strule Arts Centre.
Located in Omagh, this art, education, and performance centre offers an endless programme of inspiring events from live music and theatre performances to seminars and workshops.
Address: Townhall Square, Omagh BT78 1BL, UK
6. The Abingdon Collection – for car-lovers
One of the best things to do in Tyrone is The Abingdon Collection. This would be of particular interest to car-lovers or those with a keen interest in old-school mechanics.
The museum is divided into two areas; the first is World War II machines, the second is classic vehicles. Both areas excel in their offering and are bound to teach you a thing or two.
Address: 16 Gortnagarn Rd, Omagh BT78 5NW, UK
5. The Moy Larder – for lunch
One of the best spots to hang out at in all of County Tyrone has got to be The Moy Larder.
This simple café offers a straightforward salad bar and a selection of hot and cold dishes from the kitchen.
Now, these guys may not be reinventing the wheel, but man, do they do a nice lunch and a solid cup of coffee!
Address: 16 The Square, Dungannon BT71 7SG, United Kingdom
4. Ulster American Folk Park – the museum to see
This museum is definitely one of the best things to do in Tyrone.
Operating a small village-style museum, there are over 30 different buildings to explore, which represent different times in Ireland's tumultuous history.
A favourite of tourists in the area, the Ulster American Folk Park is open Tuesday to Sunday from 10 am to 5 pm.
Address: 2 Mellon Rd, Omagh BT78 5QU, UK
RELATED: Ireland Before You Die's guide to Ireland's folk and heritage parks.
3. Blessingbourne Country Estate – for a weekend escape
This impressive estate offers luxury self-catering accommodation making it the perfect family holiday destination or a romantic break away.
Not only are there tonnes of things to do on this 550-acre estate, but the place is entirely pet-friendly, too. They even have stables for your horses, should you wish to bring the entire family, hooved-members included.
Address: Blessingbourne Estate, Murley Rd, Fivemiletown BT75 0QS, United Kingdom
2. Todds Leap – for thrill-seekers
This adventure centre is one of the best on the entire island of Ireland, and it is located here in County Tyrone.
The award-winning facility offers everything from blindfolded driving (potentially the most hair-raising experience) and ziplining to zorbing and paintball.
Address: 30 Todds Leap Rd, Seskilgreen, Dungannon BT70 2BW, UK
CHECK OUT: Our 25 best things to do in Northern Ireland.
1. Gortin Glen Forest Park – for forest enchantment
This enchanting woodland setting is a perfect sight to see in County Tyrone. It makes a great stop-off when passing through the county or enjoying a weekend break.
Gortin Glen Forest Park offers endless trails and forest paths, hikes and hill walks taking you through the beautiful surroundings of Northern Ireland.
While it is largely undeveloped, this remote country park is possibly one of the best-kept secrets in County Tyrone.
Address: Gortin Glen Forest Park, Omagh, County Tyrone
Your questions answered about the best things to do in Tyrone
In this section, we've compiled some of our readers' most frequently asked questions and popular questions that have been asked online about this topic!
What is Tyrone famous for?
Tyrone is famous for its rich history and culture, including its connections to the Gaelic Athletic Association (GAA).
What mountains and rivers are in Tyrone?
The Sperrin Mountains and the River Blackwater are located in Tyrone.
What is the main town in Tyrone?
The main town in Tyrone is Omagh, known for its historic landmarks and vibrant arts scene.