From castles to waterfalls, here are our top ten best things to do in Leitrim in Ireland.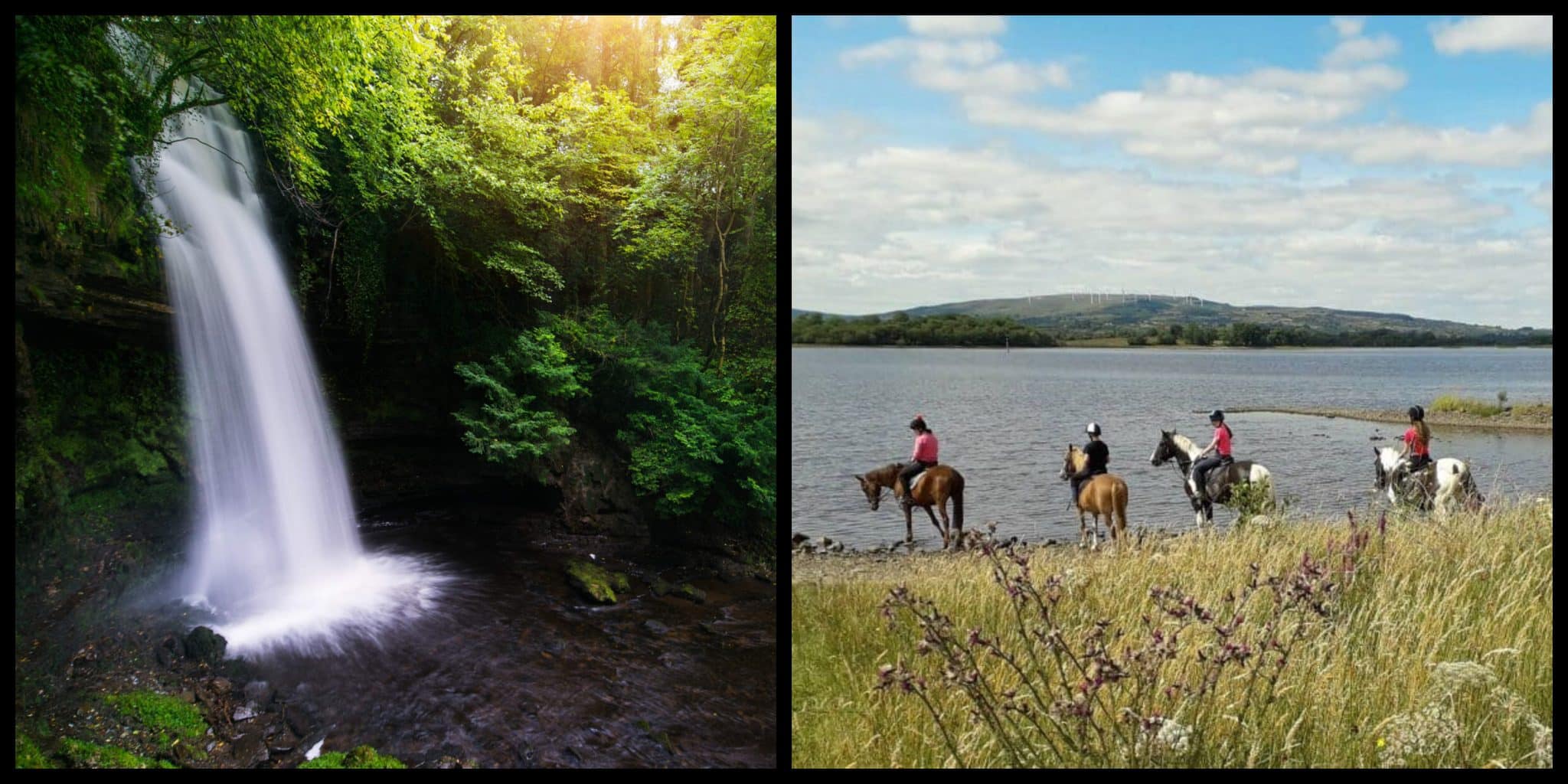 Located in the northwest of Ireland, County Leitrim is a charming, slow-paced community with an emphasis on the great outdoors and water activities. We are sharing some of the best things to do in Leitrim.
Surrounded by waterways, loughs, and rivers, Leitrim is also home to Carrick-on-Shannon (a major boating town), which comes alive in the spring and summer months, as the days get longer and warmer.
While the county may be more laid-back in comparison to its city counterparts, there are tonnes of things to do and see in County Leitrim.
If you're planning a trip to the locale in the near future, check out these top ten best things to do in Leitrim.
IB4UD's top 5 interesting facts about County Leitrim
County Leitrim is located in the northwest of Ireland and is the smallest county in the province of Connacht.
Leitrim is home to the Shannon-Erne Waterway, a popular canal that connects the River Shannon and the River Erne.
The county has a rich history, with Neolithic sites and evidence of human settlements dating back to the Neolithic period.
Leitrim is home to numerous castles and historical places, including the ruins of Parke's Castle and the 16th-century Manorhamilton Castle.
The county played a significant role in the Irish War of Independence and the Irish Civil War, with many of its towns and villages seeing significant fighting.
10. Leitrim Crystal – for craft lovers
Located in Carrick-On-Shannon close to the river's edge is Leitrim Crystal. This is a must-see for those of you with a love of craft and appreciation for perfection.
Leitrim Crystal is run by a local glassblower, Ken Cunningham, and is open to the public Monday through Saturday 9.30 am to 6 pm.
Address: Bridge St, Carrick On Shannon, Co. Leitrim
9. Parke's Castle – the 17th-century castle
One of the best things to do in Leitrim, Parke's castle in Fivemilebourne, County Leitrim, is perhaps one of the most sought-after sites in the entire county.
Stately and stunning, this former plantation still stands from the 17th century and was home to the English captain Robert Parke. The grounds and castle remain magnificent and make for a great day trip when in the locale.
Address: Kilmore, Co. Leitrim
READ ALSO: Ireland Before You Die's Top 20 best castles in Ireland, ranked
8. The Cavan and Leitrim Railway – the transport museum
Located in Dromod, County Leitrim, this volunteer-run museum is home to a large collection of vintage railways, locomotives, aeroplanes, artillery, and retro-buses.
Established in 1993, the Cavan and Leitrim Railway is perfect for those looking to pair history with the art of engineering.
Address: Clooncolry, Drumod, Co. Leitrim
7. Lough Gill – for a lakeside setting
Situated between County Leitrim and Sligo, this picturesque lake is the ideal place to spend a sunny day and definitely one of the best things to do in Leitrim.
Immortalised by the lyrics of Irish poet W. B. Yeats, Lough Gill offers endless activities such as boating, fishing, and swimming.
Location: Lough Gill, Ireland
6. Carrick Shooting and Archery – for the wild-child
Located in the village is Carrick Shooting and Archery, perfect for thrill-seekers looking to let loose when in Leitrim.
This small-scale adventure centre is a favourite of locals looking for some fun. Open year-round (on demand), the centre offers fun for all the family, with packages for special occasions and holiday rates.
Address: Leitrim, Leitrim Village
5. Moon River Cruise – for the romantics
As aforementioned, this scenic area and its charming waterways have been romanticised by great poets such as W. B. Yeats. With this in mind, what better way to end the day than with an intimate moonlight cruise?
Moon River Cruise offers just this! Hop aboard this small yacht and sail downstream. With entertainment and light refreshments, this is sure to be one of the more romantic things to do.
Address: Quayside, Carrick-On-Shannon, Co. Leitrim
4. Moorlands Equestrian Centre – for animal lovers
Moorlands Equestrian Centre is a perfect place to spend the day with the entire family in County Leitrim.
This indoor-outdoor equestrian centre offers classes, treks, and trails for all ages. Whether you're looking to embark on an epic mountain trail or ease your way along a ripe forest path, Moorlands has adventures to suit all ages and levels of experience.
Address: Corrachuill, Cois Struttain, Co. Leitrim
3. Kingfisher Cycle Trail – for the cyclists
This was Ireland's first-ever long-distance cycle trail. Weaving through not just Leitrim but also the counties of Fermanagh, Cavan, Donegal, and Monaghan, this cycle route covers many terrains and passes wondrous scenery and stunning landscapes.
There are various routes that make up the Kingfisher Cycle Trail; see the Kingfisher Cycle Trail website for further details.
Please note: due to foliage overgrow and vandalism, some signs marking the routes are no longer accurate. Please download the map trails in advance.
READ ALSO: 10 beautiful scenic cycle routes around Ireland
2. The Cottage – the must-visit restaurant
Located in Jamestown Village is the Cottage, an upscale restaurant located in a traditional Irish thatched cottage.
This hidden gem offers the finest Irish-Asian fusion menu with influences taken from the Malaysian family kitchen of the head chef, Shamzuri Hanifa, and married with contemporary Irish fare. This is one of the best things to do in Leitrim, without a doubt!
Address: Jamestown, Carrick-On-Shannon, Co. Leitrim
1. Glencar Waterfall – the natural wonder
If you're visiting the county, a top thing to see is Glencar Waterfall, which is one of the waterfalls in Ireland you can swim in. This unforgettable waterfall is located near Glencar Lough, not far from Manorhamilton and is one of the most jaw-dropping places to see in north Connacht.
Remembered in W.B. Yeats' poem "The Stolen Child," this enchanting waterfall can be accessed via a dreamy forest path—a must-see for nature lovers and wildlife enthusiasts.
Address: Formoyle, Glencar, Co. Leitrim
READ ALSO: IB4UD's Top 10 beautiful waterfalls in Ireland you can swim in, ranked
Your questions answered about visiting Leitrim
If you still have questions about visiting Leitrim, we have you covered! In this section, we've compiled some of our readers' most popular questions that have been asked about this topic online.
What is Leitrim famous for?
County Leitrim is famous for its picturesque scenery, traditional Irish music and dance, and outdoor activities like fishing, hiking, and boating.
What is the main town in Leitrim?
The main town in County Leitrim is Carrick-on-Shannon which has a population of 4,062 people. Carrick-on-Shannon is known for its picturesque scenery, historic buildings, and vibrant arts and culture scene.
What is a fun fact about Leitrim?
Leitrim boasts the shortest stretch of coastline among all the Irish counties that border the sea. The coastline at Tullaghan measures only 2.5 kilometres (1.6 miles) in length.