An often-overlooked county, Cavan has a lot to offer to those who give it a chance as our county guide, which will list the ten best things to do in Cavan, will demonstrate.
Known as the Lake County, Cavan has 365 lakes to explore, which are full of adventure, charm, and stunning scenery. Cavan also has many beautiful park trails and historic castles to experience and discover.
In this article, as part of our county guide, we will list what we believe to be the ten best things to do in Cavan.
Ireland Before You Die's tips for visiting Cavan:
Bring comfortable shoes for hiking in the stunning Marble Arch Caves Geopark
Pack a raincoat, as the Irish weather can be unpredictable!
Visit the Cavan County Museum to learn about the area's rich history
Try traditional Irish dishes like boxty or Irish stew at local restaurants.
Make sure to bring comfortable walking shoes, as there are many beautiful forests to explore!
10. Cabra Castle – treat yourself to an afternoon tea
If you feel like treating yourself, then why not go for an afternoon tea in the majestic Cabra Castle.
Cabra Castle is an 18th-century castle, which sits on a whopping 100 acres of pristine gardens and parklands.
Address: Carrickmacross Rd, Mullantra, Kingscourt, Co. Cavan, A82 EC64, Ireland
9. The Deerpark Forest – take a leisurely stroll in nature
Deerpark Forest Park is a great place to take a walk for those who want to spend some time in nature.
It contains beautiful trees and a park river, which provides the perfect backdrop on its many trails.
Address: Deerpark, Co. Cavan, Ireland
8. Dún na Rí Forest Park – a romantic place
Dún na Rí Forest Park is a romantic Glen and area, which is rich in Irish history and legend.
There is also a vast array of wildlife in the park such as otters, trout, foxes, squirrels, hedgehogs, rabbits, and many more besides.
There are also four walks of roughly one and a half to two km in length around the park for you to enjoy.
Address: R179, Mullantra, Kingscourt, Co. Cavan, Ireland
7. Killinkere Visitor Farm – experience farm life
Killinkere Visitor Farm is a family run traditional working farm that gives visitors the perfect opportunity to interact with crops and animals and to get a real experience of what life is like on a modern Irish farm.
Address: Killinkere, Lisnagirl, Virginia, Co. Cavan, Ireland
6. Cloughoughter Castle – a castle steeped in history
Cloughoughter Castle is located on the small island of Lough Oughter and is a Norman castle, which has stood the test of time despite being the witness to many battles and much bloodshed over the centuries.
There is also an excellent angling lake nearby that is very popular with fishermen, canoeists, and boating enthusiasts.
Location: Lough Oughter, Cavan
5. The Marble Arch Caves – exploring the underground
While you may at first believe that the Marble Arch Caves are in Fermanagh, similarly to the Cuilcagh Boardwalk, they actually share the border with Cavan, so both counties have a claim on it.
The Marble Arch Caves are a series of natural limestone caves that are around 11.5 km in length making them the longest known cave system in Northern Ireland.
Address: 43 Marlbank Rd, Enniskillen BT92 1EW
RELATED: The top 10 best caves in Ireland you can visit.
4. The Cavan Way – a walk worth taking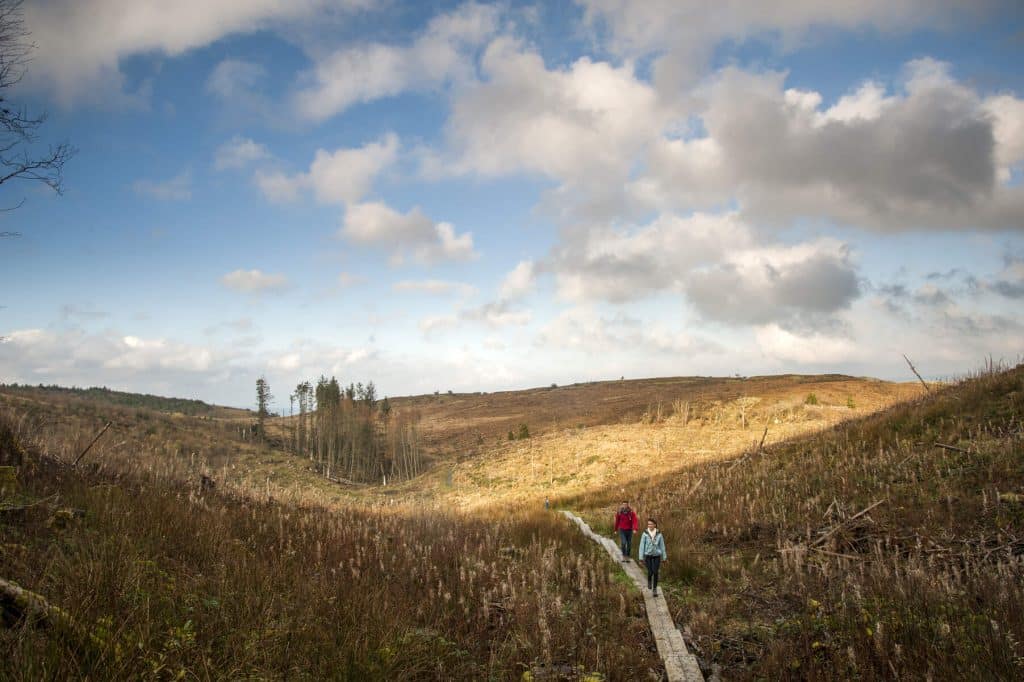 If you fancy lacing up your hiking boots and heading off for a great walk, then look no further than the Cavan Way, which is a long-distance walking trail that is approximately 22 km long.
The Cavan Way will bring you up hills and along the outskirts of the Cavan Burren and past the Giant's Grave, which is an ancient passage tomb.
Location: County Cavan, Ireland
3. Cavan County Museum – a treasure trove of wonders
Cavan County Museum contains a treasure trove of wonders as it contains everything from World War One trench experiences and medieval artefacts to famine exhibitions and sections dedicated to the history of the GAA.
There is something for everyone to enjoy at the Cavan County Museum.
Address: Virginia Rd, Kilmore, Ballyjamesduff, Co. Cavan, Ireland
2. Cavan Burren Park – Ireland's other famous Burren
Cavan Burren Park is a unique and prehistoric landmark that contains breathtaking views of the nearby Cuilcagh Mountain and the surrounding landscapes of Lough MacNean.
There are also five different trails to enjoy in the Geopark, which offer unique paths that contain pieces of history and scenic views that won't be beaten.
Address: Burren, Blacklion, Co. Cavan, Ireland
1. Cuilcagh Boardwalk, Cuilcagh Legnabrocky Trail – the stairway to heaven
In first place in our list of the ten best things to do in Cavan is the Cuilcagh Boardwalk.
Similarly to the Marble Arch Caves, Cuilcagh Boardwalk is located on the border between Cavan and Fermanagh, so technically both counties have a claim on this tourist favourite.
In particular, the Cuilcagh Legnagbrocky Trail known as the 'stairway to heaven' has spectacular walking trails that offer breathtaking views.
Address: 43 Marlbank Road Legnabrocky Florencecourt County Fermanagh Northern, Enniskillen BT92 1ER
MORE INFO: Cuilcagh Boardwalk launches a new online booking system.
That concludes our article on the ten best things to do in Cavan. How many of them have you done?
Your questions answered about the best things to do in County Cavan
In this section, we've compiled some of our readers' top questions and popular queries that have been asked online about this topic.
What is Cavan famous for?
Cavan is famous for its peaceful countryside, beautiful lakes, and outdoor activities such as fishing and hiking.
What to do in Cavan on a rainy day?
On a rainy day in Cavan, you can visit the Cavan County Museum or the Marble Arch Caves Visitor Centre.
What do do in Cavan for families?
Families can enjoy a day out at the Cavan Adventure Centre or the Killykeen Forest Park.