In this feature, our journalist Ger Leddin takes a look-back over the past five decades and lists what in his opinion were and still are the ten best Irish bands.
Throughout the centuries Ireland has given the world many of its greatest: artists, poets, and writers. This small little country of ours has also since the middle of the sixties, given the world some of its best popular and rock and roll bands. Ireland has also spawned its own genre of popular music — that of Celtic Rock.
I suppose I was lucky, having been born just at the start of the sixties. I entered an era when popular music and rock and roll was as some say at its pinnacle; The Stones, The Beatles, T-Rex and Slade were all at their best when I was a teenager.
Here in Ireland, we were aware of what was called the pivotal moment in rock history happening across the pond in the state of New York at a place called Woodstock. We were also aware of the beat music happenings in the swinging London and Mersey Side of the UK.
While occasionally visiting Dublin or Waterford or any other east coast county you might if you were lucky, grasp at a chance to watch Top of the Pops which wasn't broadcast in single channel-land.
I grew up literally just across the street from Limerick-born singer and songwriter Johnny Duhan. Johnny was a tad bit older than me and was the front-man for what was then one of Ireland's groundbreaking early rock groups, Granny's Intentions. I remember standing outside Johnny's house in Woulfetone Street listening in awe as the band practised for upcoming tours in Ireland, Germany and the UK. One's preferences in music are subjective and influenced by what one hears as a teen and I have to admit mine would have been influenced by those early days in Limerick. Anyway enough reminiscing, and on with what I would consider Ireland's top ten bands.
10. Westlife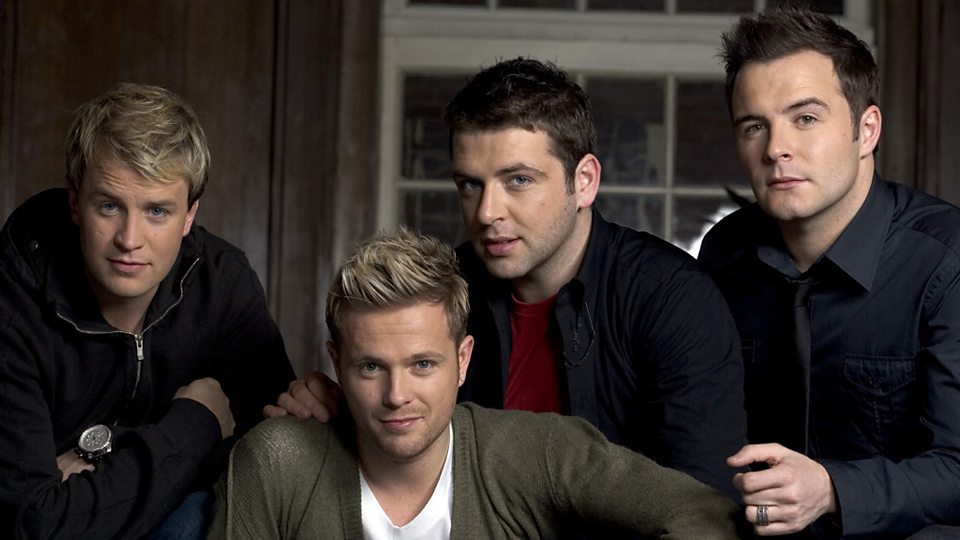 Having written about my own personal musical indoctrination — listening to Granny's Intentions — above, my inclusion of Westlife in this list may seem strange and out of character. But, and in all fairness to this boyband, they have achieved global success and popularity, and if that is a measure of greatness, well, so be it.
One interesting fact I came across while researching this piece was that Simon Cowell reputably said to Westlife's then-new manager Louis Walsh, "You are going to have to fire at least three of them. They have great voices, but they are the ugliest band I have ever seen in my life." Subsequently, three members of the band were fired and Nicky Byrne and Brian McFadden were recruited. Ah Well, all is fair in love and successful boybands.

9. U2
Love them or hate them and in Ireland, opinions can be equally divided, you have to hand it to the Dublin based Rock group who have conquered the world in music terms.
Formed in 1976 as the Irish showband era was well into its decline, U2 with Bono's expressive vocals coupled with the Edge's individual style of guitar effects, the band reached international acclaim with the release of their second album War.
Having released fourteen studio albums to date and sold in excess of 170 million records worldwide you just can't deny their global success. If in only terms of this commercial success you have to hand it to Bono and the lads.

8. Clannad
Often being more popular and successful abroad than at home in Ireland; the Donegal band Clannad has been hugely instrumental in showcasing not only Irish music but also the Irish language to the world. Their haunting melodies — Harry's Game and Robin The Hooded Man are only two of the singles that helped bring this band international acclaim that can be measured by their achieving eight UK top ten albums.

7. Horslips
To be technically correct Celtic rock is a miscegenation of the traditional music of Ireland, Scotland, Wales and Brittany. But one Irish band which was formed in the early seventies has taken the genre to a level popular and recognised worldwide. Traditional ballads, jigs and reels have forever been revitalised by Horslips and their addition of electric rock instrumentation to the more traditional fiddle and bodhrán.
The pure excitement of their first album Happy To Meet, Sorry To Part, left the country — if you'll pardon the pun — reeling.

6. The Pogues

Since its release in 1987, The Pogues single Fairytale of New York has become synonymous with the Christmas holiday season. That one particular song which strangely enough has never made it to the number one spot in the UK has sold 1,217,112 copies in the UK, with an additional 249,626 streaming equivalent sales, for a total of 1,466,737 combined sales.
The Pogues' frontman Shane MacGowan is one of Ireland's most prolific and talented songwriters a modern-day Brendan Behan, an Irish writer whom MacGowan has often said was one of his greatest influences. MacGowen and the Pogues have taken that extraordinary Irish ability for deep meaning and philosophical musings – put their thoughts to music and done the country proud.