It's no secret that the scenery in Ireland is a sight to behold, and what better way to see it than from the top of a mountain? So grab your hiking boots because here are the ten best hikes in Ireland that are straight out of a fairy tale.
Whether you're a seasoned hiker or someone looking to enjoy a scenic stroll, Ireland has some fantastic hikes for all abilities.
From the country's highest mountains to stunning cliff walks and boardwalk trails, there is no better way to enjoy the beautiful Irish landscape than by sticking on your hiking boots, getting out there, and exploring for yourself.
Nowadays, so many people enjoy hikes for mindfulness and exercise, making hiking gifts really popular, so before you head off, consider purchasing some of these!
So, without further ado, here are the ten best hikes in Ireland that you need to get out and experience.
10. Mount Errigal – Donegal's highest peak
Situated at the heart of Donegal's Gaeltacht region in Gweedore, Mount Errigal is a must if you're looking for a fairy tale hike,and has one of the best and most scenic cycles routes in Donegal.
The hike should take around two and a half hours in total through bogland and along stone pathways. A challenging but manageable trail, this hike is perfect for anyone with a moderate fitness level.
Summiting Mount Errigal will take your breath away as you enjoy the views out over the Derryveagh Mountains, Dunlewy Lough, and the surrounding Donegal countryside.
If you're an early riser, we recommend heading up for sunrise – we promise you won't regret it!
Address: Money Beg, Letterkenny, Co. Donegal, Ireland
9. Mount Brandon – known as one of the finest ridge walks in Ireland
Ireland's highest peak outside of the MacGillycuddy's Reeks range, Mount Brandon is definitely one for the more experienced hiker.
Sitting at 3,123 ft (952 m), the mountain sits at the centre of a ridge called the Brandon Group, which also contains seven other peaks in the Dingle Peninsula.
Depending on how much time you have, you can take the four-hour-long scenic Pilgrim's Path or, if you have a full day, you can try tackling the entire range known as "one of the finest ridge walks in Ireland".
Address: Unnamed Road, Co. Kerry, Ireland
8. Gap of Dunloe – one of Kerry's most popular tourist destinations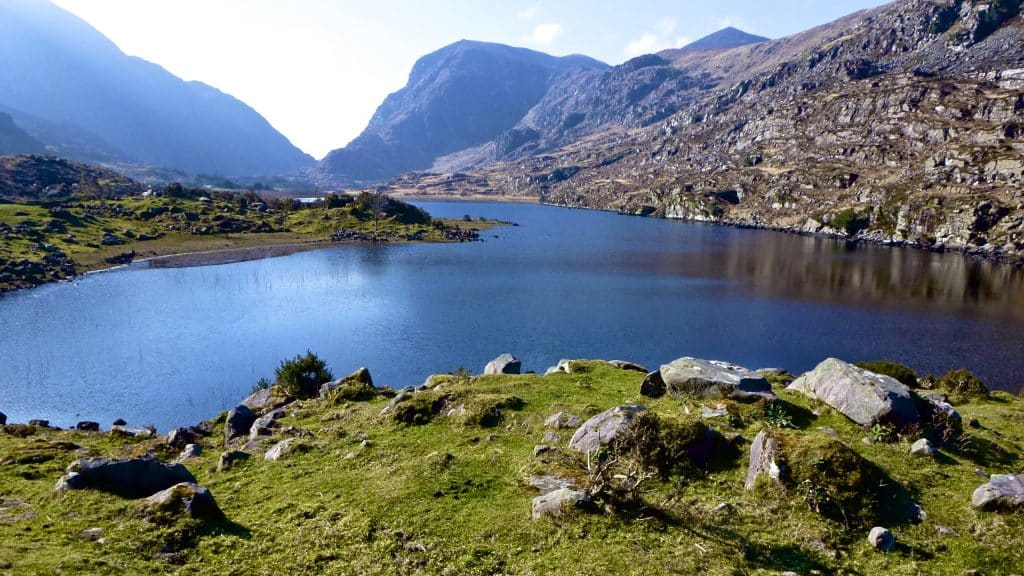 The Ring of Kerry is world-renowned for its incredible natural beauty, and the Gap of Dunloe is no exception.
This narrow mountain pass follows the River Loe and separates the MacGillycuddy Reeks in the west from Purple Mountain in the east.
Passing five lakes, including Coosaun Lough, Black Lake, Cushnavally Lake, Auger Lake, and Black Lough, you'll be treated to plenty of incredible scenery along the way.
For that extra fairy tale feel, head to the picturesque 'Wishing Bridge' where it is said that dreams really do come true.
Address: Dunloe Upper, Co. Kerry, Ireland
7. Croaghaun Mountain – for amazing views from the sea cliffs
Croaghaun Mountain sits on Ireland's highest sea cliffs, so you're sure to be greeted by some incredible fairy tale views when you take a hike here.
As well as being the third highest sea cliffs in Europe, one of the best things about the Croaghaun Cliffs is how underexplored they are – so you won't have to worry about working your way around all the other tourists!
The Croaghaun hike is pretty steep, so you will need a pretty good level of fitness if you want to give it a go. However, the incredible views over Achill Island and Ireland's highest corrie lake make it totally worth it!
Address: Keel West, Co. Mayo, Ireland
6. Cuilcagh Legnabrocky Trail – also known as 'The Stairway to Heaven'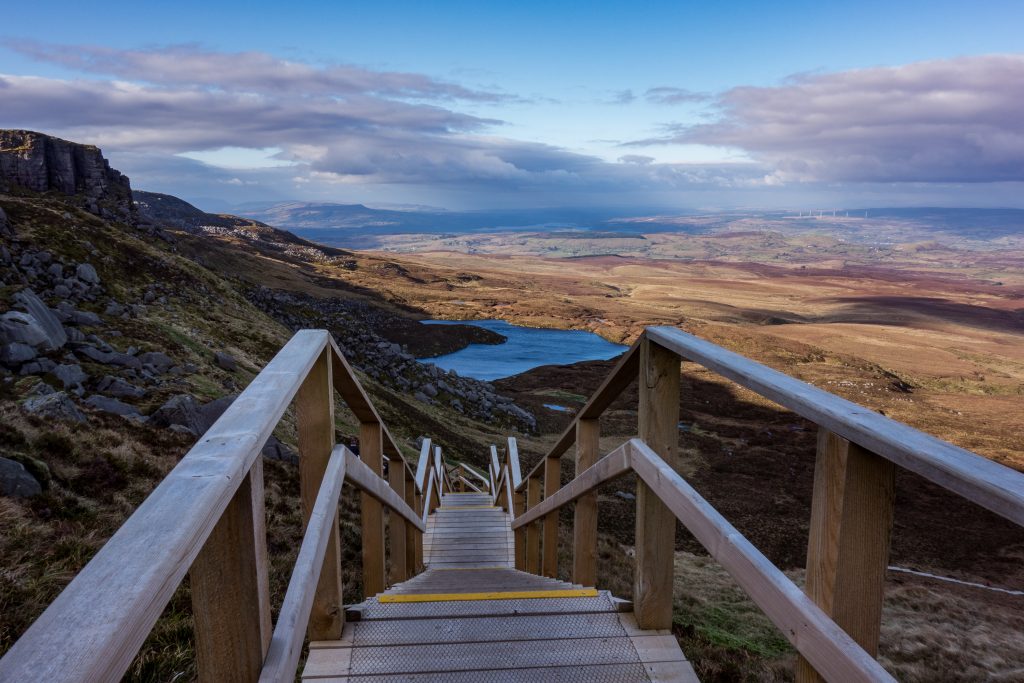 A slightly easier walk than some that we have already mentioned, is the Cuilcagh Legnabrocky Trail in County Fermanagh.
It's a pretty steep climb, so you'll need a moderate level of fitness. However, the entire route follows a clearly laid out path and wooden boardwalk steps.
Reaching the summit of the Cuilcagh Mountain on a clear day, it's easy to see why this trail is nicknamed 'Ireland's Stairway to Heaven' as you'll be faced with incredible views of the surrounding lowlands stretching out as far as the eye can see.
Address: 43 Marlbank Road Legnabrocky Florencecourt County Fermanagh Northern, Enniskillen BT92 1ER
5. Diamond Hill – for inspiring scenery
This isolated peak in Connemara National Park definitely ranks as one of the best hikes in Ireland that are straight out of a fairy tale.
This seven-kilometre (4.3 mi) trail offers some of the best of Ireland's mountain scenery as well as captivating island views.
Diamond Hill hiking should take about two hours along gravel paths and a wooden boardwalk, and although it isn't too difficult to navigate, it's pretty strenuous. Without a doubt, this is one of the best walks in County Galway and is not to be missed.
Address: Addergoole, Co. Galway, Ireland
4. Causeway Coastal Way – hike through the land of giants
Hiking the entire Causeway Coastal Way is not one for the faint-hearted. At a phenomenal 52 km (32.3 mi) distance from start to finish, you'll need a few days if you want to complete the walk in its entirety.
Not to worry if that's a bit too much walking; there are plenty of shorter walks along the way, such as the Carrick-a-Rede Rope Bridge and the Giants' Causeway, both of which are much more accessible.
A journey along the Causeway Coastal Way is definitely one of the most rewarding hikes in Ireland, as you'll be treated to incredible views of the Irish coastline.
On a clear day, you might even be lucky enough to see all the way to Scotland, so it had to make our list of hikes in Ireland that are straight out of a fairy tale.
With all there is to see and do along the Causeway Coastal Route, it comes as no surprise that it is considered one of the top things to do in Northern Ireland for outdoor enthusiasts.
Address: Ferries, Ballycastle BT54 6BT
3. Glendalough and Spinc – hike through Wicklow heritage
Glendalough is one of the best things to see along the east coast and visiting is one of the best things to do in Wicklow, as it is one of the most beautiful places in Wicklow. After a challenging climb to the Spinc ridge, you will be able to enjoy the most amazing views over the Glendalough Valley below, making the challenging hike entirely worth it.
This nine-kilometre climb should take about three-and-a-half hours to complete, so make sure you bring a packed lunch! It is up there even with some of the best hikes in Switzerland.
If you're looking for something a little less strenuous but still want to enjoy the fantastic scenery that the Wicklow Mountains have to offer, there are nine way-marked trails in the Glendalough Valley, so you're sure to find something to suit your abilities.
Address: Derrybawn, Glendalough, Co. Wicklow, Ireland
2. The Mourne Wall Walk – for Northern Ireland's highest peak
For the more seasoned hiker, trekking the nine-hour route along the Mourne Wall in County Down is well worth the trip.
C.S. Lewis, author of The Chronicles of Narnia, famously stated that the Mourne landscape overlooking Carlingford Lough was his idea of Narnia, so if that doesn't sound like something straight out of a fairy tale, then we don't know what does.
If you can't quite spare nine hours to enjoy the entire Mourne Wall Walk, there are plenty of other hikes to enjoy in the Mourne Mountain range, including Slieve Donard, the highest mountain in Northern Ireland. Slieve Binnian, Slieve Bearnagh and Slieve Gullion are all wonderful hikes as well.
Address: The Mourne Mountains, Newry, BT34 5XL
1. Carrauntoohil Mountain – the highest mountain in Ireland
Number one on our list of hikes in Ireland that are straight out of a fairy tale is the highest mountain in Ireland, Carrauntoohil in the MacGillycuddy Reeks in County Kerry, Ireland.
Standing at a whopping 3,408 ft (1,039 m) in height, this climb is not for the inexperienced hiker, but if you're capable, it's a totally worthy hike.
The most common route will take you up the Devil's Ladder, from which you can enjoy incredible views of Lough Gouragh and Lough Callee below, as well as the other mountains in the range.
Address: Coomcallee, Co. Kerry, Ireland
Other notable mentions
Torc Mountain: Torc Mountain is a popular mountain for hill walkers as it has a stone or boarded path from its base at Torc Waterfall to its summit within Killarney National Park.
Slieve League: The stunning cliffs of Slieve League are a must-visit in County Donegal for the spectacular views. An easy to moderate hike, but be prepared for steep inclines at parts.
Comeragh Mountains: The best-known hike in the Comeragh Mountains is a 7.5km (4.6 mi) walk that looks around the Coumshingaun, a lake inside a corrie. Here, you'll be treated to magnificent views.
FAQs about hiking in Ireland
What national parks in Ireland have hiking trails?
The Wicklow Mountains National Park, Killarney National Park, Connemara National Park and more have many beautiful hiking trails.
What's the best time of year for hiking in Ireland?
In general, the ideal months to tackle the best hikes in Ireland are between May and September. These are the months with the longest sunlight hours.
What should I expect in terms of weather when hiking in Ireland?
Prepare for the worst, hope for the best! You never know in Ireland, just be sure to check the forecast before you're planned hike.