With sport so highly regarded in the Emerald Isle, it is only fitting the greats are appreciated. Here are the five most famous sports statues in Ireland.
The Irish culture is composed of many elements, and one of the most fundamental of those is sport, written in the nation's folklore and played across every village, town, city, county, and province across the Emerald Isle.
Such is the appreciation for those who brave the tempests of those sports that we have erected many statues across the country, commemorating our favourite sports people and honouring the code they play.
Here are five famous sports statues in Ireland.
5. Seve Ballesteros (Heritage Golf Club, Co Laois) – a Spaniard who endeared himself to Irish hearts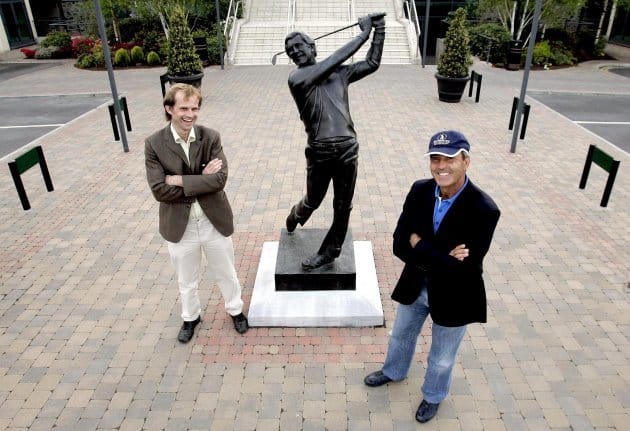 Golf is one of the most popular sports in Ireland, with many taking to their local Golf Clubs to play the trade, while the world's best talent converge on our shores when the country hosts popular tournaments, such as The Open.
One of the stars that made a lasting impact here was Seve Ballesteros, who was a professional Spanish golfer and former world number one, lasting 61 weeks. If this wasn't enough, he also won 90 tournaments, five of them being major championships.
Ballesteros passed away aged 54 on 24 May 2011, and he is honoured with a life-size statue in authentic follow-through pose outside the steps of the Heritage Golf Club in County Laois.
The Spaniard had a strong affinity with Ireland, winning three Irish Opens and treated the competition as his most important behind only that of the British Open in Europe. He was an honorary member of The Royal Dublin Golf Club.
Address: Rathmiles, Killenard, Co. Laois, Ireland
4. Anthony Foley Memorial Statue (Robert Byrne Park, Limerick) – an Irish rugby legend aptly honoured
Rugby is one of the biggest sports in Ireland, rising in the rankings over the last two decades, and is a sport that Ireland have excelled at impressively at a professional level.
At provincial level, Munster are one of the most competitive teams in the world and Limerick is their fortified home, as nestled deep within the city you will find Thomond Park, the home stadium of the Munster team.
One of the giants who have graced the red jersey was Anthony 'Axel' Foley who sadly passed away in in October 2016. Foley was the captain when Munster won the Heineken Cup in 2006, kickstarting an era of near dominance.
Foley is aptly honoured in his hometown with a statue in the Robert Byrne Park. It depicts Foley carrying the ball as ferociously as he would have on the pitch, with the crests of the teams he played for engraved beneath him.
Address: 4 Clancy's Strand, Limerick, V94 C9NF, Ireland
3. Leading in the Winner Statue (Galway Races, Co. Galway) – one of the most popular sports statues in Ireland
Next on our list of the most famous sports statues in Ireland is the recently-established 'Leading in the Winner' sculpture, which was built to coincide with the 150th year of the Galway Races in 2019, which take place in Ballybrit.
The new statue, designed by Irish artist John Behan after he was commissioned by the Galway Race Committee in 2018, was officially unveiled by the Taoiseach Leo Varadkar on the opening day of the 2019 Summer Festival.
The Galway Races are one of the most popular in all of Ireland, however, the hopeful punters may have a better chance of winning the Irish lotto than here!
Address: Ballybrit, Galway, H91 V654, Ireland
2. Christy Ring Statue (Cloyne, Co. Cork) – a tribute to one of the greatest hurlers of all time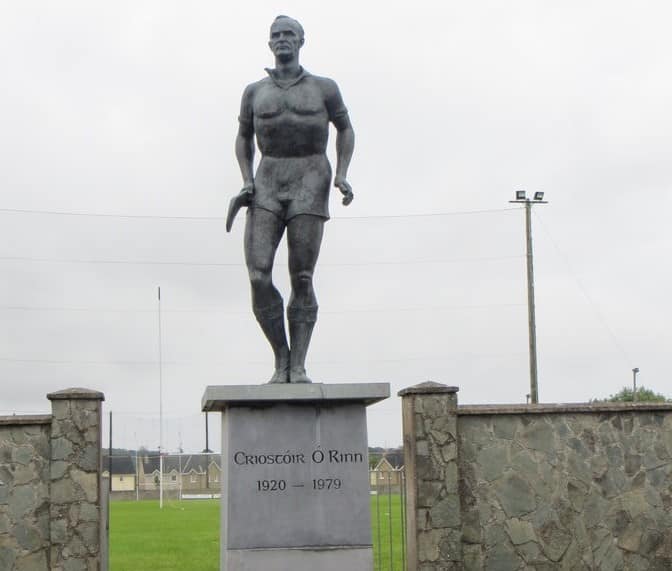 Christy Ring is regarded as one of the greatest hurling players of all time, so much so that the All-Ireland Men's Senior Hurling Championship is named after the Corkman, while his own sculpture is one of the most famous sports statues in Ireland.
Ring was a competitive fixture in the Cork hurling team for an astounding twenty-six years, a record not likely to ever be matched, and he is estimated to have played over 1,200 championship games.
Across his senior career with the Rebel County, he won nine Munster titles and an incredible 8 All-Ireland titles during a golden era of Cork hurling.
Back in his hometown of Cloyne, the sporting legend is commemorated with a statute which was built in 1983. Ring can be seen standing straight and strong with hurl in hand, justifying his tag as the 'Rock of Cloyne'.
Address: Cloyne, Co. Cork, Ireland
1. Mick O'Dwyer Statue (Waterville, Co. Kerry) – a man who took the throne in the Kerry Kingdom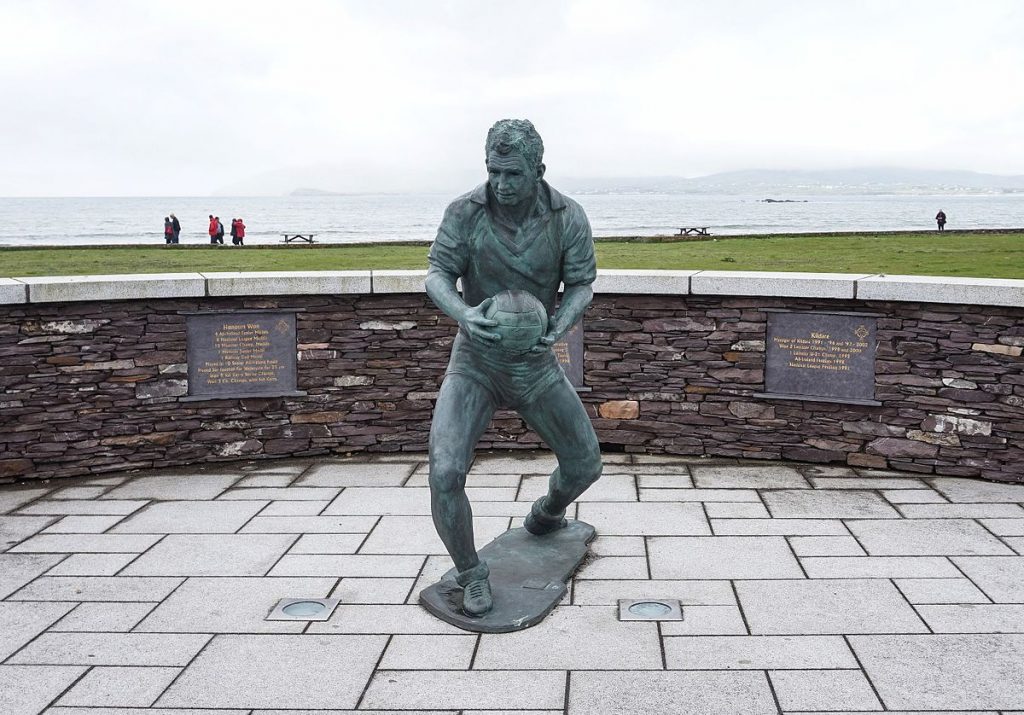 Concluding our list of the most famous sports statues in Ireland is that of Kerry footballing legend Mick O'Dwyer, one of the Kingdom's best ever players and later managers.
A statue in honour of the man was built in his native town of Waterville in County Kerry back in 2012, and was unveiled by then-Minster for Arts Jimmy Deenihan, who won five All-Ireland titles under O'Dwyer's management.
The bronze statue was made by Alan Hall and stands next to that of Charlie Chaplin at the town's seafront. Amongst the crowd at the unveiling was iconic commentator Michael Ó Muircheartaigh.
O'Dwyer won four All-Ireland titles as a player with Kerry before going on to win an unprecedented eight titles as manager. 'Mick' later managed Kildare, Laois, Wicklow and Clare.
Address: Waterville, Co. Kerry, Ireland
Get featured on Ireland Before You Die
Do you want to get your Irish business more online exposure? Especially to those interested in travelling the best places in Ireland? Then why not get a dedicated feature on Ireland Before You Die. Find out more 
here.
Legal Disclaimer
We cover articles relating to many activities. Some of our articles showcase gaming and gambling as activities. While we do not take money for bets or own any gambling venues, we feel it is important that our readers know the risks of such venues or sites that we may mention in our articles. Gambling involves risk. Please only gamble with funds that you can comfortably afford to lose. See our legal disclaimer for more info.