Aside from gorgeous scenery, rain, Guinness, and some of the friendliest people in the world, Ireland is also known as a traditional gambling nation. So, here are the top five places around Ireland to place a cheeky bet.
Horse racing is a traditional and well-loved sport, and the Irish love to watch and bet on it. But casino gambling is also very popular with iconic games such as blackjack, poker, and baccarat mingling alongside cutting-edge slot machines and electronic roulette.
While land-based casinos in Ireland are mainly focused around Dublin, there are places for gamblers to enjoy themselves in every city. And the face of global gambling is changing with younger people from all demographics flocking to the card tables and slot machines to try their luck.
So, let's take a look at the five best places on the Emerald Isle to place a cheeky bet.
5. Sporting Emporium Casino, Dublin – a Dublin institution
With a young metropolitan crowd, a fun social atmosphere, and myriad choices of games, the Sporting Emporium is probably the coolest place to gamble in Ireland.
Opened in 2005 and known as 'The Wheel of Fortune' to locals, it boasts the largest gaming floor in the country.
Alongside slot machines, roulette wheels, and blackjack, there are 14 poker tables to choose from. It is a members-only establishment, but it is possible to buy membership on the door or online for €30.
If that seems steep, don't worry. The on-the-door membership gives you €25 free chips and online €30, so you can start playing immediately.
4. Caesar's Palace, Galway – a must-visit
While Galway might not quite evoke the glamour and bright lights of the Vegas strip, Caesar's Palace provides plenty of casino game options for those who don't want to go all the way to Nevada. It is definitely one of the best places around Ireland to place a cheeky bet.
Alongside roulette wheels, slot machines, and video games, there is a 200 seater bingo hall. If you're in Galway and keen to play poker or blackjack, online casinos might be a better alternative.
According to CasinoTopsOnline, live dealer card games bring the fun and atmosphere of a land-based casino right into the comfort of your own home.
3. Fitzwilliam Casino and Card Club, Dublin – home to high-level and beginner players
Over three decades old, the Fitzwilliam is located in central Dublin and is the most popular casino in Ireland.
It has a classic, elegant feel, and despite the competitive play (high-level players often grace the card tables), it has a warm and friendly atmosphere.
As well as regular casino play, it offers tournaments, festivals, and leagues, and has the largest card room in Ireland.
Tourists be warned, the Fitzwilliam doesn't serve alcohol, which may come as a surprise. But this allows players to focus entirely on the games and fosters a high-class professional atmosphere.
2. Macau Complex, Cork – one of the best casinos outside of Dublin
Often cited as the best casino outside of Dublin, the Macau Complex is a busy, vibrant, classy establishment where members can enjoy all manner of casino games and membership is free. It had to make our list of the best places around Ireland to place a cheeky bet.
Punters can enjoy a wide range of slot machines of all shapes, sizes, and themes, as well as electronic roulette and card games.
Cork is a bustling city with a lot of energy and a fun atmosphere, and this carries into the Macau Complex, making it popular with players of all ages – from 18 upwards, of course.
1. Playland, Dublin – one of Dublin's best casinos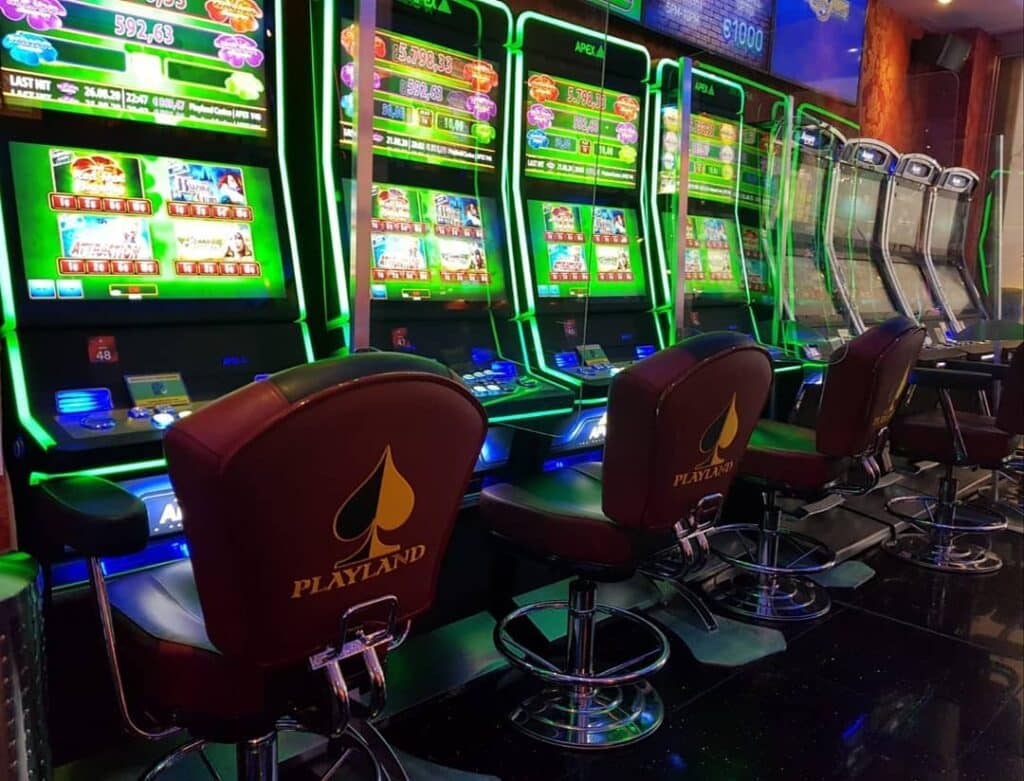 Another casino that prides itself on its impressive array of ever-popular slot machines, Playland lies in the vicinity of O'Connell Street in the city centre. This casino also requires membership, but this is available on the door.
Alongside the slots are card tables, roulette wheels, and electronic games. Refreshments, drinks, and hot snacks are available throughout opening hours, meaning that Playland offers a seamless gaming experience.
Horseracing – a cornerstone of Irish life
Of course, Ireland has more to offer than casinos, so it would be wrong to list the best places around Ireland to place a cheeky bet and not to mention racing.
Horse racing has long been a cornerstone of Irish life with an intense racing scene and many successful jockeys, breeders, and trainers.
Those who enjoy a flutter on the horses can head to Leopardstown Racecourse, located a mere 8 km from Dublin city centre, and the course offers National Hunt and flat racing.
Bear in mind this is a classy place, so smart or smart/casual attire is a must and there are many events during the season, all of which offer a great day out for seasoned gamblers and casual punters.
Get featured on Ireland Before You Die
Do you want to get your Irish business more online exposure? Especially to those interested in travelling the best places in Ireland? Then why not get a dedicated feature on Ireland Before You Die. Find out more 
here.
Legal Disclaimer
We cover articles relating to many activities. Some of our articles showcase gaming and gambling as activities. While we do not take money for bets or own any gambling venues, we feel it is important that our readers know the risks of such venues or sites that we may mention in our articles. Gambling involves risk. Please only gamble with funds that you can comfortably afford to lose. See our legal disclaimer for more info.