When compiling a list of the best counties in Ireland for outdoor adventure, we are certainly spoiled for choice. There are so many great counties with incredible outdoor experiences to offer.
Whether you are an adrenaline junkie or are simply wishing for some great outdoor adventure in idyllic surroundings, you will be spoiled for choice in Ireland.
From hiking mesmerizing mountains to surfing strong waves, there are many opportunities for outdoor adventure in the Emerald Isle.
In this article, we will list what we believe to be the five best counties in Ireland for outdoor adventure.
5. Wicklow – explore the Garden County of Ireland
From mountains to the sea, Wicklow is known for its varied landscape and is especially popular for its natural landscape as it is often called the 'garden county' of Ireland. 
From rolling hills and dense forests to its mountains and many lakes and rivers as well as a stunning coastline, you will have the opportunity to enjoy many outdoor adventures with a breathtaking backdrop to enjoy, too.
4. Donegal – a wide variety of outdoor adventure activities
Donegal is an excellent place for adventure; it has the highest sea cliffs in Europe, majestic mountains, beaches with powerful surf, and national parks that are entirely worth exploring.
From hiking the Inishowen Peninsula Loop to cycling the North West Cycle Trail, cycling the Inis Eoghain Cycleway to water activities like boat trips on Sliabh League, surfing on any of Donegal's thirteen Blue Flag beaches or kayaking and scuba diving off the stunning coastline, you'll have plenty of outdoor activities to choose from in Donegal.
Other great outdoor activities to do in Donegal are wild camping, rock climbing, abseiling, and coasteering, which will help you explore and discover the true hidden beauty that Donegal offers.
3. Sligo – famous for its world-renowned beaches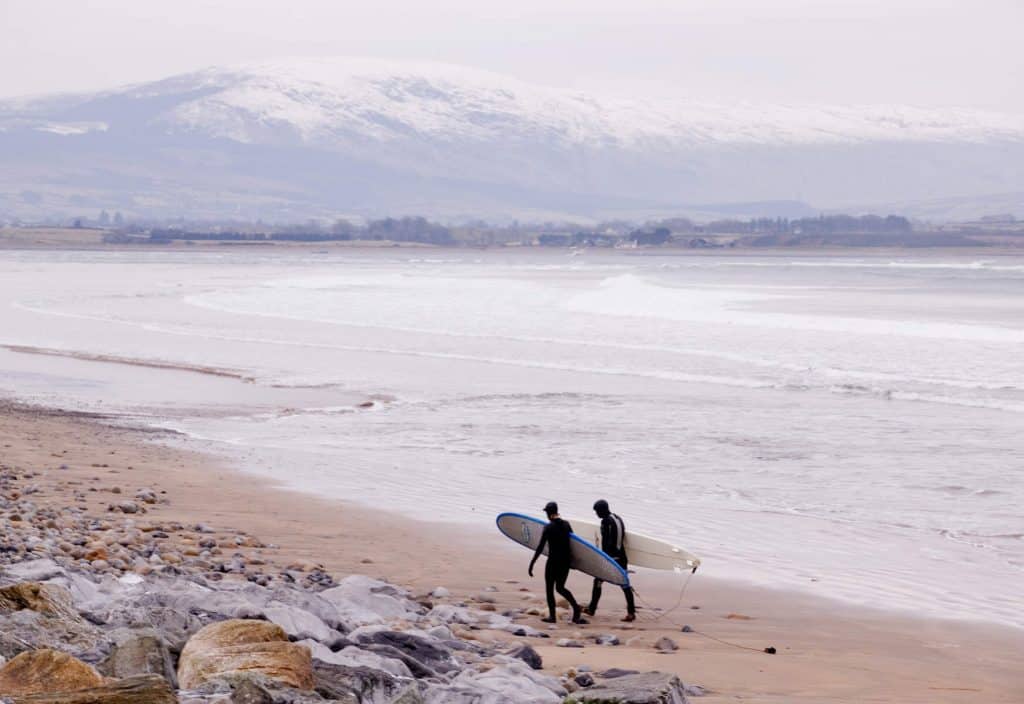 Sligo, situated on the Wild Atlantic Way, is renowned for its world-famous beaches such as Mullaghmore, Easkey, Enniscrone, and Strandhill, making it perfect for adventurers who are looking for outdoor adventures with an aquatic twist.
For those looking to ride the crest of killer waves, Sligo beaches are ideal as they are tailor-made to enjoy surfing, bodyboarding, and stand up paddling. 
Many excellent surf experience companies are available to choose from to ensure you surf safely and successively. Check out Sligo Surf Experience, Strandhill Surf Experience, and Sligo Bay SUP.
Other water-based activities to enjoy in Sligo are sailing, angling, kayaking, swimming, and diving.
2. Galway – fun outdoor adventures on land and water
Galway is another brilliant county for fun outdoor adventures whether you are looking for an experience on land or water. 
If you don't mind getting wet and water sports are your thing, then why not take a surfing or sailing lesson in one of the many ideally sheltered bays in Galway.
If you don't fancy getting wet, then there are plenty of activities on land to enjoy. Head for a relaxing walk along the beautiful Galway coastline, cycle through lusciously lovely countryside, or get lost in magical rolling forests.
If you wish to experience the thrill of riding a horse during an outdoor adventure through the woods or on a stunning beach, you can. There are many horseback riding tours on offer from excellent companies such as Knockillaree and Moycullen Riding Centre.
1. Kerry – the adventure capital of Ireland
In first place on our list of the five best counties in Ireland for outdoor adventure is Kerry. Kerry is often known as 'the kingdom' county, and it is undoubtedly a kingdom worth exploring as it has so much to offer, especially to those looking for outdoor adventure.
Kerry has often been hailed as the so-called adventure capital of Ireland as it has so much to offer to any avid adventurer.
What makes Kerry an excellent county for outdoor adventure is that it has so much to offer from the highest peaks to climb in Ireland to stunning lakes you can swim in, plus excellent tracks to cycle and explore to name but a few.
So, that concludes our list of the five best counties in Ireland for outdoor adventure. How many of them have you been to?