The county of Kerry is known as 'The Kingdom', and Killarney is certainly the jewel of that Kingdom. You will find that you have no shortage of choices when looking for the best things to do with kids in Killarney.
When travelling with family, it's always important to have activities organised to keep your kids entertained and happy.
If you are planning on taking your family to visit the wonderful Killarney, then you will be delighted to find that there is absolutely no shortage of things to do with your kids in the area.
From looking at the stars to exploring fairy trails, there are many activities in Killarney to do with kids that are suitable for all ages to enjoy.
In this article, we will list what we believe to be the five best things to do with kids in Killarney.
5. Killarney Falconry – make a feathered friend
Killarney Falconry offers "Halk Walks", which take place in Killarney National Park, which is one of the stunning national parks in Ireland. Guests are given the opportunity to take a scenic stroll through the luscious lakeside surroundings of the park.
On these walks, guests will learn all about the magnificent birds that call this area home. You'll get the opportunity to witness them soaring and swooping through the sky and trees with ease.
All before landing gracefully on the gloved fist of a falconer or even you if you feel brave enough!
This tour is kid-friendly, and booking in advance is essential. Any trip to Killarney National Park to spot birds of prey is bound to be a treat of a family trip.
Address: Killarney Falconry, Killarney, Co. Kerry, Ireland.
4. Kennedy's Pet Farm – fun for all ages
Kennedy's Pet Farm is the perfect venue for families looking for a fun day out, and it's suitable for all ages.
This family establishment has been running for over 25 years. It has become well known for their excellent animal care as well as the excellent experience they offer to visitors.
Also, with a playground and all-weather farm that includes hundreds of animals, there is something to enjoy for all ages of the family.
Address: Kennedy's Pet Farm, Glenflesk, Killarney, Co. Kerry, Ireland.
3. Irish Fairy Trails – enjoy an enchanted adventure
The Irish fairy trail in Parknasilla is perfect for those who wish to explore a fairy trail steeped in Irish mysticism as it has existed for thousands of years.
Furthermore, this trail will excite kids as it allows families to explore a beautiful woodland trail in search of the magical fairy houses hidden throughout it.
Also, to make things even better, the fairy trail is free of charge and can be accessed at any time, 365 days a year.
Address: Irish Fairy Trails, Derrynane House, Parknasilla, Co. Kerry, Ireland.
2. Killarney Riding Stables – an exhilarating outdoor adventure
For families who wish to spend a day exploring nature surrounded by the beautiful, serene surroundings of Killarney in the company of a majestic creature, then look no further than Killarney Riding Stables, located very close to Killarney town.
The stable has been family-run since 1968 and has over 70 horses with a dedicated team of trainers and teachers.
They offer a wide variety of different rides every day, which range from anywhere between one to three hours.
Finally, overnight packages that include bed and board and two days of trail riding (four hours in duration) with picnics and a guide are also available.
Address: Killarney Riding Stables, Ballydowney, Killarney, Co. Kerry, Ireland.
1. Star Outdoor Adventure Centre – a perfect day out
In first place on our list of the best things to do with kids in Killarney is the amazing Star Outdoor Adventure Centre.
For starters, this makes for the perfect day out as it hosts a variety of great activities such as wakeboarding, crazy golf, paintball, pedal boats, canoeing, sailing and archery.
Family packages are available to book. Summer and Easter camps are also hosted there, so it is highly recommended to book before going.
Address: Star Outdoors Adventure Centre, Dauros, Kenmare, Co. Kerry, Ireland
That concludes our article on the best things to do with kids in Killarney. Have you been to Killarney, County Kerry, with your kids before, and if so, which activities did you find the best?
Other notable mentions
Muckross House: Muckross House and gardens are a lovely family-fun filled day out. It is set in a 19th-century mansion among mountains and woodland. There's a shop, cafe and working farms, a great day out with the family all around.
Aillwee Cave: A day out at the Aillwee Cave is a fun activity in Killarney for kids. A guided tour will take you through the large caverns and illuminated tunnels, over bridges and passed waterfalls.
The Gap of Dunloe: The Gap of Dunloe at Killarney National Park is one of the best family-friendly activities in Killarney. It is incredibly scenic. You can walk it, cycle or take a horse, whatever is most suitable for your kids!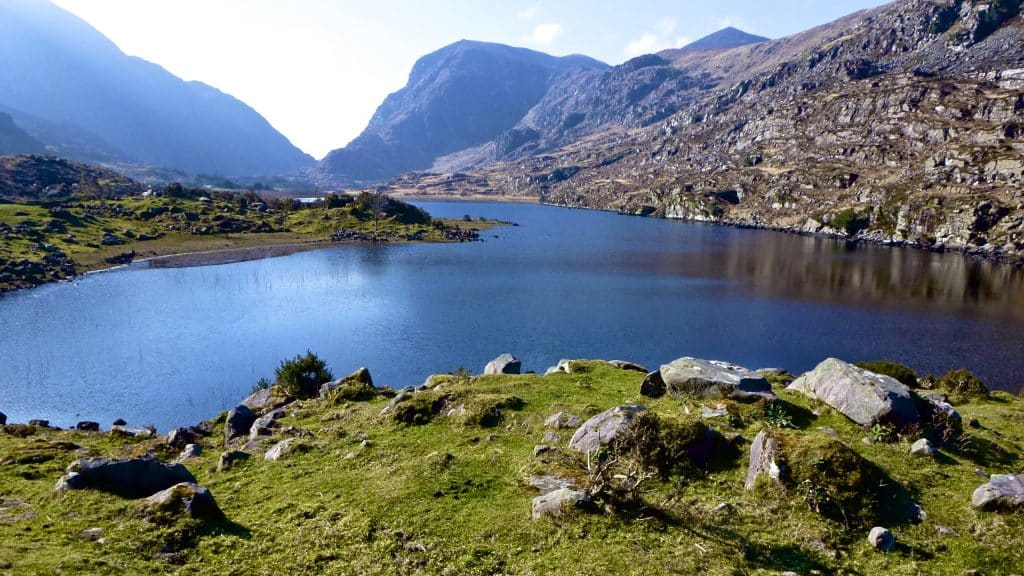 Muckross Traditional Farm: This can be quite an interactive experience for kids! They have the opportunity to roll butter, bake some bread and meet the farm animals as they wander amongst the buildings.
Ross Castle: Located on the banks of Lough Leane, Ross Castle can be an interesting experience for kids. Make sure you book beforehand if you want to go inside the castle!
Camping: Camping is a great way to get acquainted with the beautiful nature in Killarney. For inspiration, check out the best camping and glamping spots.
FAQs about activities with kids in Killarney
Is Killarney worth visiting?
Absolutely! Killarney remains one of the top tourist destinations for both Irish tourists and those from further afield.
How much time do I need in Killarney National Park?
It is recommended to take a full day exploring Killarney National Park as there are so many fun things to see and explore for the whole family.
How much is Killarney National Park?
It is completely free of charge for the whole family! Parking is free as well.