Fancy testing the luck of the Irish while on holiday on the Emerald Isle? If so, here are six casinos worth checking out.
Ireland is one of the most beautiful countries in the world. It's a popular destination for tourists around the globe, with a huge range of attractions.
There's just so much to do, from quaint pubs to countryside walks and city entertainment, with a little something for everyone.
If you're a fan of casinos, there are some spots you may want to hit while on your visit to the Green Isle.
Here are the top six casinos around Ireland to check out when on holiday.
6. The Sporting Emporium, Co. Dublin – a Dublin favourite
A city-centre hotspot in Dublin, The Sporting Emporium is located on Grafton Street and easily accessible by public transport, car, or even by walking. A lively casino, this spot offers free drinks to all casino gamers. How great is that?

They have a decent table games selection, which offers the classics like poker, blackjack, roulette, and baccarat.
This is definitely a great place to be if you're looking for a bit of a Las Vegas experience in the centre of Dublin. Players need to register when they arrive, so make sure to bring a valid form of ID with you!
With so many great options to choose from, this is certainly among the best casinos around Ireland to check out while on holiday.
Address: 5 Anne's Ln, Anne St S, Dublin 2, D02 AK30, Ireland
5. Playland Casino, Co. Dublin – one of the busiest Dublin casinos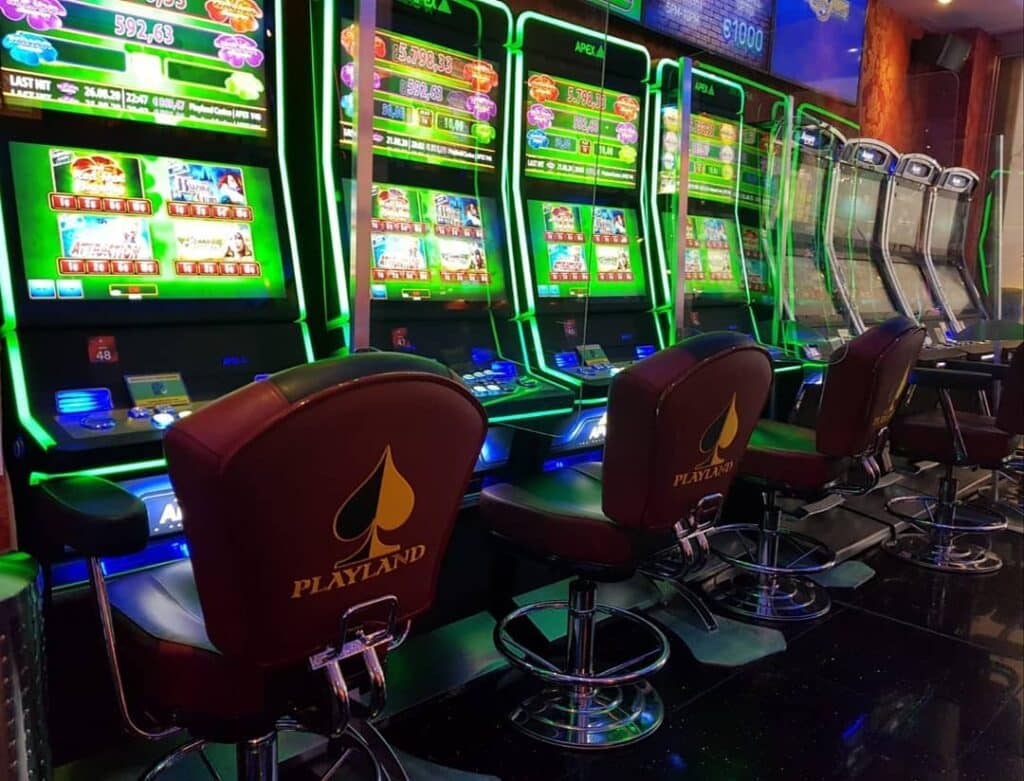 The Playland Casino has become one of the busiest in Dublin and has been a popular place for visitors for years.
While the casino floor is actually pretty small, it's got a fantastic atmosphere, with the staff working hard to welcome guests and keep things clean.
They offer free tournaments frequently and have a range of games, including some really great slot machines like Rainbow Riches.
Those who are playing can enjoy free food and drink offerings, which is a fantastic bonus. You can also forgo the games and stop in for a cocktail and meal.
This casino is based on Talbot Street, next to the Abbey Theatre and The Vintage Kitchen.
Address: 9 Talbot St, North City, Dublin 1, D01 RD25, Ireland
4. Carlton Casino Club, Co. Dublin – something for everyone to enjoy
For those who love a fancier, the Carlton Casino Club is definitely one to visit. A huge venue filled with a dining area, several bars, casino tables, and poker rooms, it's got something for everyone to enjoy.
They have the usual games on offer like pontoon, blackjack, and roulette, as well as a variety of daily poker tournaments.

Situated on O'Connell Street Upper, the building first opened as a cinema back in 1938. It's been designed in an art deco style to complement the original features of the building!
Address: 55/56 O'Connell Street Upper, North City, Dublin, D01 AW60, Ireland
3. Macau Casino Complex, Co. Cork – one of the best casinos around Ireland to check out when on holiday
Of course, there are casinos outside Dublin, too. Located in the centre of Cork, the Macau Casino Complex is a great option for those in the area. This casino offers poker, gaming, live sports and slots. They also have some fantastic dining options available.
Open seven nights a week, you can join the Macau Sporting Club for a special night-out experience. These packages include evenings full of fine dining, entertainment, and drinks.

For an everyday experience, there's something at the Macau Casino Complex for all players. For those who like table games, you can enjoy roulette, blackjack, Three Card Poker, Casino Hold'em Poker, and Punto Banco.
This casino is located on St Patrick Street, so it is easily accessible by transit or on foot.
Address: 16 St Patrick's St, Centre, Cork, Ireland
2. Fitzpatrick's Casino, Co. Dublin – the home of the daily draws
Fitzpatrick's Casino is located in the Tallaght area of Dublin and part of the Plaza Hotel Complex.

The focus of this establishment is on roulette games and slots and organising monthly and daily prize draws for members.
This casino is open 24 hours a day, seven days a week and is definitely luxurious in style. The auto-roulette is fantastic for roulette fans, who can enjoy the thrill of watching their chosen ball drop into their chosen number.
The casino is also known for its huge jackpots and daily draws, which occur every day from 2 pm to 2 am and run every two hours.
Address: The Plaza Complex, Belgard Square S, Tallaght, Co. Dublin, D24 P9CC, Ireland
1. Dr Quirkey's Good Time Emporium, Co, Dublin – fun for all the family
This location at O'Connell Street Upper, North City Dublin, is perfect for those of all ages, offering casino games including slots, poker, and more for players over 21 years of age.
This spot attracts younger players through its video games, with many well-known game developers' titles in the building from the likes of Sega, Bandai Namco, and Konami.

Younger players also enjoy the arcade games you can play like basketball tosses, ski ball, and others. This place is a great one if you're looking for something more family-friendly.
For the more serious players, it might be worth trying elsewhere on this list. However, Dr Quirkey's Good Time Emporium is certainly one of the casinos around Ireland to check out when on holiday with family.
Address: Quirkey's Good-Time Emporium, 55/56 O'Connell Street Upper, North City, Dublin, D01 WF43, Ireland
Get featured on Ireland Before You Die
Do you want to get your Irish business more online exposure? Especially to those interested in travelling the best places in Ireland? Then why not get a dedicated feature on Ireland Before You Die. Find out more 
here.
Legal Disclaimer
We cover articles relating to many activities. Some of our articles showcase gaming and gambling as activities. While we do not take money for bets or own any gambling venues, we feel it is important that our readers know the risks of such venues or sites that we may mention in our articles. Gambling involves risk. Please only gamble with funds that you can comfortably afford to lose. See our legal disclaimer for more info.