Ireland is known all over the world for it's Whiskey. If you love whiskey, you should try out some of the best whiskey experiences the emerald isle has to offer. Here is our countdown of the best five you can visit.
5. Dingle Distillery, Dingle
The Dingle Distillery is located in Co. Kerry. Dingle Whiskey was created in 2012, in a tin shed in the small town of Dingle and 3 years later their distillery was birthed. Their output is 2 casks of whiskey per day, so a visit to the Dingle distillery would be worth a trip to experience something extra special.
The Dingle Distillery offers a tour, however, it is not specialised only to whiskey. The distillery also produces gin and vodka, so you will leave with a fresh knowledge of many spirits. Unless they've all been sampled while you are on your tour, in which case that fresh knowledge may be remembered at a later date, or better still, you should take notes.
4. Kilbeggan Distillery, Kilbeggan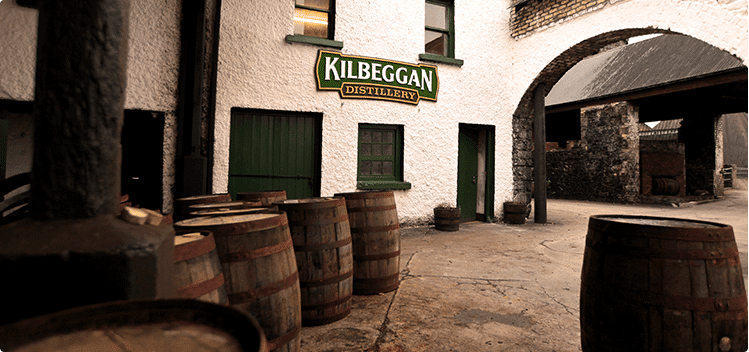 The Kilbeggan Distillery lies right in the heart of Ireland in the town of Kilbeggan. The distillery was established in 1757, which means going by registered dates makes Kilbeggan older than Bushmills Distillery.
Kilbeggan Distillery offers a standard tour for individuals or groups. They also offer specialised tours. They offer an 'Apprentice tour', allowing you to taste 3 different types of Kilbeggan whiskey. A 'Distiller's tour' giving you the chance to meet their onsite distillers and taste 4 different types of Kilbeggan whiskey.
The 'Connoisseur experience' allows you to taste their core portfolio range along with the opportunity to bottle your own 200ml sample of one of their aged whiskeys. Thankfully they also provide lunch on this tour, it must be cheaper than providing a taxi.
3. Tullamore D.E.W, Tullamore
The Tullamore D.E.W Distillery is located in the very centre of Ireland, around 1 hour from both Dublin and Galway. Tullamore D.E.W was created in 1829 and named after its creator, Daniel E. Williams. They were the first Irish distillery to create a blended whiskey.
Tullamore D.E.W offers 3 exceptional different types of whiskey tours. The 'Curious tasters journey' is guided by one of their whiskey experts and gives you the opportunity to taste 3 different types of whiskey. The 'Whiskey wise masterclass' allows you to taste 6 different types of Tullamore D.E.W whiskey and a guided tour with one of their experts.
The 'Ultimate distillery experience' sounds like the greatest whiskey tour ever invented. You get to go to their blending room to create your own blend of whiskey. You also get to experience the production process, but I was sold on making my own whiskey.
2. Jameson Experience, Midleton
Jameson Experience is located in Midleton in Co. Cork. A distillery that offers 4 different types of tours, Jameson provides a tour for everyone. From those who are visiting with a mild interest to those who completely geek out on Irish whiskey.
The 'Jameson Experience' a guided tour that seeks to bring their heritage to life, offering a taste of their original whiskey. The 'Behind the scenes' is similar to the 'Jameson Experience' but also includes visits to key distillery buildings and offers a premium whiskey tasting session. I don't really know what that means but it has my vote.
The 'Premium whiskey tasting' tour, seems to be a tour that just has the best bit from any tour. It is exactly how it sounds, it is a whiskey expert talking you through tasting different types of whiskey. I probably wouldn't be keen on hearing them talk.
The 'Academy experience' gives guests a chance to visit the live section of the distillery. This provides an opportunity to taste a lot of whiskeys, some straight from the barrel along with a distillation demonstration.
1. Bushmills Distillery, Bushmills
The Bushmills Distillery is located on the north coast of Northern Ireland in County Antrim. It is Ireland's oldest working distillery. Although they had been registered to distil from 1784, they had been given their original license to distil in 1608 by King James I and from that beautiful moment, Bushmills Whiskey has been distilled onsite. They use the water that comes from what can only be described as their magic onsite stream. This holy water is then combined with Irish barley to create Bushmills whiskey.
The Bushmills whiskey tour takes visitors on a real experience ensuring that their senses are captivated by the sights and smells around them. Of course, the tour includes whiskey tasting, why else would you go on a tour of a distillery. There is a specialist whiskey shop and a wonderful gift shop.
The Bushmills Distillery also appears on the Bank of Ireland £5 note, you already have a cost effective souvenir in your pocket.