Dún Laoghaire is a coastal town in County Dublin about seven and a half miles South of Dublin City. It is steeped in history and was once one of the ports for the trip across the Irish Sea from Holyhead. Though the ferry no longer calls this town is still busy due to its appeal. It's a quick ride away on the Dart from Dublin but seems a million miles away from the Hustle of the Capital City. There are many things to see and do here is our top 5.
5. Visit Dun Laoghaire Shopping Centre
Have a meander through the town sampling a few of the shops, bars and restaurants. Soak up the atmosphere of the narrow shopping streets. Pop into Hicks Butchers and ask for some of their famous white pudding (if you are fortunate they may be cooking some samples for you to try outside), try the Fishmongers and pick up a fresh catch of the day or just sit at one of the cafes and watch the world go by. Maybe even catch a Glimpse of the 46A bus made famous by Bagatelle in their song Summer in Dublin.
Address: Marine Rd, Dún Laoghaire, Dublin, Ireland
4. St. Michael's Church
Formerly a 19th-century Gothic church which was almost entirely destroyed by a fire in 1965 (only the tower and Spire remained) is St. Michael's Church. Instead of rebuilding in the original style it was rebuilt in the style of the time. It was finally unveiled in 1973 and is a beautiful building to behold both inside and out. With its beautiful stained glass windows and the great tower which dominate the skyline in Dún Laoghaire it's a sight to behold.
Inside there is a lot of exposed concrete but it is still very impressive. With the light from the windows and the many statues, it feels warm and welcoming. A beautiful church which I suppose could be described as a tale of two eras.
Address: Marine Rd, Dún Laoghaire, Co. Dublin, Ireland
3. National Maritime Museum of Ireland
This fantastic Museum is housed in the 180-year-old Mariners Church in Haigh Terrace. There is a fee to pay for entry but you will be taken on a historic journey by experienced guides who will take you on a voyage of discovery of your own. They have the 10 tonnes Baily Optic which was immortalised in James Joyce's Ulysses. There is so much to see and do. And the fact it is set in a historic church makes it a really unique experience.
Address: Haigh Terrace, Dún Laoghaire, Dun Laoghaire, Co. Dublin, Ireland
2. Peoples Park
This is a beautiful park officially opened in 1890 is beautifully kept in the formal Victorian style. It has a play area for children, tea rooms, beautiful fountains and is incredibly ornate. There is a bandstand in the centre of the park and a garden for the Blind.
If you visit here on a Sunday, there is a fantastic Farmers Market in the park between 11am and 4pm. Lots of different foods to sample and lots of craft stalls to find that quirky gift. On any other day you could take a picnic and sit and enjoy the beauty whilst relaxing.
Address: Park Rd, Glasthule, Dublin, Ireland
1. Dún Laoghaire Pier and Harbour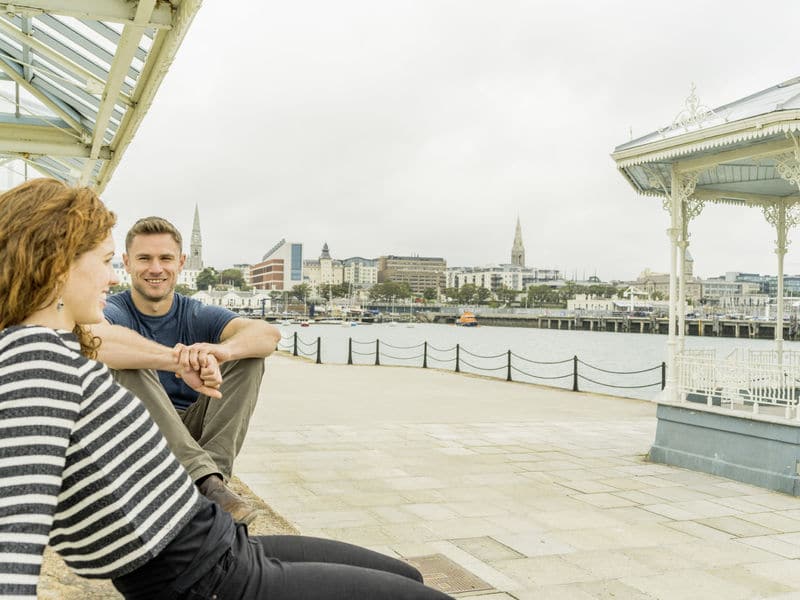 You can't visit Dún Laoghaire without taking a stroll along the East Pier, with its bandstand, beautiful views of the harbour the Irish Sea and Howth it's a great experience. There are places to buy ice creams, fish and chips and a cup of tea. However, if you can hold off until you reach the end on the pier, there is a coffee shop and Teddy's Ice Cream shop. Which makes the walk back along the East Pier a nice one.
In the harbour, there are many beautiful boat and yachts to see, and if you are really lucky, you may see one of the seals that visit the area. Look in the opposite direction and see the sailing boats out on the Irish Sea and a great view of Ringsend. It's such a pretty walk with so many photo opportunities and so relaxing.
If you feel very energetic, you can also walk the West Pier which is much quieter and is more popular with dog walkers and joggers. As you walk along the piers, there are various monuments which also add to the interest of the walk and if you time it right, you can see some of the most amazing sunsets. The walk along the East Pier could be summed up as one of the nicest 40 minutes of your time you could ever spend.
Address: Dún Laoghaire, Co. Dun Laoghaire-Rathdown, Ireland