Need a break from your phone? Here are some stunning places in Ireland that will make you forget about your phone.
With the advances in technology and how powerful our phones have become, we have slowly become more and more reliant on them and spend more and more time using them every day.
Marketers spend countless amounts of time trying to figure out how to make us all more addicted to social media, so it is no surprise that once we pick up our phones, many of us struggle to put them back down.
On the other side of this equation, many of us would also like to spend more time outdoors and in nature as we know that it has many benefits for our health.
So by putting together a list of stunning places in Ireland that will make you forget about your phone, it can both increase the amount of time you spent outdoors, while simultaneously helping you to spend less time using your phone.
5. The Cliffs of Moher – be careful not to fall!
It would be wrong to make a list of the most stunning places in Ireland and not include the Cliffs of Moher.
The Cliffs, which are situated in County Clare, span for around eight Kilometres and make one of the most fantastic cliff walks that you could ever go on. It is believed that the peaks were carved out by a gigantic river delta around 320 million years ago.
Overall one million people visit the Cliffs of Moher every single year, and it is no surprise as they are truly a spectacular thing to see. If the Cliffs of Moher aren't one of the places in Ireland that will make you forget about your phone, then I don't think many other sites will.
4. The Giant's Causeway – one of the most amazing natural formations
The Giant's Causeway, in County Antrim, is one of those things that you have to see with your own eyes to really understand. When being described, the Giant's Causeway just sounds like lots of hexagonal rocks which are interesting but doesn't sound like anything particularly special.
However, when you see the Giant's Causeway with your own eyes, you will be amazed at how something that looks so intentionally designed and created, could happen naturally by an ancient, volcanic, fissure eruption. Witnessing the amazingness of nature at the Giant's Causeway will definitely make you forget about your phone.
3. Skellig Islands – nearly as famous as they are spectacular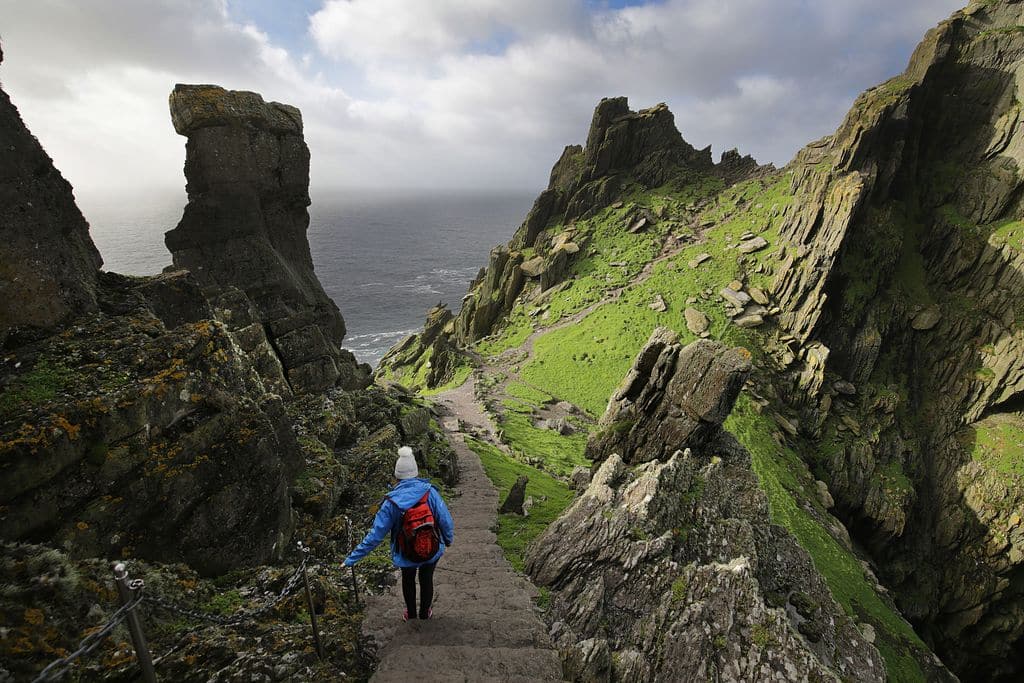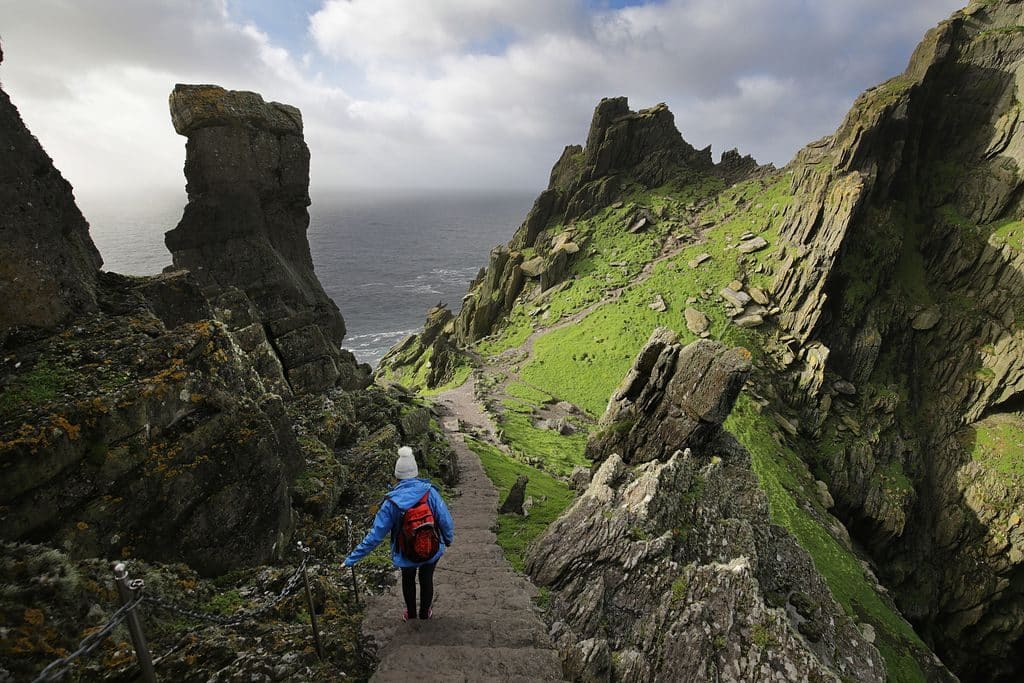 The Skelling Islands are two uninhabited islands off the southwest of Ireland. In recent times the islands have become a lot more famous since they appeared in the Star Wars film franchise.
The island is not home to any humans, but it is home to the largest colony of gannets in the world. Roughly 23,000 pairs of gannets nest on every available ledge on the islands.
There are boat trips that you can take to see the islands, and it is incredible to see these two rocky mounds protruding out of the ocean twelve kilometres away from shore.
The Skellig Islands aren't the most accessible place to see in Ireland, but they are definitely worth the effort.
2. The Burren – one of the most stunning places in Ireland
The Burren in County Clare is one of the most iconic landscapes in Ireland. The Burren is an area of karst landscape that spans County Clare for up to 560 square kilometres.
The Burren was formed by glacial ice movement, and it has left a landscape that is entirely unique and different from the luscious greenness that you see a lot of other places in Ireland. If you have never seen the Burren before, it is definitely one of the stunning places in Ireland that will make you forget about your phone.
1. Glenveagh National Park – for beauty beyond your imagination
Glenveagh is the second biggest national park in Ireland, and it is located in County Donegal. Unlike some of the other features on this list, Glenveagh National Park isn't a result of glacial movement or volcanic fissure eruption, it is merely just a portion of Irish nature and landscape that is packed with natural beauty.
Whether you are interested in walking, cycling, fishing, photography, or anything else outdoors, Glenveagh National Park is the perfect place to do it. There is a castle, excellent trails, a huge lake, and plenty of other nature and wildlife to engage with.
It would be incredibly hard to stand to look at your phone while in Glenveagh National Park surrounded by an endless amount of beauty.