Statues and sculptures populate the Emerald Isle from top to bottom, but some may take you by surprise. Here are the five weirdest and strangest statues in Ireland.
Ireland has statues galore—from famine memorials to statues of some of our greatest countrymen to ones of our great entertainers. But did you know that we also have many statues of a weird and unusual variety—astonishing, even?
Perhaps you've passed by a few of these during your Irish wanders and thought to yourself, 'What on earth is that all about?'. I bet you stopped, stared, and just hoped that one day you would get to know the story behind these extraordinary sights.
Well, here at Ireland Before You Die we have gone on the hunt to find you our top five strangest statues in Ireland, and a few of these can even be described as creepy. So let's take a look.
5. Anna Livia monument, Co. Dublin – a quirky literary symbol
You may wonder what this quirky statue is all about. Interestingly, Anna was originally placed where the Spire of Dublin is standing today, but she had to be relocated to Croppies Park to make space for her giant replacement.
The statue was inspired by the character Anna Livia who appeared in James Joyce's book Finnegan's Wake as a human symbol of the River Liffey, which runs through Dublin. It was created to celebrate Dublin's millennium, and it's definitely a statue that many stop and ponder over as they walk by.
Address: Wolfe Tone Quay, Arran Quay, Dublin
4. Eco sculpture, Co. Antrim – out of place at first glance
Sitting right outside Queen's University Belfast's McClay Library, this odd-looking statue was created by Frenchman Marc Didou to mark the centenary of Queen's University. It was decided to put a speaker inside, with the sounds of water flowing, to encourage reflection as people walk past.
Certainly one of the strangest statues in Ireland, it seems like the perfect fit for the serene space of a library entrance, even if it looks slightly odd at first glance.
Address: 10 College Park Ave, Belfast BT7 1LP
3. Oscar Wilde statue, Co. Dublin – an unusual posture and expression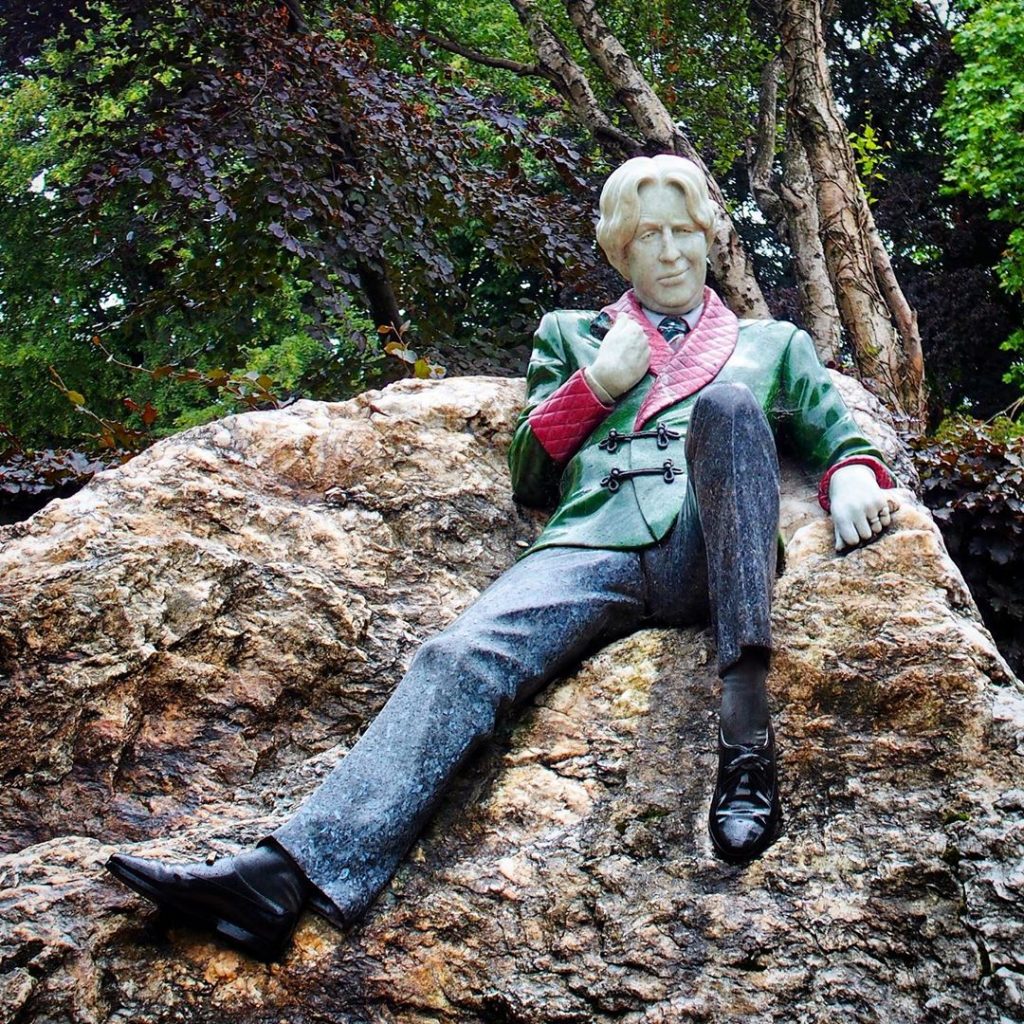 Head to Merrion Square in Dublin, the former home of Oscar Wilde, one of our greatest writers, and you'll be sure to spot him perched on a rock in a very unusual posture. Wilde's statue, designed and created by Danny Osborne, sits in a casual stance, legs wide open, and he holds a smug look on his face—well, one side of his face anyway.
The statue was cleverly created to ensure the observer would see two different sides of Wilde, one which was a man with clever wit and the other which was the broken man, that he eventually became later in life. This may look peculiar and a bit humorous, but the ideas behind the creation are definitely intriguing.
Address: 12 Merrion Square N, Dublin 4
2. The Split Man, Co. Wicklow – strange but spiritual
Someof the strangest statues in Ireland are located at Victor's Way, an Indian sculpture park, dedicated to the eccentricity of Alan Turing and also used as a place of contemplation by many. One particular statue, the Split Man, depicts a figure attempting to split himself in two, representing 'the mental state of the dysfunctional human'.
The entire park guides you along the path of spiritual enlightenment, and this is one of those stages. Super freaky, though!
A lot of the other statues at Victor's Way have some interesting backstories, so next time you're out there on your wanders, take a look at the statues entitled 'Separation', 'Awakening', and especially the next one on our list.
Address: Victor's Way, Mullinaveige, Co. Wicklow
1. The Ferryman statue, Co. Wicklow – creepy and unconventional
Also located at Victor's Way, this strange and rather creepy statue sits in the middle of the algae lake and represents one of the many stages of life, just like all the others in the park. If you've seen this statue, you'll know why it's made our number-one spot among the top five strangest statues in Ireland.
The statue is actually twice the size of a real-life person and, oddly enough, reminds us of something from Lord of the Rings. Although it may be a little unconventional and may scare us a little initially, the ideas behind the ferryman are deep and undeniably spiritual.
Address: Victor's Way, Mullinaveige, Co. Wicklow
So there you have them—the strangest statues in Ireland. Maybe you've come across some of these on your travels, or maybe you haven't yet, but next time you head off on a trip around the country, keep your eyes peeled for even more strange statues that may be lurking about.
Although Ireland is full of cool hidden gems, magical mystical scenery, and an incredible history that can be seen all over the country, we are not without our fair share of bizarre monuments, but we love them all.