We're all a product of our raising, and if you were raised in the glory days of 1990s Ireland, you likely had some very… specific experiences. Here are five signs you grew up in 1990s Ireland.
Get ready for a pang of nostalgia as we count down our top five signs you grew up in what truly was a unique time and place.
5. You know the back catalogues of Ireland's finest pop sensations – you weren't a real fan if you only knew their chart hits
Westlife, B*Witched, Boyzone, The Corrs… Back in 1990s Ireland, your cassette collection was an exercise in patriotism.
To this day, your body instinctively starts churning out the moves you choreographed with your best mates for an impromptu talent show in your sitting room when you hear a song by one of these bands.
You turn your nose up at the more commonly played tracks – everyone knows 'C'est La Vie' sure, but only true fans can sing the chorus of 'Jesse Hold On'.
People laughed at you at one stage for holding onto your hand-sequined 'I love Nicky Byrne' denim jacket – but who's laughing now that the reunion tours have rolled around and you rock up in your ready-made outfit?
4. You secretly think 90s Irish sweets are haute-cuisine – 90s crisps were next level
If you're more about macaroon bars than macarons, and you're a bigger fan of apple drops than apple cider vinegar, then that's a sure sign you grew up in 1990s Ireland.
The tangy flavours of Banshee Bones, Hot Lips, and Monster Munch pack a punch that no baked artisan crisp can give you. But it's absolutely not PC to say that out loud these days.
A Taz Bar was a treat, and a Roy of the Rovers was to be relished. Summers were full of Fat Frog ice-pops and Freaky Foot ice-creams, and sometimes, when you're tucking into your high-end smashed avocado on sourdough, you miss their sweet sugary artificial flavours.
3. You learned about the world through a very particular curriculum – you often look back on your school days and wonder what on earth they were talking about
One of the signs you grew up in 1990s Ireland is your memory of school. You learnt to read using the Letterland characters, and were secretly devastated to find out it wasn't a real place.
Once you had those guys down-pat, you graduated to using reading books – Tom and Kate of Ladybird's Read with Me series being a personal favourite of yours. Your teacher kept a post-it note at the front of the book with instructions on how many pages you were to read out loud each night.
You started your maths education using very modern tens and units blocks, and once you'd moved up in the world enough, you could attempt the exercises in Busy at Maths without supervision.
You'll never forget the glamour of switching from HB pencil to fountain pen, or the sophistication of the day your school unveiled its new computer room, which it somehow purchased using Tesco tokens collected from every mammy in the place.
2. You think 90s Irish TV was sorely under-rated – your goal in life was to appear on School around the Corner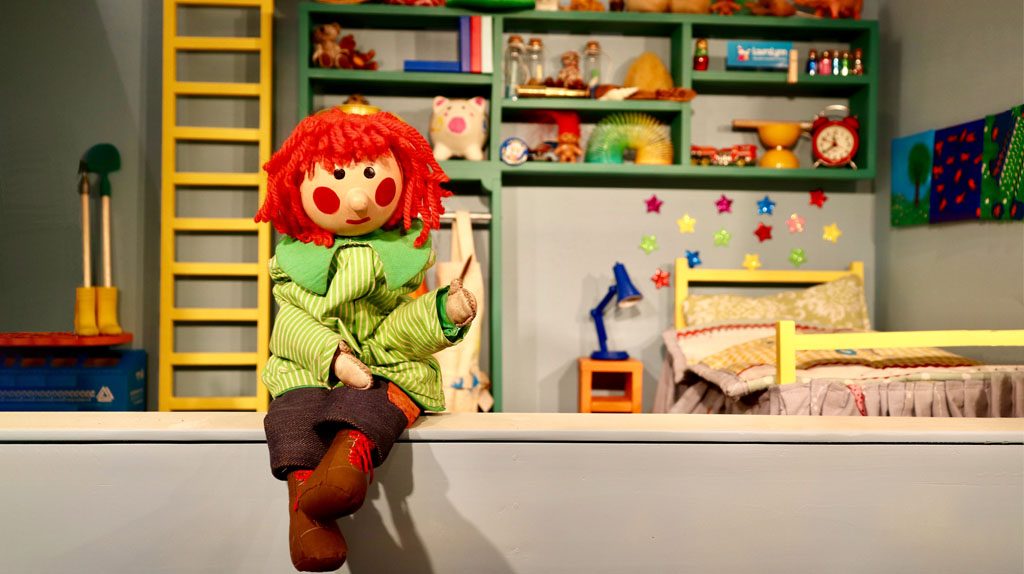 Every time you hear the words 'Morbegs from Morbeg land' (which, admittedly, is not very often), a sure sign you grew up in 1990s Ireland is that you can't stop yourself from shouting back 'need your help to understand'.
In your humble opinion, The Den was the peak of Ray D'Arcy's career, and The Late Late Toy Show should only ever be presented by Gay Byrne. You learned to draw from Don Conroy, and all your general knowledge came from the Echo Island quiz.
Your Saturday treats were Rimini Riddle and School around the Corner, and Glenroe signified the end of the weekend – if you were allowed to stay up for it.
Bosco re-runs were still going strong, and you sat up to attention anytime that little red doll addressed the boys and girls in the audience. Nickelodeon and CITV were great of course, but you just couldn't beat RTE for serving up kids TV in an accent that sounded just like yours.
1. Your idea of a brilliant birthday party was two hours in a soft-play centre – you'd still do that now if it weren't so frowned upon
Kids these days have got it all wrong with their elaborate custom birthday cakes and fancy party venues. Your taste in birthday parties is one of the key signs that you grew up in 1990s Ireland.
When you were small, you and all your mates took your shoes off and jumped from ball-pit to foam slide for as long as your little legs would carry you to celebrate your respective special days. The distinctive smell of cleaning wipes and feet still makes you feel all festive inside.
These events culminated in everyone sitting on a bench to eat a choice of sausages or nuggets (vegetarians had not yet been invented in the 1990s), washed down with a hearty slice of Viennetta.
If you were the birthday boy or girl, you got a souvenir photo taken with a sweaty teenager dressed up as some sort of variation of a lizard.
If your parents splashed out on the upgraded package, they got a free cappuccino, and your mates took home party bags full of jellies and paper streamers. In 1990s Ireland, this was the height of a glamorous birthday celebration.
And do you know what? It did you no bit of harm.