Here are the top five seaside towns in Northern Ireland that you need to visit! With accompanying best places to get ice-cream, of course!
When it all gets too much, Irish people head to the seaside for a quick dose of R&R. It could be raining, sleeting, or snowing, and people will still hop in the car to get that Sunday walk pic for their Instagram. Luckily, we live on an island, and we're never more than a few hours away from a seaside town to give you some fresh air.
Whether it's just a quick 15-minute drive down the road or a bit more of a day trip for you, here are the best seaside towns in Northern Ireland for your weekly dose of sea, sun, and ice-cream!
5. Portrush, Co. Antrim – come for the amusements, stay for the ice cream
Portrush is Northern Ireland's seaside Mecca during the warmer months. About an hour's drive from Belfast, and easy to get to via train, Portrush couldn't be more accessible for people from the northern corner of Ireland.
In the summer months, Portrush offers Barry's Amusements, surfing on either of its beaches (East and West Strand), various cafes and restaurants, and a beautiful beach to walk along!
In the winter, it's great to blow off some cobwebs and get out of your house, rewarded with the stunning beach views. Our favourite spot for ice-cream in Portrush is Morelli's, a giant in the NI ice-cream industry.
4. Newcastle, Co. Down – set perfectly between land and sea
Newcastle is a quick drive from Belfast and boasts beautiful beach views as well as a gorgeous view of the Mourne mountains. In the summer they have pedalo swans and other attractions for young kids (or adults with a youthful spirit).
Newcastle is very well established as a tourist town. It is suitably equipped with every kind of restaurant, bar, or cafe you could ever want. They also have the renowned Slieve Donard Spa on their beautiful beachfront, if you wanted to make the trip into a weekend thing.
For ice-cream, we recommend Graham's, well known in Newcastle for its local charm and fantastic ice-cream.
3. Ballycastle, Co. Antrim – perfect for a sunny day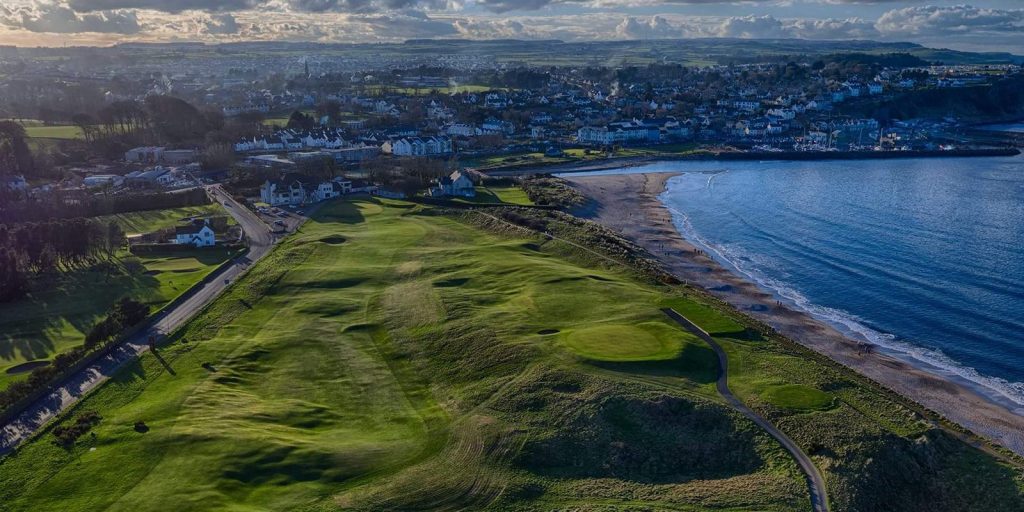 Ballycastle comes alive in the summer when many of the people who own holiday homes and caravans are visiting, and the town becomes quite busy. You can see all the boats in the harbour, and there's a beachfront park for kids to play in.
During the year, it enjoys a quieter atmosphere that is perfect for a beach walk to clear your head after a week at work. If the weather permits, you can catch the ferry to Rathlin Island for a day trip.
The main street of Ballycastle is lined with cafes, pizza places, and places to shop until your heart is content. In the summer Ballycastle hosts the famous "Ould Lamma's Fair", Ireland's oldest fair that holds street stalls, traditional music and dancing, horse-trading, and artisan markets.
It occurs on the last bank holiday weekend in the summer, so if you want to visit for the fair, it's advisable to book your accommodation in advance.
2. Cushendun, Co. Antrim – one of the top seaside towns in Northern Ireland
This seaside town is a lot quieter than the others, with just a few guesthouses and restaurants, giving a more authentic experience of an Irish seaside town.
Cushendun is popular with caravan-ists and dog walkers, so you might just meet some interesting people down there. It's also a great launchpad to visit the Game of Thrones sites on the north coast, with the Cushendun Caves being located here, where Melisandre gave birth to the shadow baby.
Mary McBride's Bar has one of the ten famous Game of Thrones doors that are hidden in pubs all over Northern Ireland. It's also a short and scenic drive from Ballintoy Harbour, home to Theon Greyjoy.
Our ice-cream pick for Cushendun is to simply grab a 99 whippy ice-cream from the local Costcutter and to head to the beach. Simple, but can't be beaten.
1. Warrenpoint, Co. Down – a must-visit seaside town
Warrenpoint is the beach spot for people in county Armagh and Down, as it lies on the border between the north and south of Ireland. Warrenpoint has activities for history buffs, adrenaline junkies, and beach lovers alike.
You can see the Narrow Water Castle, an Elizabethan tower house built in 1568, chill out in Warrenpoint Park, or visit NorthEast Adventures for some paint-balling with your friends.
Our ice-cream pick for Warrenpoint is the Genoa, where you can get a gorgeous ice-cream or a thick and creamy homemade milkshake. Sounds perfect for a Sunday adventure!
So, now you have all the insider info on seaside towns in Northern Ireland, you don't have to be bored on a Sunday any longer!