We're obsessed with stargazing and couldn't imagine a better place for it than hot tubs. Check out our top five scenic Airbnbs with a hot tub in Ireland.
Imagine stretching your legs in a hot tub with friends or your significant other, a bottle of bubble on a side table, and a 360-degree-panorama of mountains, beaches, and woods. Sounds right up your alley? Perfect! If you are toying around with the idea of booking yourself into a luxury Airbnb for a long weekend, a vacation, or staycation – we might just have found the right place for you.
Check out our top five scenic Airbnbs with a hot tub in Ireland below, pack your bags and enjoy all the beauty the Emerald Isle has to offer in style!
5. Killaloe Luxury Pod (Co. Clare) – a romantic couple getaway overlooking the River Shannon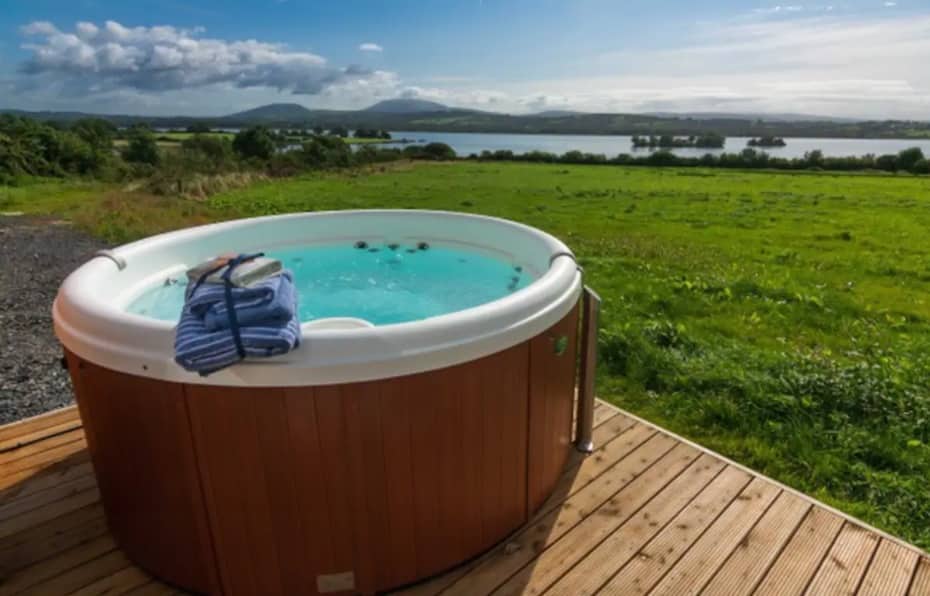 If you are looking for some peace and serenity, Killaloe Luxury Pods tick off all the boxes. The three pods overlooking the River Shannon make a great romantic couple getaway – and a cosy base for exploring the lakeside villages of Killaloe and Ballina.
The small pods come with a luxury bed, a kitchenette, bathroom, and an outdoor terrace with a hot tub, boasting magnificent views over the river, best to be enjoyed with the bottle of prosecco provided by the hosts on arrival. Former guests called the hot tub the 'highlight of their stay'.
There're plenty of things to do in the area as well, including all sorts of water sport activities from kayaking to sailing and canoeing on Lough Derg and plenty of hiking trails. We are especially curious about the Full Moon Midnight kayaking classes the host mentions, so if you have a chance to book one, let us know how it went!
Prices: from € 190
Location: Killaloe, Co. Clare, Ireland
4. Gary's Barn (Co. Tipperary) – a cosy holiday home with a huge sun deck and hot tub
This homey Airbnb was built in the 1840s and has been renovated recently, so expect old-school charm mixed with modern elements, including a hot tub overlooking the beautiful countryside of County Tipperary – making it one of the top five scenic Airbnbs with a hot tub in Ireland.
This is the perfect place to unwind for a few days, to go walking, hiking, and to enjoy your morning coffee (or afternoon tea) while listening to the birds. The cottage sleeps up to four people and comes with two bedrooms, a basic bathroom, and a huge deck perfect for sunbathing, stargazing – and, of course, enjoying the views from the hot tub.
The owners, Gavin and Mary, live next door and are more than happy to share their knowledge of the area and help plan out your stay.
Prices: from € 90
Location: Fethard, Co. Tipperary, Ireland
3. Heather Cottage (Co. Down) – for panoramic mountain views from your private hot tub
If you're seeking an Emerald Isle adventure or staycation in Ireland, The Mourne Mountains are among the most stunning landscapes in Northern Ireland – and Heather Cottage allows you to enjoy them from your very own hot tub!
The gorgeous Airbnb has three bedrooms, sleeping up to six guests, two bathrooms, a living, and family room (including lots of games!) as well as a full kitchen and a garden including the tub. Previous guests rave about the 'lovely scenery and super cosy atmosphere', also mentioning a welcome basket provided by the hosts.
The holiday home is located between Belfast and Dublin in the seaside town of Newcastle, with sand beaches, dunes, a golf club, and plenty of water sport options practically at your doorstep.
Prices: from € 149
Location: Newcastle, Co. Down, Northern Ireland
2. Skellig Rest (Co. Kerry) – a top-rated cottage right at the Ring of Kerry
This top-notch property keeps winning rankings of the best places to stay on the Emerald Isle, so, given that it also has an outdoor jacuzzi, we just had to include it in our top five scenic Airbnbs with a hot tub in Ireland.
The cottage is nestled in an elevated position of the Ring of Kerry, coming with stunning views of the ocean, Ballinskelligs Bay, and the Skelling Rocks, which movie geeks might recognize from Star Wars. It comes with a double bed and two single beds, a living room with a fireplace, a fully-equipped kitchen, and a huge deck complete with comfy sofas and a hot tub, overlooking the bay.
The area is at the core of Kerry's International Dark Sky Reserve, the only Gold Tier Reserve in the Northern Hemisphere, meaning, on clear nights, you will see more stars than anywhere else on the Emerald Isle. Add the complimentary bottle of wine the hosts throw in and you are set for an unforgettable stay.
Prices: from€ 140 (7 days minimum stay)
Location: Waterville, Co. Kerry, Ireland
More info: HERE
1. Tig Admaid (Co. Kerry) – our favourite of the top five scenic Airbnbs with a hot tub in Ireland
Overlooking a private beach on Kenmare Bay, this cottage was built in the 1950s by the host's grandparents and is a perfect mix of traditional elements and modern amenities.
The spacious property sleeps up to seven people and comes with three bedrooms, a lounge with a wood-burning stove, and a patio with a hot tub. We especially love the views from the latter, so we'd probably spend most of our vacation nipping some bubble in the water, looking at the ocean during the day and stargazing from the pool at night.
Given that Kenmare town is only a few minutes' drive from Tig Admaid, the vacation home has a surprisingly remote touch. There are plenty of woodlands, the beach, and a waterfall around with otters, deer, and the occasional sea eagles being your only company (apart from the guests you bring, obviously).
This place fills up quickly, so book well in advance!
Prices: from € 140
Location: Kenmare, Co. Kerry, Ireland
Get featured on Ireland Before You Die
Do you want to get your Irish business more online exposure? Especially to those interested in travelling the best places in Ireland? Then why not get a dedicated feature on Ireland Before You Die. Find out more 
here.