Set on the North side of Dublin on the Howth Peninsula is Howth Village. This small fishing village is most easily accessed via the DART (Dublin Area Rapid Transport) and takes only 25-minutes from the city. There's many restaurants in Howth as well as bars, cafes, sights to see and things to do. Howth has become quite a popular place in recent years.
The sleepy little seaside town is perfect for a weekend wander or a day date, and on a sunny day, it'll be packed with people stretching out on the grass in front of fishing boats or eating ice cream on the pier.
Perfect for courting couples, and equally as buzzy for a night on the town (without going into town – aka Dublin city), Howth is the place to be.
Here are the top five restaurants to check out when in the locale.
5. The Brass Monkey
Sitting on the West Pier in Howth Harbour is The Brass Monkey. This cool and quirky restaurant and bar draws a steady crowd of locals and tourists who rock up looking for some freshly caught fish or a casual selection of European tapas.
With outdoor seating, perfect for a sunny day or balmy eve, this haunt has got to be one of the most popular hangouts for dinner with friends. The Brass Monkey is also a wine bar, so there's a big selection for those who know a thing or two about a grape.
Location: The Brass Monkey Restaurant and Wine Bar, 12 W Pier, Howth, Co. Dublin, Ireland
4. Deep
Deep is a longstanding modern restaurant located on the West Pier in Howth. It is stylish and contemporary with an airy European feel, and it draws an eclectic crowd of local families, groups of friends and courting couples.
Dishes range from locally caught fish and seasonal surprises to global fusion dishes. Deep aspires to work towards bringing its customers a sustainably sourced menu and we have to tip our hats to that! They also have an awesome early bird menu and a selection for the little ones, too.
Location: Deep Restaurant, 12 W Pier, Howth, Co. Dublin, Ireland
3. The House Restaurant
This award-winning restaurant in Howth Village is one of the best spots for brunch, lunch or dinner in the seaside town. The menu offers a considered edit of classic and contemporary dishes, with locally sourced produce seen in abundance.
The cosy and familiar home-style setting is the perfect place to catch up with old friends over a glass of wine or a coffee, while bar snacks such as cheese and charcuterie boards offer a more casual dining approach.
The House Restaurant has been listed in "Top 100 restaurants in Ireland" for 5 consecutive years and doesn't seem to be making a move. The restaurant is on the site which was once the home to the infamous Captain Bligh, meaning The House is a site of cultural and historical significance as well as a place of culinary delight!
Location: The House Restaurant, 4 Main St, Howth, Co. Dublin, Ireland
2. Aqua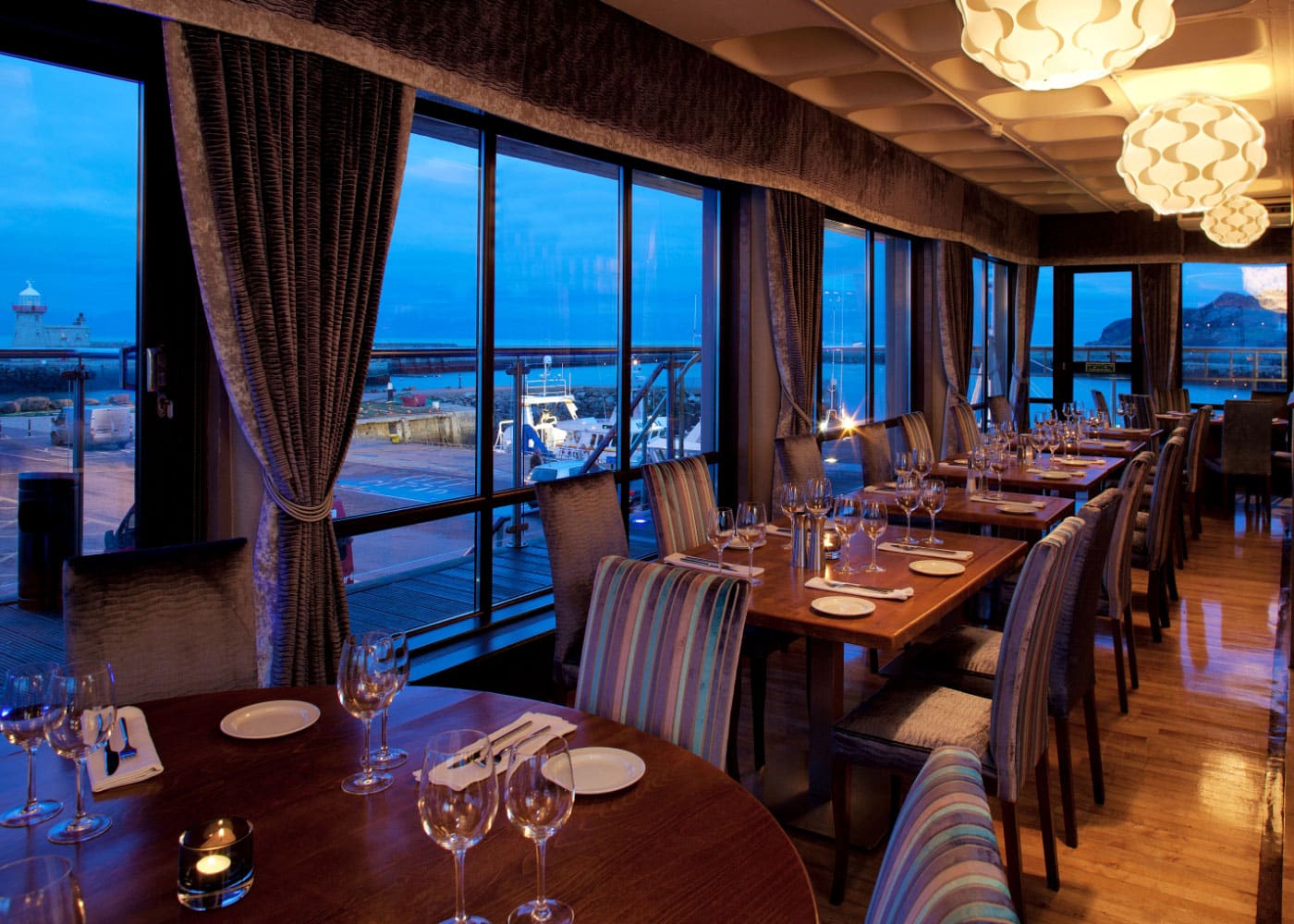 Aqua is one of the most prestigious restaurants in Howth Village. This five-star culinary experience has been besotting visitors since its inception in 1999.
The award-winning restaurant is situated at the end of the West Pier in Howth and offers its guests unspoilt views of the harbour, with floor to ceiling panoramic windows.
A considered menu of freshly caught fish and local ingredients ensures the integrity of the food offering while the service is that of fine dining.
Aqua has been garnered with the privilege of recognition from leading food reviewers and institutions such as McKenna's Guide, Good Food Ireland, Lucinda O'Sullivan and the World Luxury Restaurants, to name but a few.
Location: 1 West Pier, Howth, Dublin 13, Ireland
1. The Dog House Blue's Tea Rooms
Although it may not boast same luxury finishes as some of the previous entries in this list, the best, most enjoyable and unique dining experience in Howth has got to be The Dog House Blue's Tea Rooms.
This quirky and eccentric eatery is as curious as it is creative. With living room furniture, mismatched décor, endearing lighting, vintage interiors, an open fire, cosy nooks and even a double bed as a seating area, this is one of the most experiential dining experiences in Howth.
Top marks go to food too, with made-to-order wood-fired pizza, freshly caught fish and a BYO policy to boot.
Location: Howth Dart Station, Howth Rd, Howth, Co. Dublin, Ireland