He was one of our greatest poets and writers, and there are many places to discover his work in his homeland.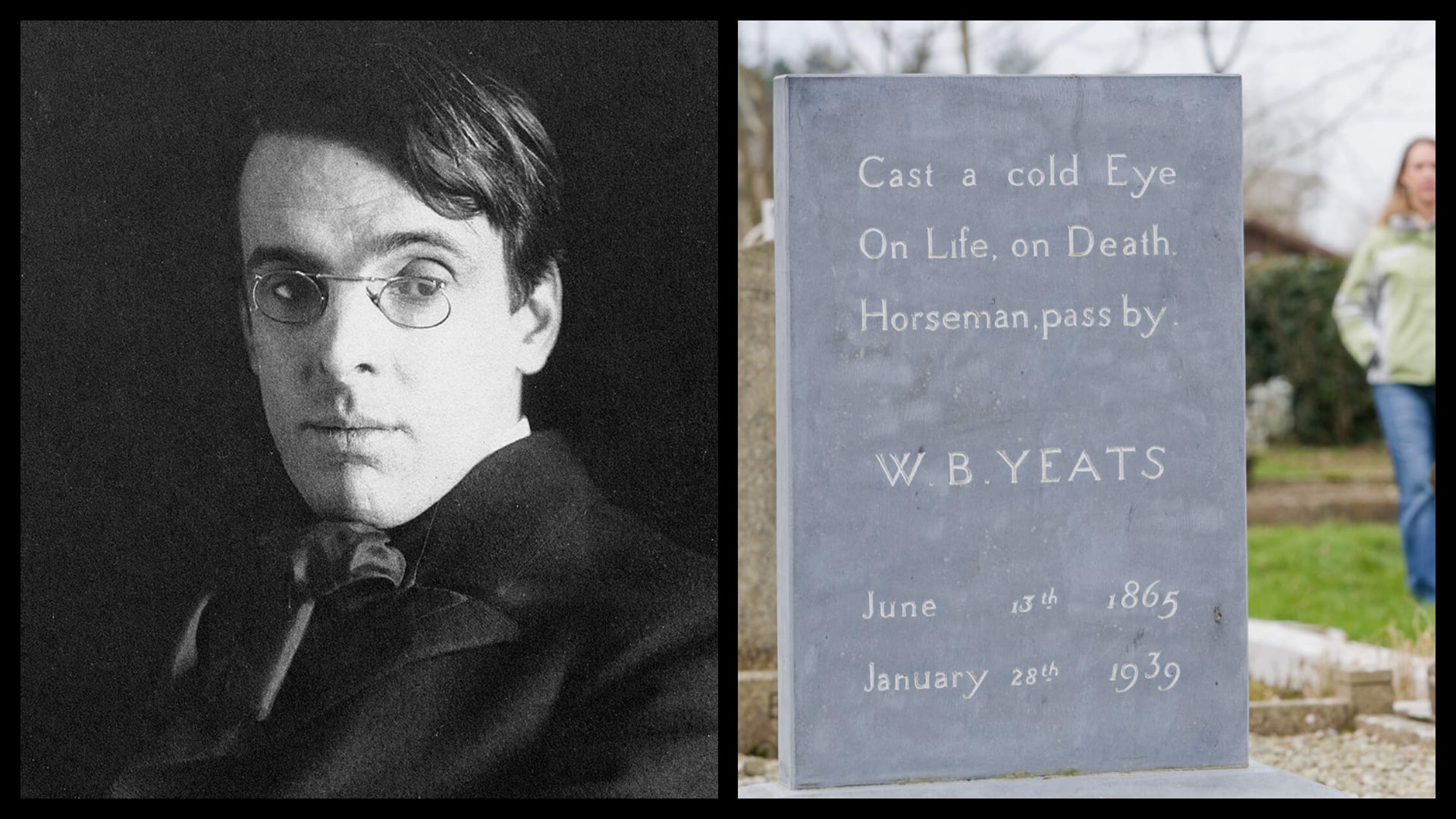 The anniversary of W.B. Yeats' death falls on 28 January and is a time when many are reminded of the great work and significance of this great writer and poet.
Yeats' work is world-famous, and for great reason, because his poems and writing speak to so many people. So, if you find yourself yearning to delve more into the work of Yeats, there are some main places you need to go.
He was one of the greatest figures of the 20th century, served two terms as a Senator of the Irish Free State and helped to found the Abbey Theatre in Dublin.
As well as this, he won the Nobel Prize for Literature in 1923 and continued to inspire people long after his death. Let us take a look at the top five best places to discover W.B. Yeats in Ireland.
5. Yeats' Grave, Co. Sligo – laid to rest in Sligo
Yeats is buried in Drumliffe Parish Church Cemetery in County Sligo, and the site has become a shrine and tourist attraction since his burial there in 1948.
He was first buried in France right after his death. Eventually, however, his remains were repatriated to Ireland, and he was buried in Sligo, a place he knew well and often referred to in his writings.
His grave is inscribed with an epitaph that he had written himself.
Address: Drumcliffe Church Drumcliffe, Co. Sligo
4. The Lake Isle of Innisfree, Co. Sligo – the island of inspiration
If you are on the hunt to discover W.B Yeats, you must not miss out on the famous island of Innisfree, which inspired the young poet.
Yeats grew up in Sligo and lived with his maternal grandparents while being captivated by his incredible surroundings.
This tiny island located in Lough Gill inspired his great poem of 188 entitled 'The Lake Isle of Innisfree'. By visiting this magical place, you will walk in the footsteps of a young Yeats.
Address: Killerry, Co. Sligo
3. Thoor Ballylee Castle, Co. Galway – his former home
Seamus Heaney once described this building as one of the most important buildings in Ireland due to its association with the great W.B. Yeats.
Yeats lived here with his family from 1917 to 1929 and wrote some of his best poetry here. This historic Hiberno Norman tower, located in County Galway, houses exhibitions and artistic events every year.
This is one of the top places to discover W.B. Yeats in Ireland and is something not to miss out on.
Address: Ballylee, Gort, Co. Galway, H91 D8F2
2. National Library of Ireland, Co. Dublin – the place to discover his work
The National Library of Ireland is definitely one of the best places to discover W.B. Yeats in Ireland. Their ongoing exhibition 'Yeats: The Life and Works of William Butler Yeats'has it all.
The Irish Times described this amazing exhibit of his work as "one of the most important literary exhibitions yet staged international".
The exhibition opened in 2006, and since then, thousands of people have visited to learn more about this fascinating man. This is one not to be missed when in Dublin.
You may comes across the line we have include on our list of the 9 most inspirational quotes from Ireland's literary greats.
Address: 7-8 Kildare St, Dublin 2, D02 P638
1. The Abbey Theatre, Co. Dublin – his artistic legacy in Dublin
Toner's Pub is the place to grab a drink in Dublin if you are following in the footsteps of Yeats. It is said to be the place where W.B. Yeats liked to have a drink.
This seems apt, as it is right across the river from The Irish National Theatre Company, which we know today as the Abbey Theatre.
The theatre is a famous city landmark and was a place that Yeats was heavily involved in, supporting the arts in many ways by writing plays and encouraging young playwrights at the time.
This is certainly one of the most iconic places to discover W.B. Yeats in Ireland.
Address: 26/27 Abbey Street Lower, North City, Dublin 1, D01 K0F1
There is no doubt that there are many places that Yeats has left his mark on throughout his life and many places to discover W.B. Yeats in Ireland.
So, whether you want to see the place he grew up, where he got his inspiration, where he hung out, the legacy he left behind, or some of his fascinating works of poetry and writing, you will find it all scattered throughout Ireland.