These places are so incredible that they will definitely capture your attention. Here are five places in Ireland that will stop phone addicts scrolling.
Most of us these days have an online presence, but sometimes it can become addictive.
What if we told you that there are real-life places on this planet that are guaranteed to make you stop, look up from your phone screen, and stare at all the 3D beauty they offer?
What if we told you that there are places like this right on your doorstep?
We are here to narrow down the top five places in Ireland that will stop phone addicts scrolling – but we can't guarantee you won't flip to the camera app right away.
From beaches and islands to the unique landscape, Ireland has you spoilt for choice.
5. Gap of Dunloe, Co. Kerry – mind the gap
With its teeny-tiny road that swivels in-between the rolling hills, this is an iconic image of Ireland.
While you're here, you may catch a glimpse of a horse and cart carrying people up the steep roads, but if you're brave enough to drive this famous road, you'll most definitely have your eyes wide open – and we don't just mean the driver!
Driving through this region of Kerry is breathtaking. With its many stone houses, stone walls, streams, waterfalls, and hills, it is like something from a typical Irish postcard. You'll be blown away, and even the biggest phone addict will stop scrolling!
Address: 7 High Street, Killarney, Co. Kerry, V93 DV26, Ireland
4. Great Skellig/Skellig Michael – a galaxy not so far away
It may be a touristy place, but you will understand why when you arrive at this incredible mountain.
Yes, it was the film location for Star Wars on more than one occasion, but it is a marvel in its own right.
This majestic island is like something from another planet and features beehive huts used initially by ancient monks.
In between watching nesting puffins, climbing the steep and narrow stone stairway, and exploring the monastery, you'll have forgotten all about scrolling through social media.
Address: Skellig Rock Great, Cahersiveen, Co. Kerry, Ireland
3. Keem Bay, Achill Island, Co. Mayo – Caribbean eat your heart out
The view of Keem Bay as you are driving along the cliff is stunning, but wait until you reach the bottom and get a view of the whole beach. You will be in awe of its white sand and turquoise water.
This beach will certainly stop phone addicts scrolling. The beach may be chilly, but it looks so inviting, and we promise, taking a dip here will be an experience not to forget!
You'll have to convince yourself you're actually in Ireland and not Barbados.
Address: Keel West, Keem, Co. Mayo, Ireland
2. Murder Hole Beach, Donegal – one of Irelands most isolated beaches
Okay, so we know the name might not seem that inviting, but we promise names can be deceiving.
Donegal is well known for its beautiful beaches, but this one is extra special. This beach has no road access, which makes it isolated and thus, one of the most intriguing and beautiful in the country.
Once you've made it through the fields, you'll be greeted by a phenomenal view of the rugged Donegal coastline, tall cliffs and, depending on the tide, one or two beaches- we bet even the biggest phone addict will stop scrolling on the drive down here.
It isn't recommended to swim here because of the harsh current, but there's no stopping you exploring the nearby caves or taking a leisurely stroll on the golden sand.
Address: Sheephaven Bay, Ireland
1. Connemara National Park, Co. Galway – a magnificent National Park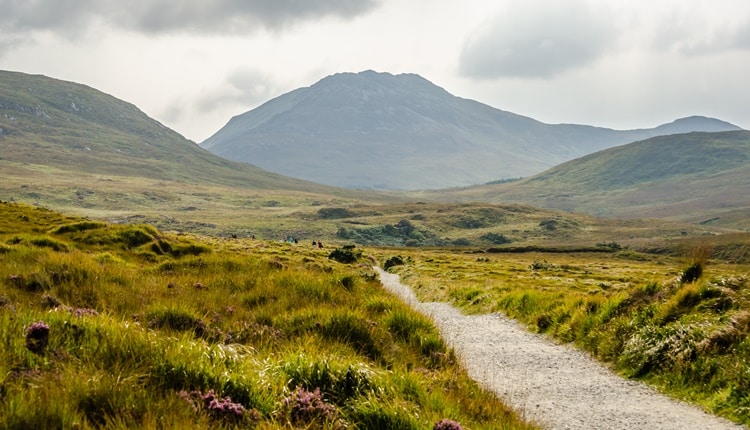 With over 2000-hectares of mountain, bog, and forest region, you will be overwhelmed by the beauty of Connemara National Park. We can guarantee that you will most definitely not be scrolling on your phone when you arrive here.
Get a better view from one of the many hikes you can do in the area, or set up camp and enjoy the scenery with hot chocolate or glass of wine. This place is so unique!
Address: Letterfrack, Co. Galway, Ireland
These five places are all so incredibly different, which shows just how diverse Ireland can be.
If you are the type who could end up scrolling on their phone for hours without even knowing, then head to one of these places and you'll be sure to forget all about the online world.
As some of these are dotted along the famous Wild Atlantic Way, it's worth noting that this road alone will capture your attention with its fantastic coastal views.
Be aware that this list only contains five of Ireland's abundance of beautiful places, and you may be captivated by many other sites in Ireland without warning- enjoy!