Ireland has many incredible places to make you go WOW. Here are five places in Ireland that will make you feel like you're on a movie set.
Ireland is a country with many hidden gems, some still being discovered by visitors to this day. It's no wonder that many directors have chosen our beautiful, quaint island, steeped in history and tradition, as the background for their hit movies.
But, let's put these movies aside, what if we told you that there are places in Ireland that will make you feel like you're on a movie set, purely by being so incredibly unique, but having had no relation to starring on the big screen.
So let's take a look at some of these spots. They will make you question your whereabouts!
5. The Giant's Causeway, Co. Antrim – for movie set quality in Antrim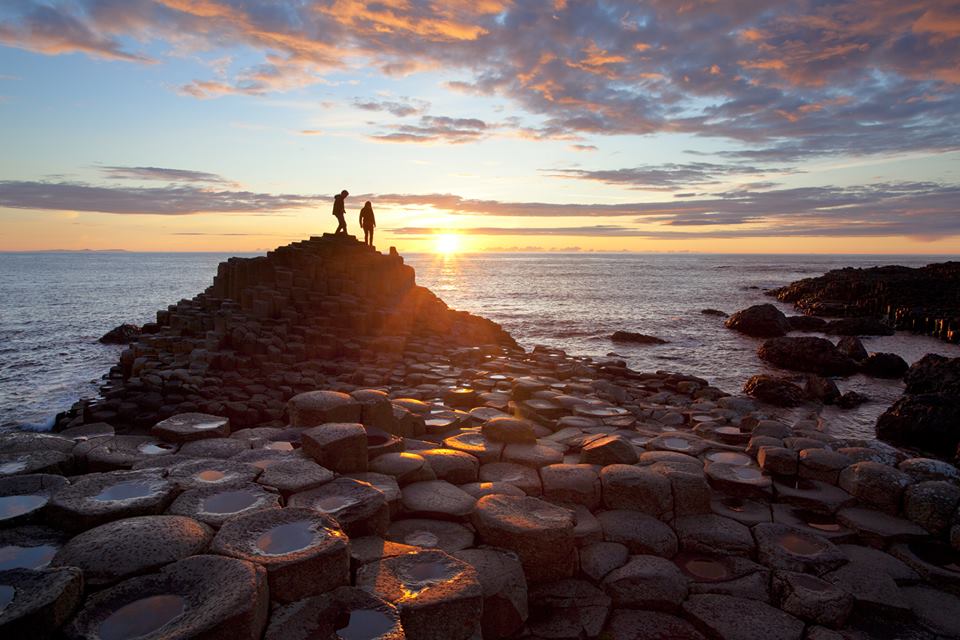 This stunning and unique landscape is world-famous and one of the most beautiful places in Ireland, but when you see it up close, it's hard to believe it was all formed naturally.
You may, for a second, even think this was all a set for some kind of supernatural movie, but we assure you, it is the result of an ancient volcanic fissure eruption.
What you are seeing is, in fact, 40,000 basalt columns that are incredibly interlocked, giving the whole area that wow factor. You just can't make these things up!
Address: Giant's Causeway, Bushmills, BT57 8SZ
4. Cabra Castle, Co. Cavan – a real-life horror story
Fancy visiting a couple of castles in Ireland? Well, you won't be short of castles to choose from, considering they are dotted all over the country, and each one having its own unique story, of course.
But, if you visit Cabra Castle, you may get an eerie feeling, like most people do. That's because this castle turned hotel, has a truly horrific history, so much so, that it has once been coined the second scariest hotel in the world.
You'll definitely feel like you've stepped onto the set of The Amityville Horror or The Others, at this place.
Address: Cabra Castle Hotel, Carrickmacross Rd, Mullantra, Kingscourt, Co. Cavan, A82 EC6
3. Westport House, Co. Mayo – fit for a queen
Downton Abbey eat your heart out! This estate is one of the most stunning in the whole country.
Originally built in 1679, this 40,000 square foot estate, sits on a whopping 450 acres of land, with views over the nearby bay and mountains. We think this has extreme movie set quality.
Address: Westport House, Quay Rd, Westport Demesne, Westport, Co. Mayo
2. Kinsale, Co. Cork – the most colourful town in Ireland
Step foot in the Cork town of Kinsale, and you'll be surprised by the array of colours you'll see around you, from house fronts to wall murals to quirky shop fronts, this town truly has character.
You'll almost feel like you're on the set of some modern age Alice in Wonderland movie. Now, that's a thought!
Like many real-life movie sets, this town has many Instagram worthy spots so the photo opportunities will be endless.
Address: Kinsale, Co. Cork
1. Maghera Beach, Co. Donegal – one of the top places in Ireland like a movie set
With white sand under your feet, caves to explore, and turquoise oceans in the distance, you'll be forgiven for thinking you've landed on the set of The Beach. If only Leonardo DiCaprio was there to greet you!
This spot is an absolute gem in Ireland and one of the most scenic places to discover. You'll be glad to know that this beautiful beach is off the beaten track, so, if you are lucky, you may have it to yourself.
Address: Maghera Beach, Unnamed Road, Co. Donegal
From the north of the country to the south and from the east to the west, you will find many places which will get you double-taking, wondering if you recognise them from the big screen.
Sometimes you might be right, for instance in the town of Cong or the island of Skellig Michael, but other times you may just get that random feeling of being on a movie set.
We better be careful, though, if we tell everyone about these cool places, Hollywood might take note.
For now, let's enjoy these five places in Ireland that will make you feel like you're on a movie set, and perhaps discover some more.