Looking for some places in Ireland for shopping off the beaten track? We've got you covered with these top spots.
Most of us enjoy a spot of shopping from time to time, especially on our holidays. Splashing out on a unique item of clothing, indulging in a luxurious new scent, or treating that special someone to something sweet are just a few ways to top up on retail therapy.
Recent times, however, has made it difficult to enjoy a trip to our favourite hotspots, leaving a day shopping off the beaten track, a tempting alternative. Fewer people to social distance from, one-off pieces you won't see anywhere else, and delectable, organic produce are all great reasons to travel further afield this summer.
Not to mention, it is a time when smaller, local businesses need our support more than ever. Here are our top five places to discover for shopping off the beaten track. And don't worry; they sell more than fluffy leprechauns and bottles of mead!
5. Inis Meain Knitting Company – dress to impress
A trip to the Aran Islands is often referred to visiting the edge of the world with Inis Meain being the least populated island of the three. Inis Meain Knitting Company produces unique pieces of knitwear and is definitely off the beaten track.
For the ultimate Aran sweater or a cosy scarf that will last you a lifetime, this is a shopping experience with a difference. It will need some planning though, with a ferry from Rossaveal in County Galway taking 40 minutes, or from Doolin pier taking 90 minutes.
At the moment, the knitting factory has limited opening times from 9.30am until just 11.30am, so an overnight stay on the island would be the only option to shop. With a handful of B&Bs and hotels to stay on the island, this could become the ultimate 'off the beaten track' shopping adventure.
Address: Inis Meain Knitting Company, Carrownlisheen, Aran Islands, Co. Galway, H91 D231
4. The Burren Smokehouse – a must-visit stop in the Burren
For the best, smoked salmon for miles, head to Lisdoonvarna in County Clare. The Burren Smokehouse is a genuinely unique experience off the beaten track. The smokehouse not only sells the finest, organic Irish salmon, but it also offers insight into the craft of salmon smoking.
The visitor centre has a warm welcome with charming artefacts, mosaics explaining the Irish legend of the 'Salmon of Knowledge', and an array of mouth-watering products to choose from, including smoked salmon, smoked mackerel, local cheese, sea salt, seaweed, and handmade chocolate.
They also offer fantastic gift hampers should you want to treat someone special or send a surprise to anyone who may not be able to travel off the beaten track just yet.
Address: The Burren Smokehouse, Lisdoonvarna, Co. Clare
3. Wild Atlantic Gifts – beautiful gifts along a beautiful drive
A list of shops off the beaten track in Ireland cannot be without souvenirs with Wild Atlantic Gifts at Malin Head, one of our favourite spots. Not only does it epitomise 'off the beaten track' with the stunning coastline of the Wild Atlantic Way beckoning, but it also sells some of the quirkiest gifts.
Star Wars fans are sure to find something 'out of this world', while the classic holiday T-shirt can be picked up easily. Their seaweed soaps, creams, and balms are very popular, while locally made crafts can make lovely gifts to take home.
But, if you're hoping to find a large shop to browse in, think again! Wild Atlantic Gifts is a quirky pop-up shop located at Ireland's most northerly point. With plenty of wind lashing around you while you decide, there will be very few social distancing concerns during this trip.
Address: Wild Atlantic Gifts, Dunargus, Malin Head, Inishowen, Co. Donegal
2. Skelligs Chocolate Factory – for all those with a sweet tooth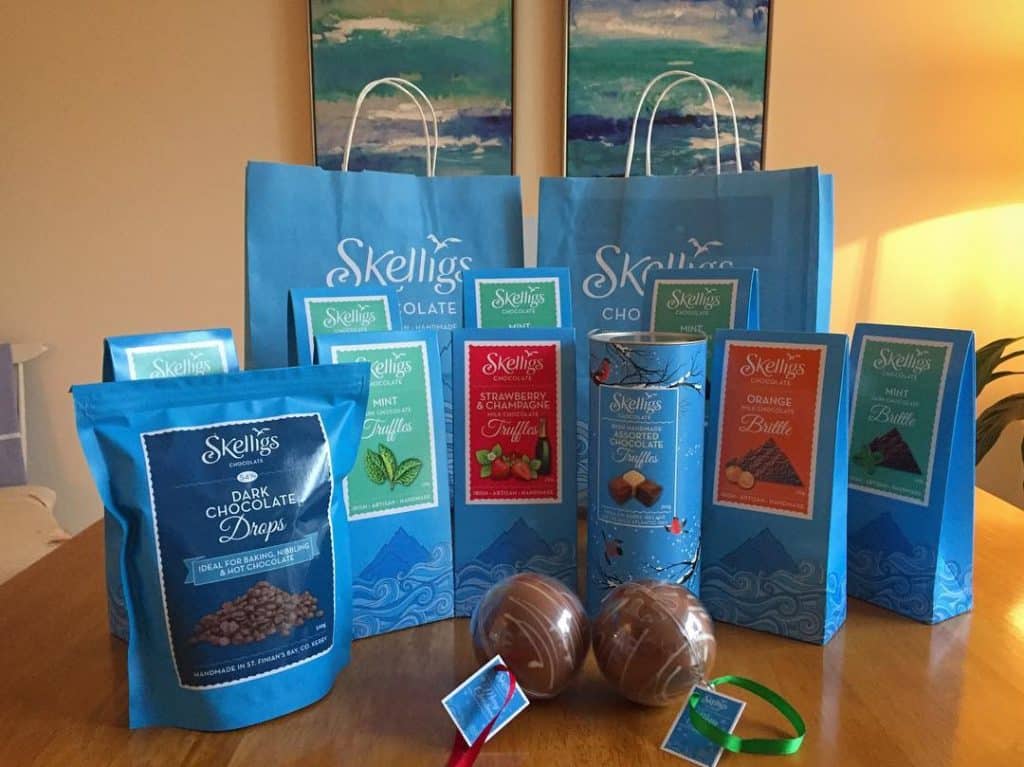 For chocolate lovers, the best shopping trip off the beaten track has to be to the Skelligs Chocolate Factory on the Ring of Kerry. It is the only open-plan chocolate factory in the country. It is situated in one of the most beautiful parts of the world, overlooking the Skelligs Rock.
The seasonal café sells the best hot chocolate EVER! And this will be the only encouragement you need before deciding what award-winning treats to take home with you. Whether you prefer your chocolate doused in gin or the more traditional slab of praline, there is something for everyone. Arguably, one of the best shopping experiences off the beaten track!
Address: Skelligs Chocolate Co. The Glen, Ballinskelligs, Co. Kerry
1. The Burren Perfumery – truly one of the best places in Ireland for shopping off the beaten track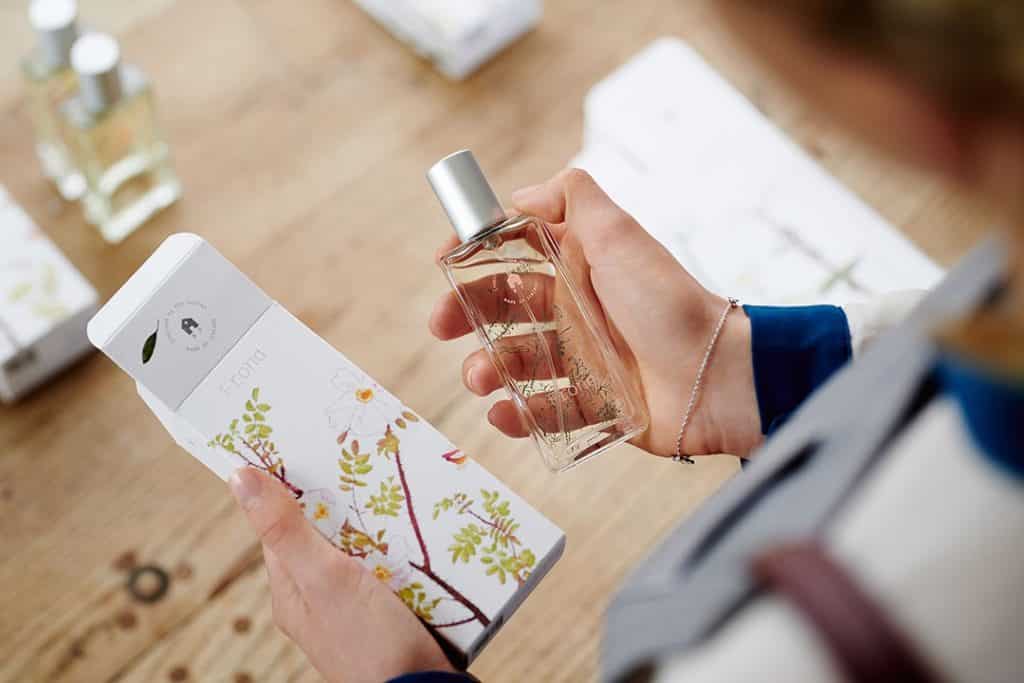 If food is not your guilty pleasure, then perhaps a fresh new scent is something you would be willing to explore? For the ultimate indulgence in organic cosmetics and perfumes, head northwest to discover a haven in the hills of the rugged Burren.
All products are made on-site and are inspired by the wild floral species found growing in the local natural landscape. The Burren itself is a magical place where vast slabs of fertile limestone offer the perfect home to precious herbs and delicate flowers.
Mirroring this, are the beautiful soaps, creams, and scents available at the perfumery, with all products made in small batches giving a real sense of quality and care. The Burren Perfumery is a real gem off the beaten track and the perfect place for some luxury shopping.
Address: The Burren Perfumery, Fahee North, Carron, Co. Clare